Workers' rights to DIE? If companies fail to adequately shield staff from Covid-19, they don't deserve protection from lawsuits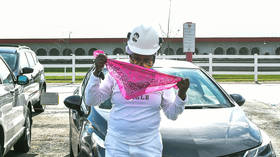 Republicans are lining up to give corporations immunity from being sued, even as some businesses are accused of putting employees in danger by failing to provide PPE and forcing them to work on while displaying symptoms.
As the United States grapples with the largest surge in Covid-19 it's seen thus far, a long-delayed round of government stimulus is being discussed as a possible government shutdown looms if Congress fails to pull its act together.
So far, one key provision likely to be added to the next bill – a federal corporate liability shield against coronavirus-related lawsuits – may end up being passed. Recent revelations from corporate practices at a Tyson Foods plant in Waterloo, Iowa, show why this would be an absolute disaster.
Also on rt.com
'We will NEVER, ever surrender,' Trump says in Georgia, as crowd chants 'STOP THE STEAL'
In a lawsuit filed in June and recently amended twice, it is alleged that the company failed to provide protective equipment or implement proper social distancing practices even after cases were detected in the state in March.
This is particularly relevant because Tyson has operations in China, even in Hubei province where the coronavirus was first detected, and was aware of the danger as early as January.
But it wasn't just failing to act: a recent amendment alleges that employees were lied to about an outbreak at the facility that led to more than 1,000 infections and several deaths. Interpreters were allegedly directed in early April to tell immigrant employees that "everything is fine" and that local public health officials had "cleared the plant."
This would have been a lie. Local health officials and Black Hawk County Sheriff Tony Thompson urged the plant to close, but it did not do so until later.
Workers were allegedly directed to continue to work by managers despite showing symptoms of the disease, according to the lawsuit.
Also on rt.com
When will the central bankers pay for all the wealth inequality and misery they've caused?
"On one occasion, Mr. Casey (a local plant manager) intercepted a sick supervisor en-route to get back to work, adding, 'We all have symptoms. You have a job to do,'" the lawsuit said.
Perhaps the most egregious claim is that management at the plant had a betting pool over how many employees at the plant would catch the virus.
"Around this time, Defendant Tom Hart, the Plant Manager of the Waterloo facility, organized a cash buy-in, winner-take-all betting pool for supervisors and managers to wager how many employees would test positive for Covid-19," the lawsuit alleged.
The situation, of course, did not happen without some level of corruption. On April 11, a complaint was filed to Iowa's Occupational Safety and Health Administration (OSHA), but it was closed 17 days later without an inspection. Governor Kim Reynolds approved of this decision.
The governor had also done several media rounds supporting the plant remaining open and, according to the lawsuit, was in close contact with top company executives who downplayed the virus and lied about their safety measures. One such conference call was documented on April 20, the day of a press conference where she publicly voiced support for keeping the plant open in a "safe and responsible way."
If even one part of this lawsuit is true, then it's hard to see either of those descriptions could fit Tyson's practices at the Waterloo plant.
Similar situations have happened across the country. President Donald Trump implemented executive action to keep meat plants across the US open, despite the fact that many were hotspots and regularly flouted safety recommendations from the Centers for Disease Control and Prevention (CDC).
Keeping corporations accountable, especially large ones that employ huge amounts of workers, is crucial to maintaining workplace safety. Without the ability for employees to sue their employers for such egregious violations of public health regulations and recommendations, companies have no financial incentive to actually provide employees with personal protective equipment and sick leave, or to institute proper social distancing.
This is important for not only slowing the spread of the coronavirus, but also rejuvenating the economy as a whole.
Senate Majority Leader Mitch McConnell recently shot down a bipartisan stimulus plan that included roughly 908 billion dollars in spending. Though it left out some provisions that Democrats may have liked, it did include the corporate liability protection that McConnell has lobbied for since the spring.
The Senate majority leader is instead opting for a "targeted relief bill" with a much smaller price tag, showing that he is not looking to compromise and instead wants to use the leverage of a possible government shutdown to get all of his provisions through. McConnell told reporters that the new must-pass spending bill and pandemic relief will "all likely come in one package."
Also on rt.com
Chicago Teachers Union forced to backpedal after claiming push to reopen schools 'rooted in sexism'
With so much leverage and the fact that Democrats are already apparently folding on their stance against the corporate liability protection, it is very likely that it will go through. This will make managing outbreaks through the peak of the worst public health crisis in generations all that much more difficult, and put working Americans in extremely precarious situations, both health-wise and financially.
Corporate liability protection, even a temporary one, will also set an extraordinary legal precedent that will have long-term historical ramifications. McConnell is certainly not letting a good crisis to waste in trying to set this precedent.
Like this story? Share it with a friend!
The statements, views and opinions expressed in this column are solely those of the author and do not necessarily represent those of RT.
You can share this story on social media: