Why should a teacher be FIRED for daring to question conventional thinking on toxic masculinity?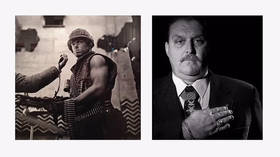 Will Knowland is appealing against his dismissal from elite British school Eton for an online lecture that encouraged critical thinking on masculinity. Whatever happened to the idea of listening to both sides of a debate?
Eton College is a renowned British institution founded in 1440, which has educated 20 prime ministers, including current Downing Street incumbent Boris Johnson, and also the future King, Prince William.
It bills itself as "progressive" and "committed to independent thought," Those claims will be under scrutiny this week as teacher Will Knowland's appeal against his dismissal is heard.
The case has resulted from a lesson that was intended for the school's seniors. Titled 'The Patriarchy Paradox', it was flagged by another teacher and the presentation was never shown to pupils. Instead, Knowland uploaded it to YouTube.
When he refused to delete it, Eton gave him the bullet. It now has more than 100,000 views, but Knowland says usage data shows that most people only watch the first eight minutes. The full length runs to 33 minutes.
Nevertheless, that hasn't stopped a flood of righteousness. Eton ruled that the lecture's content breached its rules and invoked a dismissal, after taking legal advice.
A spokesperson said: "The school made the reasonable request that the teacher remove the video pending further discussion, but despite multiple requests, he persistently refused to do so."
The all-boys school's supporters have been quick to highlight various points in the lecture they deem toxic.
One that was flagged was the claim that male rape was more prolific than male-on-female rape, along with comments on other sexual assault patterns.
Knowland doesn't provide figures to back up these claims, so the statements are unproven and could be false. But several papers exist that support the 'male victim' hypothesis.
One US study, Raise The Crime Rate, cited research that concludes the United States is "the first country in the history of the world to count more rapes for men than for women."
Another in-depth report titled The Understudied Female Sexual Predator also caused ripples with its suggestion that sexual victimization by women was more common than widely thought.
But all of that is a smokescreen, as the lecture was never meant to cover all sides of the debate comprehensively. Knowland openly admitted, "This isn't aimed at being balanced" and "curriculum balance is required over time, not in individual presentations."
The lesson touches on courage, honour, chivalry, innate aggression and the notion of 'manning-up'.
There's a clip from Martin Scorsese's movie Goodfellas where a man is brutally attacked by a gangster, who feels his girlfriend has been mistreated. In the bloody aftermath, the female narrator says, "It turned me on."
There is also a look at 300, the film about Spartan leader King Leonidas, and a reference to an episode of the Sex and The City TV series, Are We Sluts?
Knowland uses an article from Marie Claire magazine titled Why I Left My Beta Husband where the author writes "I felt like the man in our relationship." Beta, in this case, describes a man who doesn't fit the macho stereotype.
There are also references in Knowland's lecture to transgenderism and procreation. People will have differing interpretations, but surely that's to be encouraged in the spirit of healthy debate?
And that returns us to the mindset of Eton's leadership. It would appear they want to stimulate thought, but only their 'fashionable' school of thought. Isn't that conflating education with indoctrination?
Consider, for example, that Eton was happy to invite feminist Laura Bates to lecture pupils. She is seen in some circles as divisive and her latest book Men Who Hate Women has been described as "hate filled."
Bates' speech to Eton's boys encouraged them "to think more critically about the portrayal of both men and women in society." So it's acceptable for a left-leaning commentator to promote critical thinking, but not a teacher under the guise of exploring masculinity?
Having the ability to appreciate other points of views is fundamental. Any truly informed opinion comes from taking a range of dissenting voices on board, and then coming to a conclusion. But even then, this is not set in stone; opinions are fluid, there to be changed and shaped, particularly for the younger generation.
Also on rt.com
Posh male students holding competitions to shag 'poor' girls shows the total lack of respect working-class women get in Britain
Eton should be embarrassed by its conduct. Only last year, it hosted comic Patrick McPherson's sell-out Edinburgh Fringe one-man show 'The Man', which poked fun at the "perennial inability of men to express their feelings."
So again, a political agenda is at play. This left-leaning take on the discussion was openly foisted on Eton's boys, who pay £42,500 per year to attend the college. How can that be a healthy way to go about educating?
The answer, of course, is that it is not. It's bastardising the concept of being progressive to create a façade. Genuine progression is listening to those you disagree with. It is realising you don't have a monopoly on the truth and you should never badger others to subscribe to your view, via either intimidation or pressure.
But this is precisely what Eton is doing. It is withdrawing an individual's livelihood because of his impudence in issuing a challenge to its rhetoric. It is economic blackmail.
Knowland's appeal should restore him to his position. If not, he has currently amassed almost £60,000 to proceed to an employment tribunal if necessary. Eton has traditionally been a very orthodox institution, but it should be striving to be heterodox – and correcting its mistake this week would be a step in that direction.
Think your friends would be interested? Share this story!
The statements, views and opinions expressed in this column are solely those of the author and do not necessarily represent those of RT.
You can share this story on social media: