Obama's establishment 'theory of change' is as wrong as ever at a time when Democrats need a progressive push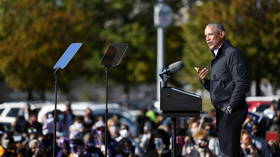 Former US President Barack Obama dismissed 'Defund the police', an important message of the growing progressive left, showing he's just another establishment creature whose slogans of 'hope' and 'change' have always been hollow.
The Democratic Party establishment is under serious pressure even after they managed to defeat US President Donald Trump in the 2020 presidential election. Although presumed president-elect Joe Biden, the party establishment's clear favorite during this cycle, won a sound victory, it is clear the core coalition of the party may be fraying. Worse, without the pandemic Trump may well have secured a comfortable second term with an even stronger mandate. The Democratic leadership appears to be making some serious miscalculations about how to manage this situation.
The establishment had to make few concessions to their progressive base to boot Trump from the White House, and they are not poised to change this course; they understand that progressives have nowhere else to go and will always fall in line. However, the party's emphasis on holding down the center in a constantly rightward sliding political landscape is not only bad policy, but bad politics.
Former President Barack Obama, who famously ran on the slogans of 'Hope' and 'Change', had a message for activists that reflects this establishment mindset quite well. "If you believe, as I do, that we should be able to reform the criminal justice system so that it's not biased and treats everybody fairly, I guess you can use a snappy slogan like 'Defund the Police' but, you know, you lost a big audience the minute you say it, which makes it a lot less likely that you're actually going to get the changes you want done,"Obama told Peter Hamby on Snapchat's "Good Luck America" program.
"And if you want to get something done in a democracy, in a country as big and diverse as ours, then you've got to be able to meet people where they are," he said, and you have to "play a game of addition and not subtraction."
The problem with this theory of change, espoused by the president who served during the Occupy Wall Street movement and the Ferguson unrest, is that the Republican Party is not looking to compromise. And no matter what anyone slightly to their left says, they're considered a radical. Obama himself was called a communist (among other things) by the political right during his entire term.
There is no middle ground in the country anymore, and it has been extraordinarily well documented in political science literature that the American political spectrum has been in a steady rightward drift since at least the late 1970s. Holding the center (that is, compromising with the right) only means giving up footing at this point.
In fact, Obama recently admitted this in his latest memoir, lamenting how he was played by Republicans for his willingness to compromise and grant them concessions even when they had almost leverage. They took him for a fool because his theory of change was indeed very foolish.
In terms of policy, Obama came into power with a strong mandate. He campaigned on hope and change, and his party controlled the White House and both houses of Congress, yet hope was immediately deflated and little change took place. His shining legislative achievement, the Affordable Care Act, or Obamacare, was a Band-aid solution for the gaping wound that is the American healthcare system.
Obamacare was actually lifted almost directly from a similar proposal by former President Richard Nixon, a Republican. That is to say that it's basic principles came from a right-wing think tank and there is nothing actually "progressive" about it, which is only part of a recurring trend through the Obama years.
Also on rt.com
'Yes we can't?' Obama scorched after denouncing 'defund the police' as just a 'snappy' slogan that alienates voters
Politically, Obama destroyed the Democratic Party. After Obama's 2012 reelection campaign, the Democratic National Committee (DNC) was strapped for cash and was virtually bankrupt by the end of 2015, according to former DNC Chairwoman Donna Brazile. Local parties across states and counties also suffered as a result.
The reason is that Obama had his own organizing outfit, Organizing for America (OFA) – a successor to his campaign operation Obama for America. This group was purposefully marginalized in order to cool down activists seeking to oust centrist Democrats. And this was done in an effort to keep these centrist politicians in line with the president.
The OFA supplanted the DNC itself, diverting crucial funds away from the national and local parties and, instead, directly to Obama's apparatus. He wanted to be the party; his face and charisma, it was believed, would boost the party.
Obama ended up serving two full terms, but the Democratic Party suffered its worst decline in modern history. The party lost the House from 2010 until 2018, the Senate in 2014, and a total of about 1,000 elected posts across the country and suffered a historic defeat across the board in 2016.
Perhaps most fittingly, Obama was nowhere to be seen through the Trump years, jumping in only at the last minute in 2020 during the Democratic primary elections to snub the party's growing progressive movement. Had it not been for the pandemic, this probably would have ended up as another embarrassing loss.
This is all to say that Obama and the Democratic establishment pretend to be on the side of progressives, but their actions say the exact opposite. The fact is that the Democratic establishment has a clear right-wing ideological tendency, but the official explanation for their unwillingness to adopt the radical positions that America so desperately needs is that they don't want to come across as too radical at the ballot box.
But the "addition and not subtraction" explanation for this logic simply doesn't make any sense, either in terms of getting through progressive policies or actually winning elections, because the Obama theory of change is just plain wrong. Surely staking out the center this time around didn't help Joe Biden swat away Red Scare attacks after he was somehow compared by some on the right with Fidel Castro and Hugo Chavez, and Trump constantly invoked a socialist dystopian future in his jabs.
The truth is that when Obama and others in the Democratic establishment discuss an "audience" being lost when they hear radical slogans, they're actually referring to themselves. It's not that they don't see these slogans as effective, it's that they just don't agree with them. Their tactical advice to activists is then quite useless. In any normal country, Democrats and progressives would be separate political parties.
Think your friends would be interested? Share this story!
The statements, views and opinions expressed in this column are solely those of the author and do not necessarily represent those of RT.
You can share this story on social media: