New Iron Curtain: EU's proposed sanctions on Russian/Chinese 'disinformation' seek to strangle democratic debate, not protect it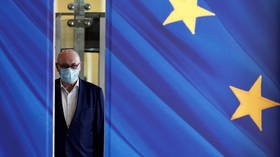 Years of Russiagate hysteria stoked by the Atlantic establishment have reached their logical endpoint, with unelected bureaucrats in Brussels now reportedly seeking to sanction 'disinformation' in the name of protecting democracy.
According to something called the European Democracy Action Plan (EDAP), the EU "needs to use more systematically the full range of tools in its toolbox for countering foreign interference and influence operations, and further develop them, including by imposing costs on the perpetrators."
"Possible ways of doing so range from publicly identifying commonly used techniques (so as to render them operationally unusable) to imposing sanctions following repeated offenses," according to a draft document leaked to, oh irony of ironies, the US government-funded propaganda outlet, RFE/RL.
The "action plan" has been put together by the European Commission (EC), the supranational mega-entity's governing body, and claims that "certain third countries (in particular, Russia and China) have engaged in targeted influence operations and disinformation campaigns around [Covid-19] in the EU" that seek to "undermine democratic debate, exacerbate social polarization, and improve their own image."
Seriously, how dare certain third countries work to improve their own image! Didn't they get the memo their image should be whatever the mainstream EU and US media declare it should be? The absolute nerve of some people – really!
The EC and its EDAP appear to be guided by "data" from something called the East StratCom Task Force, a division of the European External Action Service (EEAS), which claims to have discovered "more than 500 examples of pro-Kremlin disinformation" in 2020 and over 10,000 since 2015.
That would be the same 'task force' that reputable UK scholars – Manchester University researchers tasked with monitoring Russia media coverage – called out earlier this year for "misrepresentation" and "particularly problematic" methodology, including "blatant distortion" of what is said and by whom.
Also on rt.com
No Covid-19 fake news on RT, EU accusations are 'problematic' – UK watchdog
Professors Stephen Hutchings and Vera Tolz had particularly harsh words for EUvsDisinfo, a subsection of the Task Force laser-focused on finding 'Russian disinformation' everywhere, saying that their analysis demonstrated that its "headlines and summaries border on disinformation according to the EastStratCom's own definition of the term."
EastStratCom and its sub-entities have been at this for years, but no matter how many times their propaganda is quashed, it keeps being treated as gospel in the corridors of power in Brussels.
The field of 'countering Kremlin disinformation' has been an incredibly lucrative cottage industry within NATO since the 2014 US-backed coup in Ukraine and the ensuing hysteria about 'Russian aggression'. The 2016 US election and the 'Russiagate' conspiracy theory – eventually debunked, again to no avail – launched the funding for it into the stratosphere.
Also on rt.com
The only 'Russian bots' to meddle in US elections belonged to Democrat-linked 'experts'
Hundreds of self-proclaimed experts have sprung up to soak the millions the US and EU governments splurged on fighting the conveniently phantom menace. More than once, the supposed counter-disinformation shops engaged in disinformation campaigns of their own. In just one example, the US company New Knowledge literally ran fake "Russian bots" during a US Senate special election to help one party, only to later advise the Senate about the peril they presented!
New Knowledge alumni are still cited as respectable researchers into 'disinformation' by a media all too eager to swallow the narrative. Meanwhile, the millions spent on "fighting disinformation" produce such venerable output as applying 'blood and soil' ideology to... food.
wait for it...wait for it...epic geniuses funded by..."USAID, NED, EED, NATO, UNICEF, German Marshall Fund/Black Sea Trust, UNHCR, International Renaissance Foundation, GIZ, Embassies of the US, Netherlands, Switzerland, Finland, Norway, Sweden and Germany..." https://t.co/iBpyAGXtjE

— Yasha Levine (@yashalevine) December 1, 2020
yep. extreme blood and soil foodie ideology funded by eu, usa, un.

— Yasha Levine (@yashalevine) December 1, 2020
All of this is being done in the name of protecting 'democratic debate', of course – irony of ironies – by banning anything that strays beyond the ever-shrinking perimeter of discourse defined by the powers-that-be.
While the EU's rumored new rules could theoretically be applied to US entities, that seems unlikely. They'll probably adjust definitions so that Western state media is exempt – just like social media companies did earlier this year.
While Silicon Valley appears to be complicit in both the crackdown on free speech in the US and this wannabe Iron Curtain around the EU, they should not be too proud of the technological terror they've constructed. If RFE/RL is to be believed, the EU's proposed measures include a crackdown on online platforms "criticized for lack of transparency in the use of algorithms to distribute content online" and collecting a "vast amount of personal data" from their users. Sound familiar?
Something called the Digital Services Act is reportedly going to propose rules for "greater accountability on how platforms moderate content, on advertising, and on algorithmic processes." The EU commissars may come for "Russian disinformation" first, but rest assured there will be no one left to speak for you by the time it's your turn. Yet since it's all in the name of defending democracy, who can object?
Think your friends would be interested? Share this story!
The statements, views and opinions expressed in this column are solely those of the author and do not necessarily represent those of RT.
You can share this story on social media: