Making tampons free for women is all very well, but it won't tackle the issues that cause 'period poverty' in the first place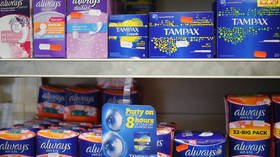 Scotland has been praised for groundbreaking legislation requiring public buildings and schools to make period products available for free. But the new law avoids addressing the reasons women can't afford these products.
Hailed as "an important policy for women and girls" by First Minister Nicola Sturgeon, the law requiring period products to be available free of cost in all public buildings passed unanimously in the Scottish Parliament on Tuesday night. The legislation makes Scotland the first country in the world to declare access to sanitary napkins and tampons a legal right.
There's no doubt this is at least a small victory for impoverished women who might not be able to afford such products on their own. However, the laser-focus on the issue of 'period poverty' avoids addressing the reasons women might need help affording such products to begin with – an overarching and far deeper poverty that affects women and men alike.
Also on rt.com
Labour MP attacked online after saying she got death threats for 'transphobic' view that 'only women have cervixes'
The 'free the tampon' campaign is an easy way to virtue-signal for a system which prefers that nothing fundamentally change, but needs to grab some quick woke cred: "Helping the poor raise their standard of living would be too disruptive – let's give 'em some free pads instead and pat ourselves on the back for liberating women!"
The push to end 'period poverty' lets the same government that seems determined to put women and men alike out of work with punishing, drawn-out lockdowns restyle itself as a champion of the poor – never mind the massive poverty its policies are creating.
Unemployment numbers are through the roof, and Sturgeon herself has admitted an economic crisis is on the horizon – one that "is not going to be a surprise" but still, for whatever reason, is not worth averting.
Some economists predict Scotland's economy won't recover from the self-inflicted wounds imposed amid the pandemic until 2024, suggesting citizens are going to need a lot more than some free tampons to get through the recession. Yet Sturgeon went ahead with a second lockdown, despite warnings it would delay recovery significantly.
The fallout hasn't just been financial, either – Scotland is currently facing a "tsunami" of cancer deaths, according to Monica Lennon, Labour's Scottish health spokeswoman, who warned earlier this month that diverting all the NHS' resources to Covid-19 was leaving cancer patients out in the cold.
Also on rt.com
Jail for misogyny? UK govt advised 'gender' should be added to 'protected characteristics' under hate crime laws
The country experienced a 40 percent drop in cancer diagnoses compared to last year after suspending screening programs for breast, bowel, cervical, and other common cancers in March, health officials revealed earlier this month. The programs were preemptively shut down and have only reopened in the last few months, even though the expected NHS-overwhelming surge in coronavirus cases never materialized.
Those few pounds women will save thanks to Scotland's declaration that sanitary products are a right, not a privilege, will doubtless help some families make ends meet. But they're too little and too late for the most economically distressed, and celebrating this legislation as some kind of earth-shaking victory for womankind is a cop-out. If the country really wants to help poor women, it will require more than some free napkins.
Think your friends would be interested? Share this story!
The statements, views and opinions expressed in this column are solely those of the author and do not necessarily represent those of RT.
You can share this story on social media: