Biden's getting the Obama band back together again for an encore performance celebrating nostalgia for a never-was golden age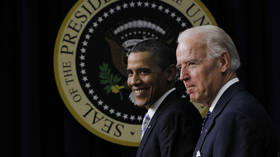 The incoming Biden administration's cabinet carries a strong whiff of deja vu, and that's no accident – the uninspiring president-elect is staking everything on evoking a lost utopia that never existed under ex-president Obama.
The Biden campaign's rule of thumb for his cabinet appointments seems to be to channel the Obama administration – with an extra helping of wokeness where possible. This has seen him float Pentagon veteran and dyed-in-the-wool megahawk Michele Flournoy as the first-ever female Secretary of Defense and former DACA czar Alejandro Mayorkas as the first Latino-Jewish head of the Department of Homeland Security.
Also on rt.com
Biden signals US return to full-on globalism and foreign meddling by picking interventionist Anthony Blinken as secretary of state
There's also the rumor he's planning to pick Obama's former Fed chair Janet Yellen as the first-ever female Treasury Secretary – but even if she's not the lucky lady, fellow former Clinton adviser Lael Brainard could get the nod, or one of two black candidates – one of whom happens to be gay. Whoever he picks, they'll be a "first" – and, given their institutional history as reliable servants of the ruling class under Obama, a dependable source of more-of-the-same fiscal policies.
Lest all this wokeness turn off the Republicans who defected to Biden out of distaste for President Donald Trump's determination to upset the military-industrial applecart, the presumed president has also brought back ex-Secretary of State John Kerry, who'll be returning to Washington to serve as a 'climate czar' on the National Security Council. While Kerry would be the first person to hold such a position, which will allow him to skip a Senate confirmation that could be unfriendly given the chamber's Republican control, Kerry's time at the head of the State Department saw the Obama administration continue digging the US deeper into its portfolio of ill-advised wars. And Kerry was the man who signed the Paris Climate Accords on behalf of Washington in 2016, a treaty President Donald Trump wasted no time removing the US from. He should go down plenty smooth indeed.
Most of the Biden picks were second-stringers during the Obama years and thus haven't quite become household names yet. This is likely to be a point in their favor – if the history of would-be Secretary of State Antony Blinken is any indication, Biden has good reason for picking relative unknowns. A report from the American Prospect revealed Blinken had spent the post-Obama years getting rich quick at consulting firm WestExec – which coincidentally (or not) was co-founded by would-be Pentagon chief Flournoy after her most recent stint at the Pentagon. The firm focuses on "helping new companies navigate the complex bureaucracy of winning Pentagon contracts" – suggesting a Biden presidency won't just deliver a fatter Pentagon budget, but new wars to go with it.
Also on rt.com
Michele Flournoy might be breaking a glass ceiling as Pentagon chief, but even feminists aren't buying
It's no surprise, then, that Washington-watchers are sinking into deja vu. Biden was elected as the "anti-Trump," a return to some vague fantasy of "normalcy". Except the nostalgia for the Obama era that helped shoehorn Biden into office earlier this month was based on a wholly synthetic reimagining of the eight years in which the career politician served as vice president.
Obama may have inherited George W. Bush's financial crisis in 2008, born of rapacious investment banks that mistook people's life savings for free chips from a casino, but the "recovery" he claimed as his own never bothered to lift up most working- and middle-class Americans. Many of these lost their homes, and if they didn't, their children "failed to launch," in no position to strike out on their own. The younger generation were either mired in student debt or merely unable to afford even the cheapest 'starter homes' due to an absence of living-wage jobs open to young adults entering the workplace.
Also on rt.com
Biden puts Homeland Security in hands of Alejandro Mayorkas, the Cuban-American lawyer who championed citizenship for immigrants
Biden made it clear repeatedly in the run-up to this month's election that he had no interest in feeling these people's pain. "I have no empathy for it – give me a break," he said, complaining that millennials had been given everything by his own generation, the Baby Boomers. In reality, those "whiners" so loathed by the president-to-be made 20 percent less than Biden's generation at the same age at best – assuming they were lucky enough to have a job at all. Back when it was still considered acceptable to trash Biden, most establishment outlets raked him over the coals for such tone-deaf comments. But such negativity was memory-holed when the Democrats crowned Biden their pick to run against Trump – speaking ill of the anointed one got progressives labeled Trump supporters or Nazis or worse.
Those whose rose-colored glasses let them see Biden as the second coming of Obama forget that "Bush in a black-man suit" turned two wars into seven, allowed Citibank – one of the worst offenders of the 2008 financial crisis – to shape his cabinet, and passed a mockery of "universal healthcare" that forced the lower-middle-class to purchase health insurance they couldn't afford or shoulder a tax penalty they also couldn't afford. Biden has promised to reignite the war in Syria, veto the actual universal healthcare policy that is Medicare for All, and ensure nothing will fundamentally change for his fat-cat Wall Street donors – and those donors seem to be picking his cabinet just like they did his boss' in 2008.
The more things change, the more they stay the same.
Also on rt.com
Familiar faces: Biden picks Obama's Secretary of State John Kerry as his climate czar & finds job for ex-CIA deputy Avril Haines
Think your friends would be interested? Share this story!
The statements, views and opinions expressed in this column are solely those of the author and do not necessarily represent those of RT.
You can share this story on social media: