Woke academics who racialise exam results are wrongly suggesting white students are innately more intelligent than black ones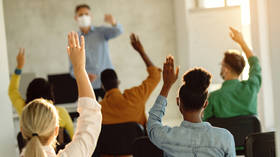 A new report argues there is no evidence to show that ethnicity alone determines a student's performance. It's absolutely correct. Racialising academic achievement is a misguided approach that causes multiple problems.
To be a successful student, you need to work hard. Intelligence and an interest in the subject no doubt help. And good-quality teaching is obviously important. But many in universities seem to think that academic success is primarily determined by something else entirely: skin colour.
The so-called 'ethnicity attainment gap' has come in for a great deal of attention in recent years. This is the difference between the proportion of white students who are awarded a high degree classification, and the proportion of Black, Asian and Minority Ethnic (BAME) students who achieve the same. Most studies put this gap at around 15 percent, and claim it results from institutional and social biases that are deeply ingrained in the British higher education system.
Now, a new report for the think tank Civitas casts doubt on this research. In The Racialisation of Campus Relations, Dr. Ruth Mieschbuehler, a senior lecturer in Education Studies at the University of Derby, argues there is no statistical evidence to show that ethnicity alone determines a student's performance. And why would there be? Universities are the most self-consciously anti-racist institutions in existence. The idea that biased academics penalise students of colour is nonsensical.
Also on rt.com
BAME is not OK? UK sports group wants to move goalposts again for ever-changing PC language
Indeed, the more we drill down into the ethnicity gap data, the more meaningless it appears. For one thing, BAME students are not one homogenous group and degree performance varies enormously between students of different ethnicities. The attainment gap is widest among black students and is narrowest among students from mixed ethnic backgrounds. But rather than questioning the data, both the ethnicity attainment gap and the reasons for its existence have become articles of faith within universities.
Mieschbuehler points out that one important study published in 2007 controlled for variables other than ethnicity, such as gender, prior attainment, disability, level of deprivation, subject area, type of higher education institution attended and age. When these factors were taken into consideration, the ethnicity attainment gap was still discernible, but it shrank significantly.
Yet, as the authors of this study noted, there are other factors that might also influence the likelihood of academic success that they had not taken into account: parental income and educational level; term-time employment; English as an additional language; prior institutions attended; caring responsibilities; and immigration status. Motivation and aspirations might also influence attainment. If these factors could be measured and controlled for, the ethnicity attainment gap might well disappear altogether.
Universities are not undertaking this more detailed research, however. Instead, they continue reporting ethnic attainment differences without accounting for all these other variables known to impact performance. This exaggerates one potentially trivial difference between students at the expense of many more significant factors.
Also on rt.com
No, the countryside is NOT racist and to suggest it is does the good people of rural Britain a major disservice
The impact of doing this is far from trivial. As Mieschbuehler points out, the belief that students from minority ethnic backgrounds underperform often leads to measures being put in place that 'racialise' students on campus. This might include changing the curriculum, altering reading lists, adapting assessment methods, appointing new black lecturers and promoting existing black lecturers to more senior positions, or implementing unconscious bias training for all staff members.
Through these measures, universities focus on racial and ethnic differences and encourage students to judge themselves and each other according to their skin colour. This denies students their individuality by emphasising their group identity. This practice might be well-intentioned but, Mieschbuehler suggests, it does far more harm than good. She argues, "defining and grouping students by their skin colour and basing attainment policies and practices on these divisions drives a wedge between people and removes any sense of our common humanity."
Racialising academic attainment might lead to lecturers having lower expectations of BAME students. Formalising double standards, whereby white students are expected to work harder than their BAME classmates to achieve the same mark, is patronising and unhelpful for students of colour. Their academic achievements are diminished by being placed within a context of perceived vulnerability. BAME students are encouraged to see themselves as vulnerable and less capable than they really are.
Also on rt.com
The university system was once the jewel in Britain's crown, but not anymore… it needs a complete overhaul
As Mieschbuehler puts it, "The result of these interventions is that students are 'minoritised'. They are held to be in need of special treatment." Once, it was old-fashioned racists who argued that white people were innately more intelligent than black people. Now it is woke academics who make the same claims.
To move beyond this, The Racialisation of Campus Relations recommends a number of positive changes. An important first step, Mieschbuehler suggests, is to "re-examine the reporting of statistical data on attainment that has contributed unjustly to the perpetuation of the diminished educational status of students from minority ethnic backgrounds." Then, she notes, universities should reject grouping and referring to students in policies and practice. Academics need to recognise that BAME students, like all students, are not vulnerable and have agency and can take charge of their own learning. All students should be provided with the academic education they desire and deserve.
Earlier this year, the government announced the launch of a commission on race and ethnic disparities. Its main purpose will be to review inequality in the UK, including in the area of education. I hope it will take note of the important arguments put forward in The Racialisation of Campus Relations.
Think your friends would be interested? Share this story!
The statements, views and opinions expressed in this column are solely those of the author and do not necessarily represent those of RT.
You can share this story on social media: