The university system was once the jewel in Britain's crown, but not anymore… it needs a complete overhaul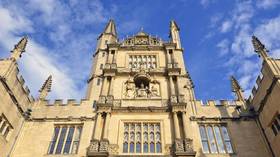 Tensions with local communities, financial difficulties caused by Covid-19 and inherent inequalities are blighting UK universities. But a conference of working-class academics last week provided hope for the future.
The spiral towers of Oxford; the punting at Cambridge; cutting-edge inner-city campuses; on the face of it there is still a certain appeal to British university life.
But the reality is different. Instead of being a local asset, they have become colonizing forces, and as a working-class academic in the system, I often feel like the enemy within.
I have been privy to many memos, emails and policy documents which express fear and concern that the city in which a university resides might damage its reputation abroad. This can be because of unwelcome developments, local history which may not be in line with the university's 'brand,' or concerns about the local population.
Quite often, the university would be happier if it could get rid of the local population that lives around it. Consequently, some universities have become very powerful institutions with a loud voice in British cities. In Nottingham, for example, residents are trying to stop a Victorian marketplace being bulldozed for yet more student flats.
In Sheffield, local residents were astounded by 'the Diamond,' an £81 million ($102.75 million) building for University of Sheffield students to revise in that within a year of its completion was nominated for the Worst New Building in Britain award in 2016 .
There are other problems, too. The ever-increasing pay of vice chancellors has too often been in the spotlight rather than the students' accolades and achievements.
And there has been the rise of the 'superstar academic,' employed for their ability to write five-star peer reviewed books and articles for the 'Research Excellence Framework,' a system that forces academics like me to follow the same path as those who have gone before and whose five-star work we are measured by.
At the same time, precarious, short-term contracts are given to other academics to do the teaching, the marking and the care – and all this within the backdrop of 10 years of austerity, a million people using food banks, children going to primary schools hungry, and an absolute halt in social mobility.
The British university is clearly not designed for the public good. In fact, the so-called 'jewel in the British crown' is, on close inspection, nothing more than cubic zirconia bought from Elizabeth Duke at Argos.
Admittedly, there is nothing new or radical about my criticism of the university system. The arguments have been well made by others, including the UCU, the union that represents lecturers. It has been in a longstanding dispute about precarious contracts and poor pay scales for some workers.
However, I feel hopeful change may be starting to happen. When a system starts to crash, there is opportunity, and Covid-19 is highlighting years of bad practice, inequality and a system built on false symbolic capital.
One of Covid-19's symptoms has been to expose the fabrication of the for-profit 'let the market decide' system. Universities all over the UK are in real trouble, and they know it.
Also on rt.com
'I used to push for working class kids to go to university, but no longer: they are toxic institutions of prejudice'
Read any vice chancellor's statement on their public pages, and you will see pleas to the students to take up their £9,000-a-year ($11,400) places despite most lectures going online. You will also see pleas to the workers to take wage cuts, because of the massive deficits the system has built up through overspending on buildings, and of course, the over-reliance of wealthy international students taking up expensive places, which is now under threat because of the effects of Covid-19.
If this is not bad enough, the university system has also been under the spotlight with regard to its structured inequality. Female academics still have a wage deficit and still take on most of the pastoral care of their students, working-class academics are still found in the lower echelons of the institutions with wage deficits, and black people are woefully underrepresented as faculty members and overwhelmingly overrepresented as cleaning and security staff members. Anyone working in the university system knows this is its greatest shame.
And yet following my attendance of the online 'Working Class Academics Conference' last week, I remain optimistic. It had over 500 delegates and presenters from all over the world and the talent, the ideas, the excellence of the research and teaching pedagogy was incredible.
Research, innovation and cooperation were constant themes, plus there were no big superstar academic keynotes and no use of academic social capital in getting friends and proteges onto the best panels.
It showed those of us who took part what has really been lost in our education system, and that is the passion for knowledge and social justice.
It left me wondering if there is a space for a people's university, particularly for social sciences, art and humanities?
We need a university system that values its students' life experience as a resource for fighting inequalities and injustices, and where there are spaces of inclusivity rather than exclusivity.
We need a university system where life experience means more than A-levels. Where being working class is an asset, not a drawback.
And we need a university system where cities and communities welcome those spaces of learning and those students, because they work for and with that community and not against it.
One thing that I am sure of is that it would work better than the colonizer model we have now, where the city must bend to the need of the university.
Town and gown is on borrowed time.
Think your friends would be interested? Share this story!
The statements, views and opinions expressed in this column are solely those of the author and do not necessarily represent those of RT.
You can share this story on social media: