You can criticise the way undercover cops have behaved, but it's only thanks to work like theirs that we can sleep easy at night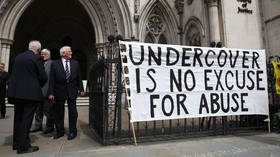 A £30 million inquiry into how British undercover officers infiltrated left-wing groups, slept with activists and spied on campaigns for justice for the murdered makes for grim reading. But it is vital work that keeps us all safe.
Good people can sleep safe in their beds at night because very brave, committed and deceitful people are prepared to lie and trick on their behalf.
Remember that as you read about the Undercover Policing Inquiry set up by then-British Home Secretary Theresa May in 2005 and which has cost us taxpayers £30 million so far.
This inquiry, led by one of our most eminent high court judges supported by ninety staff, began its work after it came to light that some 30 years ago some members of a covert police unit run by uniform branch officers called the Special Demonstration Squad (SDS) and later the National Police Public Order Unit (NPOU), had overstepped the mark of what us good people think is acceptable.
Also on rt.com
Forcing 40% of London's police to be from BAME backgrounds is virtue-signalling nonsense & will do nothing to tackle crime
In some cases, undercover officers (UCs) formed sexual relationships with members of extremist groups. In others, UCs used the identities of dead children to develop a false life history for themselves. In a particularly disturbing case, senior police officers authorised the infiltration of family and friends campaigning for justice over the 1993 racist murder of black teenager Stephen Lawrence.
That decision, made at the highest ranks of the Metropolitan Police, strikes me, as a former London borough commander with 30 years in the force, as breathtaking stupidity. It risked the reputation of the Met in a way that defies even my credulity, and smacks of defensiveness and duplicity. Stephen's mother, Doreen, now a baroness, is quite right to be outraged. As are the campaigning relatives of other such UC targets, such as Ricky Reel.
The distaste left by such cases was enough to justify the setting up of the inquiry. It also gave Theresa May ammunition to have a go at the police service in her personal battle to bring uppity coppers to heel. It is one of the factors, together with her cuts in funding, her criticism of stop and search and her dismantlement of the national police training infrastructure, as to why our police have become so relatively toothless.
But we have to remember that – leaving the operational and tactical mistakes to one side for the moment – that the work undercover cops do generally is vital. We deploy these officers to keep us safe in our beds at night. And that is not hyperbole.
Having been involved in this work both as a low level short-term covert operator back in the day, and, more importantly, as a senior police officer organising or tasking such operations, I can tell you with absolute certainty there is no more effective tool to countering organised crime, terrorists or dangerous extremists than putting a 'spy' in their camp. Since the days of the great 6th century Chinese General Sun Tzu, anyone who is in the business of defeating an enemy or threat knows this.
Deception and tricks are how we kept the information of how we sunk the German U-boats and the D-Day secret to defeat Nazi fascism in Europe. It is the same with any successes against organised gangs and terrorists, or those against left- or right-wing extremists intent on disrupting our society and economy for whatever radicalism they want to force upon the rest of us.
That is why the use of undercover agents or police officers by the police and security services is so crucial to the wellbeing of all of us, our businesses and our economy.
Also on rt.com
Revealing the real names of undercover spycops who ruined lives is the only way they can be held to account
But like any 'sharp end tool' in the government's toolbox, deploying these people is a fraught business and must only be done within strict guidelines.
Firstly, because if compromised, the undercover operative is likely to end up dead and possibly tortured. The disappearance and murder of the courageous British Army undercover officer, Captain Robert Nairac, at the hands of the IRA in 1977, is an example of this.
Secondly, in the loneliness of their position, the UC can go rogue, adopting behaviours and values we may not like, find unsavoury or are criminal; they might engage in crime or violence or face deteriorating health from the stress of their life. To say nothing of their taking some action that later results in media outrage.
I have known police officers who spent years living alongside terrorists and terrifyingly violent organised criminals in order to protect us. They live a life of elaborate lies with carefully crafted 'back stories'; and yes, sometimes basing their fake identity on someone who is deceased and is difficult to trace. Be in no doubt that their targets will do extreme due diligence on them, seeking to track down the history of any outsider who quietly attempts to insinuate themselves into their world. Any false slip, and they will end up like Captain Nairac. It doesn't require much imagination to understand the strain these operatives live under – the emotional, mental health costs can be enormous.
How can someone live such a double life? Away from family, friends, their colleagues, social groups and homes for months, sometimes years, on end. Perhaps returning only rarely, knowing such contact exposes them and their families to the possibility of violent death. They dare not use Facebook to stay in touch, and are often absent for birthdays or Christmas.
That is why for me it's not surprising that some UCs have been found to act in unsavoury ways. For example, forming sexual relationships with members of the left-wing extremist groups they were infiltrating, or even committing crimes. Whether this happens out of pure lust or greed, or a need to cement their position in the group, or that they have over identified with the cause by becoming victims of Stockholm Syndrome, is difficult to establish. Such conduct risks the reputation of the police and security forces, but it is one we must continue to take if they are to protect us.
As the inquiry runs on, clocking up the cost to the taxpayer, here are my predictions of what it will say about what we need to do to reduce the risks and to improve such work.
Key to this will be ensuring that only the best quality, most carefully selected and vetted people are used for UC work. That where possible they should be rested regularly. Of no less importance will be the need for them to have the best possible 'contact and cover' support, giving them operational, moral and emotional guidance.
Also on rt.com
As governments seek to make photographing police a crime, our art puts them back in the frame & accountable for their actions
Additionally, the inquiry should recommend that careful and considered decisions are made about how, when and against whom UC operations are deployed; we should never again see something like the attempted penetration of the supporters of those working for justice for someone like Stephen Lawrence.
It should say that circumspection should be applied to any operation that may appear to be subject to political concern, e.g. the gathering of intelligence on groups focusing on climate change, animal rights, workers' rights, or campaigners supporting Palestinians or Kurdish freedom fighters or Bolivian revolutionaries, or whoever. Are such groups really an existential threat to our way of life or our democracy?
The inquiry should confirm that the changes made years ago to bring UC work under the control of a national body with firm standards was the correct one and that the systems for deployment of UCs are as good as they can be, perhaps with a few minor tweaks to justify the £30m-plus spent so far. It should support the fact that uniform public order commanders no longer have control of such operations, but that they stay under the remit of senior detectives, with their greater experience of evidence gathering and case building.
It will probably conclude that the police brought in changes many years ago to militate against future misuse or misbehaviour by UC officers.
Eventually, there will, rightly, be some out-of-court payments to activists who have been duped by UC officers and emotionally abused, and to families like the Lawrences. Along with apologies and promises such abuses will not happen again.
But I fervently hope that the inquiry firmly says that we need undercover officers now and in the future, and that those whose task it is to protect us need our support. And that they need to be able to do this important job without being fettered by some left-wing or politically-driven oversight body building delay and navel-gazing into the process.
As for me, would I be a long-term undercover officer? No, I could not do their job; I do not have the cold nerve or long-term self-restraint that this difficult, but essential, work takes.
Thank goodness, however, some people do. We all sleep easier because of them.
Subscribe to RT newsletter to get stories the mainstream media won't tell you.
The statements, views and opinions expressed in this column are solely those of the author and do not necessarily represent those of RT.
You can share this story on social media: