'Rather than catch my son's killers, the police spied on us. People of colour don't get justice, cops don't think we deserve it'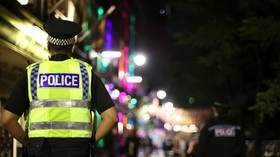 An inquiry into the scandal of the widespread use of undercover officers to surveil families campaigning for justice begins public hearings next week. The mother of Ricky Reel, a student killed 23 years ago, tells of her agony.
On 15th October 1997, 20-year-old Ricky Reel was enjoying a night out with friends in south-west London's Kingston upon Thames, when a group of youths descended upon them, shouting "Pakis go home."
They ran off in different directions, their attackers in hot pursuit – Ricky's friends managed to make it home safely in the end, but he was never seen alive again.
Recalling the dark, hopeless days that followed remains a painful experience for his mother Sukhdev today, and there are frequent pauses mid-conversation to wipe away figurative and literal tears.
She recalls police investigators stubbornly suggesting Ricky wasn't in danger, let alone dead, instead intimating that he'd simply run away from home. They even asked whether his parents had been trying to impose an arranged marriage on him. Another officer suggested to Ricky's father with a wink that his son might be gay.
"We'd no choice but to do all the searches for him ourselves all day every day, returning home at two, three in the morning. Despite constantly appealing for officers to comb the Thames river, they never did. They searched our home several times though, every area, claiming they thought he might be there somewhere," Sukhdev recalls.
"They assumed we might have injured him and were hiding him in there. We became so frustrated. During the search, they took my husband out to check the garage while I remained in the house with other officers, and pointed out to one of them they'd missed our attic and asked whether he wanted to look in there."
Official intransigence and insensitivity endured even when, an excruciating week later, Ricky's body was found floating in the Thames. Sukhdev says the immediate reaction of the sole officer present that fateful day was to announce that his death was clearly an accident, and demand his body be removed from the scene without delay. "How could he know without conducting an investigation?!" she asks furiously.
'Weaknesses and flaws'
From day one, police maintained Ricky simply fell and drowned while drunkenly urinating, and that there'd been no violent or racial factor in his death of any kind whatsoever. Their explanation was believed by few, least of all his family.
With the support of friends and members of the public, they established a justice campaign, seeking to uncover precisely what happened that night, and to expose institutionalised racism within the Metropolitan Police. The campaign quickly gained prominence, thanks in part to backing from the family of Stephen Lawrence, likewise fighting for justice for their son who had been murdered by racists in 1993.
In 1999, the Reels' efforts bore significant fruit – the then-Police Complaints Authority began probing police handling of the case, which concluded there'd been "weaknesses and flaws" in the approach of the investigators, singling out three separate officers for neglect of duty.
The Authority also discovered that CCTV footage of the area Ricky and friends were accosted had been deleted, that Ricky's friends weren't shown pictures of local racists to determine if any were present that night, and that no forensic analysis had been conducted in the area investigators alleged Ricky fell into the river.
Later that year, an inquest into his death recorded an open verdict – despite police denials of foul play being involved, the Reel family's lawyer, Michael Mansfield QC, presented evidence Ricky had fallen into the river backwards, with bruises on his back indicating a recently-incurred beating.
Months subsequently, Sukhdev shockingly received a call from a journalist who informed her they'd been passed post-mortem photographs of Ricky, and had been pushed to publish them by the chief investigating officer into his death – who'd resigned not long after the inquest concluded.
"They said the pictures were awful, that his skin had been taken off in places – I'm not sure why, but I know exactly why the officer didn't ask me whether I wanted them published. Which mother would ever give permission for that? When the reporter told me about the photographs, I tried to jump out of the window. I didn't want to live. I didn't want to see them myself, let alone the entire world. I feel so sick talking about it, they even tried to tarnish my Ricky's image. I still don't understand why he had the photos, which were part of the investigation, in his home," Sukhdev said.
As of October 2020, not a single officer involved in the investigation of Ricky Reel's death has faced disciplinary action, and no arrests have ever been made.
Spied on and privacy violated
But there was also something more pernicious and insidious going on, something the Reels would not know about until some 17 years after Ricky's death.
Because the Reels had failed to agree with the Metropolitan Police's verdict on Ricky's death, and were campaigning actively against it, at some point senior officers decided to secretly put them under surveillance. Undercover officers joined their campaign, pretending to be supporters, all the while looking for and recording any information that could be used to undermine the family and their campaign.
It was a spying operation the Met used against many others, including the Lawrences.
Sukhdev only learned about it when, in 2014, her local MP, John McDonnell, was contacted by the police, seeking a meeting with him, the Reels and Suresh Grover, an adviser to the family's ongoing justice campaign. The attendees were summarily informed they'd been subject to covert police monitoring, their words and actions recorded by malign forces without their knowledge or consent.
Later, Sukhdev and her daughter were told they were now "core participants" in the ongoing Undercover Policing Inquiry (UCPI), established by then-Home Secretary Theresa May in March 2015 to investigate numerous controversies surrounding the British state's use of clandestine operatives.
Despite the inquiry having spent five-and-a-half years, and millions of pounds, investigating, it has to date achieved little for the innumerable victims of police spying in the UK, and has refused to reveal much information of significance. It will at long last begin hearing evidence in public next week.
Officials have sought to characterise this surveillance of the Reels (and, indeed, others) as "collateral intrusion" – inadvertent intelligence gathering by officers investigating individuals involved in the family's campaign, rather than direct and deliberate targeting of Sukhdev et al.
It's an explanation she strongly rejects – scepticism easily understood when one considers that by the inquiry's own reckoning, undercover police have infiltrated at least 18 family justice campaigns over the years.
In 2015, Sukhdev was invited by Scotland Yard to view reports that undercover officers compiled on her family. Initially grateful, whatever hopes she had quickly evaporated when officers presented her with pages consisting of little but blacked-out lines.
Almost all the information had been redacted, so that burning questions such as who spied on her and her family, why, what sensitive personal information was collected in the process, and the impact of the spying on the investigation into Ricky's death, were unanswerable as a result – "like a sick joke," she says.
"The spying was no accident," she maintains. "They were frightened. Our campaign was getting big. Plainclothes officers pretending to be supporters violated our privacy, attended our public meetings, entered our home, more probably. We thought they were our friends and supporters, but really they were trying to undermine us from the inside. After so long, we're still waiting for answers, still waiting for an apology."
'Smear the family'
Former undercover officer Peter Francis, who under the pseudonym 'Pete Black' infiltrated 12 separate justice campaigns between 1993 and 1997, has claimed part of his mission when spying on Stephen Lawrence's family was to find incriminating information on them and their justice campaign, and publicly discredit them in the process.
"Had I… found anything detrimental, the police using the media would've used that information to smear the family," he has alleged. "My superiors were after any intelligence of that order. That was made clear to me. The Lawrences weren't unique in this. I suggest journalists read some of the information leaked to the press at the time about these campaigns and seriously question where they came from and why."
In 2018, it was confirmed that Francis was just one of several other undercover officers who infiltrated the Lawrence justice campaign, including 'David Hagan', who gathered personal details about Stephen's parents Doreen and Neville, including intimate information about the state of their marriage. Hagan was also one of the officers who spied on the Reel family.
Sukhdev, understandably, remains outraged at the gross and egregious violation of her family's privacy: "We weren't involved in any criminal activity, anything which warranted being surveilled. We wanted accountability and justice for my Ricky. We were demanding the police carry out a proper investigation.
"They said they didn't have the resources to carry out further inquiries – but they clearly had the resources to spy on us. They didn't care about my son or catching his killers, they were only interested in what we and our campaign were doing."
'If Ricky had been white…'
Like many other UCPI core participants, Sukhdev has little hope that the inquiry will deliver the truth, let alone reconciliation, she deserves. Since its founding, she's received some internal police documents under privilege, but is prevented from discussing the contents, even with her husband, let alone publicising them.
While UCPI chair John Mitting has released the cover names of some undercover officers, their real names, and photos, have invariably not been disclosed, on the grounds that doing so might put them at risk of reprisal. Sukhdev finds this justification inexplicable and deplorable – she's known the real name of 'David Hagan' for some time, and has done nothing to hurt him in any way, let alone leaked it to the public. "What does he think we're going to do?" she asks, furious that the rights of police spies are being prioritised over their victims.
"My Ricky was murdered. I need to know how, why and by whom. Racism played a big part in his death, the investigation, the spying. The word racism doesn't leave us alone. People of colour don't get justice, because in the eyes of the police, they don't deserve justice," she says bitterly.
"That's my conclusion based on how I've been treated since the day my son went missing. If he'd have been a white boy, things would've been very different. I need to be able to mentally place where I met the people who spied on me, know what events they attended, when they were in my house, whether they watched and reported on my children. That frightens me. When I go out, or go to sleep, I feel eyes staring at me everywhere."
Sukhdev refuses to give up her fight for justice. The Reels will next week launch a petition alongside the launch of the UCPI, which will be supported by a number of people, including former shadow chancellor John McDonnell. It calls for police to reopen lines of inquiry into Ricky's case, such as reviewing forensic evidence using techniques that weren't available 23 years ago.
Think your friends would be interested? Share this story!
The statements, views and opinions expressed in this column are solely those of the author and do not necessarily represent those of RT.
You can share this story on social media: