Forget Huawei, US spying on Denmark shows the real threat for European countries comes from Washington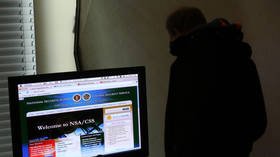 Revelations that America engaged in surveillance on Denmark should come as no surprise. It has consistently spied on its allies, and its efforts to vilify Huawei are simply an attempt to create a smokescreen.
Denmark's public broadcaster DK has revealed, citing anonymous sources, that the US National Security Agency (NSA) cooperated with the country's intelligence services in spying on the Danish ministries of finance and foreign affairs.
The purpose was to gather information on Denmark's fighter jet acquisition program, with Washington aiming to secure Copenhagen's procurement of Lockheed Martin F-35s at the expense of European defense firms.
The story, while covered in Denmark and the Netherlands, was largely ignored in the English-speaking international media. The espionage scandal comes at a time when Washington is aggressively pushing the idea of a "clean network", demanding that European countries exclude the Chinese firm Huawei from their telecommunications networks amid allegations that it is an "espionage risk."
Also on rt.com
The world now sees that there's no exceptionalism or grandeur in American democracy but only chaos & a sense of injustice
However, that isn't what is happening here. The "clean network" isn't really clean at all, and the threat to European countries lies far closer to home than Beijing. The US has a long, well-established history of utilizing its intelligence agreements to spy on European countries for commercial reasons, not least when it comes to the bidding of the 'military-industrial complex.' Yet, instead of being concerned about this, the public and media have lost themselves in hysteria about a single company, Huawei, whose alleged complicity in espionage has never been proven.
What is the military-industrial complex? The term refers to an oligarchy of American multinational aerospace and defense contractors which constitute the backbone of the US military, such as Lockheed Martin, Boeing and Raytheon, to name a few. These companies exert a disproportionate influence over American politics in order to uphold their enormous profit margins.
They employ a number of strategies to do so, which include the funding of think tanks that actively promote aggressive and military-led foreign policies, such as the Centre for Strategic and International Studies (CSIS). But more alarmingly their representatives and lobbyists are immersed within the Washington DC system itself. Take for example Nikki Haley, who was until recently a member of Boeing's executive board. What does she know about aerospace engineering? Nothing. What does she know about promoting war and neo-conservative policies? Plenty.
Yet this isn't all. What this revelation in Denmark reminds us is that the military-industrial complex also coordinates with US intelligence to promote their interests, even undermining competitors within allied countries.
For example, in 1994 it is publicly documented that the US Echelon program undermined a deal between the European firm Airbus and Saudi Arabia in order to secure a $6 billion contract for Boeing. Likewise, it was revealed several years ago that the NSA had spied on Germany's Chancellery for decades. What has happened in Denmark is not new, it's part of a trend.
Also on rt.com
Is it Brave New World or 1984? Here are a few dystopias we ALREADY live in
Despite the US spying on European countries with a view to promoting military-industrial complex interests, Secretary of State Mike Pompeo's backing for the "clean network" comes with claims that the scheme promotes privacy and data security by excluding "untrusted vendors." But it's obvious that such a network does not exist because the US is able to infiltrate it at will; it is a disingenuous façade.
The real reason the US seeks to exclude Huawei is not on legitimate security grounds, but to uphold its strategic monopoly over the global internet and network surveillance. Whether Huawei spies or not – and nothing has ever proved it does – it is nonetheless a company which is not under the political control of the US and its intelligence partners, which makes its networks harder to infiltrate and subvert.
The US hasn't aggressively promoted its anti-Huawei campaign because it cares and acts in good faith. It has done so because there is an obvious set of interests which the rise of the Chinese company challenges, and Huawei's growing influence also brushes against the military-industrial complex as well as America's various internet surveillance efforts, such as Prism.
Thus, the message should be this: forget China, the US is the biggest, most advanced and most unrivaled advocate of global surveillance in the world, much of it publicly documented and verified. Not only does America frequently spy on countries it claims to be its allies, but it also seeks to undermine their commercial interests to ensure the global monopoly and profit margins of the military-industrial complex are sustained.
Therefore, what is described as "the clean network" is little more than hypocrisy from Pompeo, a packaged lie designed to sustain a status quo which favors Washington, and which a Chinese telecommunications firm poses a threat to.
Think your friends would be interested? Share this story!
The statements, views and opinions expressed in this column are solely those of the author and do not necessarily represent those of RT.
You can share this story on social media: