Silencing 'defund the police' campaigners is the next big battle in the Democrats' civil war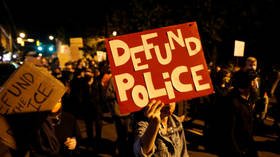 Old-guard Democrats Joe Manchin and Jim Clyburn have made clear how opposed they are to defunding the police. They realise how unpopular the idea is with many voters, but it puts them on a collision course with party progressives.
Defunding the police has been one of the key battlecries from Democratic lawmakers ever since the death of George Floyd. But with the Republicans gaining so much ground in the House of Representatives in the wake of this push, Democrats are beginning to speak out against the movement. To the surprise of very few, it's far from popular with voters to diminish what they see is the first line of defense against criminality in their communities.
What's not been so widely anticipated is that the Democrats are starting to see a divide within their leadership over this particular subject. West Virginia senator Joe Manchin and House Majority Whip Jim Clyburn have both expressed their distaste for the idea.
Clyburn flat out stated in an interview with Axios that the messaging hurt them in the election. He said, "Sloganeering kills people. Sloganeering destroys movements. Stop sloganeering. And let's go about the business of representing people and building hopes and aspirations for people." And more specifically, he reflected, "That phrase — 'defund the police' — cost Jaime Harrison tremendously," referring to the Democratic Senate candidate who failed to take Republican Lindsey Graham's seat in South Carolina.
Also on rt.com
As Al Sharpton ridicules the idea of defunding the police, it becomes ever clearer that BLM is out of step with many black people
Joe Manchin's reply to the idea of defunding the police was "defund, my butt. We are the party of working men and women. We want to protect Americans' jobs & healthcare. We do not have some crazy socialist agenda, and we do not believe in defunding the police." I don't know if we needed to hear about Senator Manchin's rear, but the message is pretty clear.
Defund the police? Defund, my butt. I'm a proud West Virginia Democrat. We are the party of working men and women. We want to protect Americans' jobs & healthcare. We do not have some crazy socialist agenda, and we do not believe in defunding the police. https://t.co/EIFHX5OQ37

— Senator Joe Manchin (@Sen_JoeManchin) November 11, 2020
Now, this flies in the face of more progressive candidates such as congresswoman Alexandria Ocasio-Cortez, who has consistently pushed the 'defund the police' mantra. There's an obvious divide here. It seems glaringly obvious that the old guard of the Democrat party is at odds with the new, progressive wing that it has welcomed in.
A cynic might say that this form of extreme messaging is considered permissible by Democrats as long as there is a chance it may help attract votes from certain communities. However, when the rubber meets the road, progressive policies like this just aren't popular. As such, old guard Democrats who don't want to lose ground in government are more than happy to dump the messaging as quickly as they can.
As I discussed when I wrote about California Senator Dianne Feinstein playing nice during Amy Coney Barrett's Supreme Court confirmation, the old guard of the Democrat Party know how to play politics. They are fully aware of what needs to be done and has to be said to stay in power.
The much more progressive younger generation seem to be idealists. They tend to buy into messaging that you will see from groups such as The Young Turks, which has little practical use in politics. And frankly, the old guard is not going to risk alienating the electorate just because a bunch of young people who like Karl Marx a bit too much scream slogans that don't solve anything.
Also on rt.com
FUND the police! Chicago sees a huge decrease in murders by, duh!, using more cops and arresting armed criminals
This is ultimately where we see the generations split. When the likes of Joe Manchin or Jim Clyburn first got into politics, the Democrats were the working man's party. Blue collar practicality is what got them into office. These days, many younger, idealistic Democrats sit way further to the left. Their pie-in-the-sky worldview is clearly going to clash with anyone who doesn't have their head in the clouds. And that's why an idea like defunding police doesn't sit well with many potential Democrat voters.
To put it simply, defunding the police is one of the most bone-headed political moves of the past two decades. So, while 'Black Lives Matter' messaging will remain perfectly fine to older Democrats, don't expect them to back any sort of policy to defund police that will lose them the House of Representatives in 2022.
Think your friends would be interested? Share this story!
The statements, views and opinions expressed in this column are solely those of the author and do not necessarily represent those of RT.
You can share this story on social media: