Progressives calling for Dianne Feinstein's head over her questioning of ACB prove they have no idea about political strategy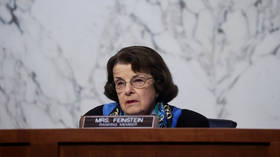 Leftists demanding that veteran senator Dianne Feinstein step down for her lack of invective during Amy Coney Barrett's confirmation have completely missed the point – this was a deliberate move by a shrewd political operator.
Feinstein has been a United States senator since 1992. She is easily one of the most experienced Democrats in the Senate, and has often been seen as a party leader. Regardless of your opinion of her, it cannot be denied that she knows what it takes to survive in politics. Recently, Democrats were looking to her to set the tone for the way that the confirmation hearing of Amy Coney Barrett to the Supreme Court would go.
It goes without saying that they aren't happy with her.
Also on rt.com
The woke mob strikes again, with the phrase 'sexual preference' banned overnight. Or was it really so sudden?
Despite being extremely harsh with the now Supreme Court Justice Brett Kavanaugh, Dianne Feinstein wasn't nearly as confrontational this time around. In fact, her statement from years ago stating that dogma "lives loudly within" Amy Coney Barrett was not echoed at these hearings. This lack of bile has left many Democrats vexed and confused by the proceedings. However, this was clearly intentional on Feinstein's part, given how much public flack she got for those statements a few years ago.
In my opinion, Feinstein is fully aware that she needed to approach this situation with kid gloves. With the election just weeks away, she is smart enough to know that any sort of probing or bashing of Barrett's Catholic faith could be seen as anti-Christian. Given that 70 percent of adults in the United States identify as Christians, Feinstein is aware that any perceived anti-Christian sentiment could destroy Democrats at the polls. But I don't think that the progressives of the party care though.
Also on rt.com
Amy Coney Barrett vows to keep politics out of law, but Democrats & Republicans have other ideas as confirmation hearings begin
The progressive group Demand Justice immediately called for the removal of Senator Feinstein as the top Democrat on the judiciary committee. Progressive policy group MoveOn stated, without hesitation, that she undermined her own colleagues and needed to step down from the judiciary committee. Even her thanking Republican Senator Lindsey Graham, chairman of the judiciary committee, has fallen under scrutiny. She's not even allowed to be polite to her opponents without getting screamed at by these hysterical groups.
Surely this proves that the "dogma" of progressivism lives at least as "loudly" within leftists as Barrett's Catholicism lives in her?
This clash is indicative of the split we are seeing between the progressive wing of the party, and the older generation of Democrats. It's safe to say that the progressive wing is considerably more idealistic, but also has the strategic faculties of a goldfish. These sorts of calls are downright idiotic if you want Democrats to have a chance at election or re-election this year. Apparently, these progressives forgot how much of a backlash the Brett Kavanaugh hearings caused them.
Also on rt.com
'Are we not supposed to wear masks now?' Internet dunks on former Clinton staffer fearmongering about Coney Barrett WEARING a mask
Feinstein is sharp enough to know that naming Ruth Bader Ginsburg's successor this quickly was a political trap. Donald Trump knew two things going into this. The first was that it was important to get another originalist judge on the Supreme Court before his first term was over. The second was that if the Brett Kavanaugh hearings repeated themselves with Amy Coney Barrett, he would win re-election with ease. The Brett Kavanaugh hearings cost the Democrats seats in the Senate during the last midterms, and there's already a possibility that Joe Biden could lose this election.
Still, this will not stop progressives from hammering any Democrat that does not align with them and what they want 100 percent. However, this blind prioritization of idealism over strategy may end up being what tanks them in the long run. Personally, I say let them dig their own graves.
Think your friends would be interested? Share this story!
The statements, views and opinions expressed in this column are solely those of the author and do not necessarily represent those of RT.
You can share this story on social media: