France's bold stand for Charlie Hebdo liberty shames the cowardly UK & US cultural elites as they postpone a race-issue exhibition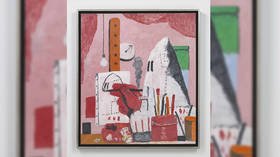 As the bodies pile up in France's defence of freedom of speech, imagined criticism from the Black Lives Matter movement has seen both British and American galleries put on hold a timely art show in case it upsets people.
As a consequence of its unbending defence of freedom of speech, France remains on high alert, fearful of terrorist murderers who disagree with it. Meanwhile, in the UK and the US, we sleep more soundly in our beds by refusing to make such hard choices – and the cowardice this exposes at the heart of our cultural establishment shames us all.
While President Emmanuel Macron has bravely held the line to defend French liberty in the face of the unspeakable horrors wrought upon his citizens by rabid Islamists who object to the publication of caricatures of the Prophet Mohammed – first in satirical magazine Charlie Hebdo and now in a wider environment, as other French publications rally to the cause – the cowardly curators of a scheduled UK and US tour of the works of Canadian-American painter Philip Guston have have pulled the plug on the exhibition lest someone somewhere is upset.
Also on rt.com
Muslims are strangely obsessed with cartoons, all while there are very real crimes over which they should be angry at France
While the works were slated to appear at the Tate Modern gallery in London next February, organisers now say that won't happen until at least 2023, if at all. Further showings in Boston, Houston, and Washington DC have also been postponed.
To explain their patronising pandering to the woke brigade, in order to avoid any criticism whatsoever from them, the team of curators – who all happen to be white – issued a joint statement defending their decision. They had agreed to delay the exhibition, they said, until, "a time at which we think that the powerful message of social and racial justice that is at the center of Philip Guston's work can be more clearly interpreted."
Of course, in this gross display of over-protective hand-holding, they are referring to the sometimes heated discussion about race that has been had on both sides of the Atlantic since the start of 2020.
Guston's work is provocative, that's undeniable, but that's the whole point. His childlike depictions of Nazis and the Ku Klux Klan were prompted by his experience of the violence and civil unrest of the 1960s, which would have made a fresh look at his work exquisitely timed.
Also on rt.com
As bodies mount up in terrorist attacks, Europe must realise Islam itself is not the problem but how & why people get radicalised
Because, of course, we've just had a long taste of that violence and civil unrest ourselves, and nowhere more so than in the US, with Black Lives Matter (BLM) marches clashing with right-wing opposition, commentators tearing scabs from historical wounds, armed police and anarchy on the streets across America, and the most divisive US elections in living memory, fer Chrissakes. This. Is. The. Time.
But no. Nanny knows best. So Guston's works will stay where they are until our cultural superiors decide we are ready to see them. It's a pity the murdered editors from Charlie Hebdo had no say in that decision.
To deny us this opportunity is an insult to those heroes of freedom by high-minded cultural guardians soaked in virtue signalling and giving off the stink of self-righteousness. They should be dismissed from their positions of privilege immediately and exiled from public life forever.
We can understand that the more swivel-eyed adherents at the fringes of the BLM movement might screech and wail at the sight of Guston's childlike images depicting the artist – who's been dead for 40 years – and others in the typical Ku Klux Klan garb of white sheet and pointed hood. But it's not racist propaganda we're looking at here; it's an artist expressing a viewpoint about the upheaval of American society in the 60s, when the works were made.
Also on rt.com
By postponing an exhibition featuring paintings of KKK figures, senseless censors are devaluing art
Isn't the freedom to express a viewpoint what Charlie Hebdo's decision to print caricatures of the Prophet Muhammed was all about?
And look at the mayhem that bold decision has brought to the streets of France! Not only were a dozen people killed by evil terrorists Saïd and Chérif Kouachi, on January 7, 2015, after the magazine's publication, but in the past two months, as the court case in Paris continues over the involvement of 14 accomplices, not only have there have been a further four deaths in two separate Islamist incidents in which two victims were beheaded, but another two innocent people were stabbed outside Charlie Hebdo's former offices.
That blood was spilled in the name of freedom. And still, the French stand by their right to say whatever they please, even if that means offending people, and even if that means paying with their life.
Yet in the cosy salons of the British and US cultural elite, unbelievably difficult choices such as this never have to be made. Because they are simply avoided, lest someone, somewhere, somehow take offence.
The decision to delay the Guston exhibition has shone a light on the rarely spotted incestuous cliques of donors, patrons, artists, and gallery bosses who run these high-revenue travelling shows, revealing their real concern: protecting their own interests. All the while, they're petrified of upsetting the woke brigade on social media – never mind the art, or the questions it asks of us all. And the French, in their bravery, must struggle to understand this humiliating display of abject cowardice.
Think your friends would be interested? Share this story!
The statements, views and opinions expressed in this column are solely those of the author and do not necessarily represent those of RT.
You can share this story on social media: