If Macron, Merkel and Trump can all call out Islamist terror for what it is, why can't Boris Johnson?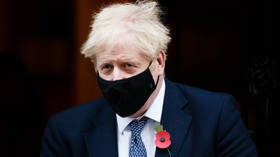 The UK PM has once again failed to name the ideology behind the string of slaughters on the streets of Europe. Sorry Boris, but your thoughts and platitudes won't save anyone.
The UK's terrorist threat level has been raised from 'substantial' to 'severe'. This means a terrorist attack is considered highly likely, although there is no specific intelligence of an imminent incident. Home Secretary Priti Patel now wants us "to be alert but not alarmed."
Barely a month goes by without news of a devastating Islamist attack taking place somewhere around the world. Sadly, this means that raising the threat level has an air of inevitability about it. Nonetheless, we need to ask why, after so many lives have been brutally cut short, we are still no nearer to stopping Islamist terrorism.
Also on rt.com
Danish paper, first to publish Mohammed cartoons in 2005, refuses to print Prophet caricatures over safety concerns
This week it was the turn of Austria and Afghanistan. Gunmen stormed Kabul University, murdering 22 people and injuring many more. A regional Islamic State group claimed responsibility for the attack. Meanwhile, in Vienna, four people were killed and at least 17 others left seriously injured after an Islamic State sympathiser opened fire on people enjoying a final evening of freedom before coronavirus restrictions kicked in. The nihilistic and seemingly random nature of these attacks, on citizens simply going about their daily lives, is something that has become all too familiar.
As usual, world leaders issued statements of sympathy and solidarity with the besieged country. Boris Johnson responded to the Austrian shootings: "I am deeply shocked by the terrible attacks in Vienna tonight. The UK's thoughts are with the people of Austria – we stand united with you against terror." These platitudes are something we have come to expect. But they also provide a clue as to why Britain's terrorist threat level has risen.
For a start, why is the British prime minister expressing shock? The incident in Vienna came just days after the killing of three people outside a church in Nice and the beheading of teacher Samuel Paty near his school in the Parisian suburbs. At home, the Manchester Arena Inquiry is currently investigating the suicide bombing by Salman Abedi that killed 22 people, some of them children. In 2017, eight people were killed when Islamist attackers drove a van into pedestrians on London Bridge before launching a knife attack in nearby Borough Market. On the same spot last year, two people were murdered by Usman Khan, released from jail halfway through a 16-year sentence for terrorism offences. Tragically, Islamist attacks occur far too regularly for anyone to be "shocked."
Boris Johnson says Britain is "against terror." This is good to know. But, interestingly, other world leaders felt able to name – and condemn – not just terror in general but the more specific threat. German Chancellor Angela Merkel said in response to the attack in Vienna: "Islamist terrorism is a common enemy." Emmanuel Macron has been forthright in criticising a "political Islam that is not compatible with stability and peace in the world" and defending the values of the French Republic.
Also on rt.com
Vienna attack investigation: Terrorist likely acted alone after he 'tricked' Austria's deradicalization program, minister says
In the US, Trump, likewise, felt able to name and condemn. "Our prayers are with the people of Vienna after yet another vile act of terrorism in Europe. These evil attacks against innocent people must stop. The U.S. stands with Austria, France, and all of Europe in the fight against terrorists, including radical Islamic terrorists," he tweeted.
Yet his rival for the White House was more vague: "After tonight's horrific terrorist attack in Vienna, Austria, Jill and I are keeping the victims and their families in our prayers. We must all stand united against hate and violence," Joe Biden said.
Tragically, the past few years have shown us that prayers, thoughts and lighting candles are not enough to prevent Islamist terror attacks. Boris Johnson – and Joe Biden if he becomes president – must go further. A vital first step is to be able to both name the particular threat we face and define what exactly is under threat.
Some nations are now beginning to move in this direction. Austria's interior minister, Karl Nehammer, said: "Austria is a democracy, shaped by free speech, tolerance in living together. The attack yesterday is an attack on these values and an inadequate attempt to divide us. We will not stand for this. There will be consequences." Meanwhile, in France, 12 million school children held a minute's silence and were taught about the importance of free expression in honour of Samuel Paty.
Also on rt.com
'This is our Europe': Macron voices 'shock & grief' over Vienna terror attack, warns 'enemies' will be dealt with
British schools did not do this. Even when terror attacks have occurred on British soil, beyond lighting candles and acknowledging general sadness, the event is soon swept under the carpet. Macron's defence of secularism, tolerance and free expression has led to France being singled out for criticism by the leaders of Turkey, Pakistan and Malaysia. Meanwhile, Britain issues statements expressing sadness but no political solidarity with the French government.
Boris Johnson's 'thoughts' will not save the lives of university students, teachers, party-goers, children and worshippers. Right now we need courageous leaders who can stand up to all who condone Islamist terrorism. This means challenging the foreign regimes that demand acquiescence, as well as the academics and commentators at home who cowardly argue that not offending Islamists is more important than defending free expression and democracy.
Think your friends would be interested? Share this story!
The statements, views and opinions expressed in this column are solely those of the author and do not necessarily represent those of RT.
You can share this story on social media: