Sex with a mask on, boarded-up brothels and no work after 9pm… the reality of being a prostitute during Covid-19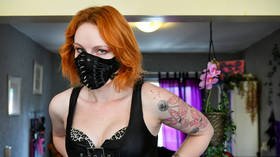 The pandemic has hit sex work hard – getting intimate with a stranger is difficult under social distancing rules. But the trade has learned to adapt, as RT.com found out when it spoke to those involved in the scene in Barcelona.
It's the oldest profession, so they say: selling your body for money. The threat of hellfire and eternal damnation, courtesy of the Catholic church, didn't have much of an impact on it. A rich array of diseases, from gonorrhea to AIDS, couldn't stop the sex trade either. Nor could the cops and the shifting sands of the world's legal systems.
If any occupation has demonstrated the capacity to adapt and survive over the years, it's prostitution. Covid-19, though, is biting hard. And as the long anticipated second wave crashes ashore, the working girls (and boys) are facing a tougher financial and physical test than most.
Never mind Dr Anthony Fauci or the boffins in Britain and the EU; these women are world experts at dodging diseases. It's part of the game they're in. But it's tricky to be up close – close enough to touch – and maintain social distance. It's tough to not breathe in a punter's breath, mask or no mask.
A good case in point is what's happening in the Spanish party city of Barcelona. The Catalonian capital has something of a reputation for its sexual nightlife, from brothels to swingers' clubs. Lots of sex workers from Caracas to Krakow come to Barcelona because there's plenty of opportunity to make money.
Or there was.
Also on rt.com
Sex work is key work? Morality aside, is Covid-19 the time to rethink the 'vital' public health role of prostitutes?
Barcelona has long been close to the top of the list for 'stag-do' bachelor parties - a destination for hordes of lads from across Europe, particularly the UK. They land at the airport in gangs of a dozen or more, usually already smashed, and all wearing the same stupid t-shirt with a picture of the happy groom-to-be ironed on the front.
Often, they have the words 'what goes on tour, stays on tour' written on the front of those dopey t-shirts. It's an apt phrase because if their wives, fiancées and girlfriends knew what they so often get up to at night in the city while 'on tour', they'd all be single again when they got home.
Like any business, sex work is all about supply and demand. And the tourists aren't coming. Because the hotels and guesthouses and Airbnbs are empty, so are the brothels.
Bars, restaurants and clubs have been closed for a couple of weeks. And, to make things even tougher for sex workers, there's also a curfew in Catalonia from 10pm until 6am, the peak hours for this kind of work.
Prostitutes have long been adept at operating under the radar, though. It's part of the game, and always has been.
Take Apricots, for example, a 'knocking shop' near the Nou Camp football stadium. Often the roar from the Barcelona fans rattles the shutters from the outside, while the groans from another satisfied customer do the same from within.
"We're closed right now due to the Covid restrictions," one of the workers told RT.com. "But the girls have a flat not far from the stadium, and customers can go there. Get there before eight o'clock though, because they stop work at nine."
A girl takes your temperature at the door and you must use alcohol to disinfect your hands. Oh, and you have to wear a face mask ... at all times.
It's not exactly what you'd call intimate.
For sure, there must be blokes out there who get a sexual buzz from a hazmat suit and a respirator – there's a market for everything – but it's not what most paying customers would want.
One young woman called 'Raquel' explained how she arrived in Barcelona a couple of years ago from Colombia and soon found herself in the sex game. It was very good, if not necessarily 'easy', money. Now she's the 'madam'– the manager, essentially – of a brothel.
"We're a business like any other," she told RT.com. "The collapse in tourism is probably the biggest problem. We're a very large sector in this city, we should have the same rights and access to the same financial help as any other workers. But the Government doesn't do anything for us."
That's not strictly true. Spain announced in April that prostitutes could access support services, emergency accommodation and claim a new social benefit. Even foreign women who are in the city without the correct paperwork – as many are – would have access.
"Look," Raquel told RT.com. "The truth is that many regular clients keep coming anyway with the same frequency. But no girl is forced to do anything, it's her choice. I don't know of any girl who has caught Covid-19.
"There are also ways that girls can earn some money without touching, like doing an erotic dance at a distance or teleworking - doing a sexy dance on a webcam, etcetera."
Another problem that has hit these girls recently in Catalonia is the fact that regional borders have been closed and movement restricted.
One of the wealthiest areas in Barcelona is a seaside suburb called Castelldefels. Lionel Messi, Luis Suarez and Philippe Coutinho and a host of other big football names all have houses on a hill overlooking the C-31 main road.
Prostitutes often sit on the roadside in deckchairs down there, waiting to service truck drivers and the like. But not right now; there's not much traffic.
And it's not only prostitutes and paying customers who've been hit hard. Genuine couples who enjoy 'recreational sex' with total strangers have also had to find fresh outlets for their 'hobby'. Barcelona has a thriving swingers' scene, with couples visiting the beach and the tourist attractions by day, and getting down and dirty at night.
'Training Pedralbes', for example, is one venue that sees a lot of action. It may sound like a local gym, but it's actually a swingers' club where couples go to enjoy a far more intimate workout with total strangers. Another swanky swingers' club nearby is called Oops. Both these venues are closed at the moment, and with no income to cover their bills in such an expensive part of town, they're at real risk of going under.
I have a friend who enjoys this lifestyle with her husband. Each to their own: she says they'd have divorced a decade ago without this outlet in their lives. "We still 'play'," she said. "But we've been going to parties in country houses and stuff. Everyone uses alcohol on their hands, temperatures are checked, we wear masks - all of that. Same as people who play sport. What's the difference?"
Fair enough. But what about the rest of us? Sex bubbles sound kinda fun. In the UK, the latest rules say couples who live apart can enjoy each other's company at close quarters if they are in the same support bubble.
The Terrence Higgins Trust charity sticks by recommendations it made in the summer: don't kiss, wear a face mask and choose positions that aren't face to face. And, of course, the safest sex of all is to, well, just do it on your own.
Or there's always the option of a nice cup of tea and Netflix.
Think your friends would be interested? Share this story!
The statements, views and opinions expressed in this column are solely those of the author and do not necessarily represent those of RT.
You can share this story on social media: