Christmas is usually crap, but Covid means you can have the festive season you've always secretly wanted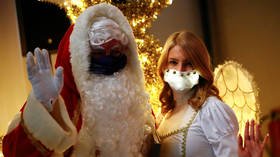 Why the hysteria about how awful Christmas is going to be this year, with families split up, social distancing and bars and restaurants likely to be closed? Sounds like a great idea to me…
"I'm dreaming of a Covid Christmas, unlike the ones I used to know..." Maybe that freshened-up little ditty doesn't quite have the same ring as the Bing Crosby original, plus, well, a singalong is not much fun when folk are socially distanced. And, of course, singing is banned in some places anyway…
The curse of Covid, you see. It killed Christmas.
That microscopic party pooper. The little s**t gatecrasher, he wasn't even invited! Yet he somehow made it all the way from China, riding people's breath and hopping from one host to the next. It took him a while to get here, but he arrived and now he just won't leave.
All this talk of Christmas 2020 being a washout, though... hang on a minute. It might be the best and most peaceful festive season ever.
Just think how much cash you'll save on presents for people you only see once a year. The pubs are most likely gonna be shut too, so you won't have to spend a fortune buying a round or three at the bar. All the parties have been canceled, too.
Also on rt.com
Call me a Grinch, but with festive markets abandoned, the ski season gutted and zero excitement around, Christmas 2020 is off
Even the turkeys are slimming down in expectation of a different kind of meal, as the 'rule of six' means a lot of meat would go to waste.
Breeders are putting the birds on crash diets or slaughtering them early to meet this new kind of demand. Not such a good thing for the fowl, maybe, in the end. As, fat or thin, they'll still get their weird gobbly heads chopped off.
But look on the bright side – unlike the turkeys, think about what you're escaping. You now have the perfect excuse to get out of those parties and events that you never really wanted to go to in the first place.
Aunt Minnie's annual soiree? The one where Uncle Mike gets wasted on pineapple daiquiris and Aunty Jean sinks far too many gin and tonics, and they have a stand-up row in the kitchen over the last ice cube?
Nope. Can't come, sorry: Covid.
Then there's that relative who lives overseas, the one who flies in for a few days and overstays well into the new year. She can't come. Blocked by quarantine restrictions on arrival and departure. Hallelujah!
And think of all the cooking you no longer have to do. My ex-mother-in-law spends hours, days, slaving over a hot stove and keeping all the plates spinning – never burning so much as a Brussels sprout – all to feed a horde of people she only sees once a year. Why exactly? This will be the first year she's had off since she was a child.
Call it off!
Yes, take a break this year. A boffin at Harvard University even has your back. "Multigenerational gatherings, indoors, involving eating, are among the most risky settings for transmission," says Dr. William Hanage. And he should know, he's a professor of the evolution and epidemiology of infectious diseases.
It's the perfect excuse to do what many of us have always secretly wanted to do anyway: turn off the cooker and just make a few sandwiches, before slobbing out in front of TV.
There will even be fewer of those annoying Christmas adverts to sit through too, as companies have cut back on their usual annual blitz of festive promotions trying to flog you woolly jumpers, pyjamas and other stuff you neither need nor want.
Also on rt.com
Stop smoking, ditch the pyjamas, stay at your desk: how 'bossware' technology is secretly monitoring you working at home
And – oh God, this is a good one – the work Christmas bash! The one that is normally obligatory to attend or face a full year in the doghouse, pay rise hopes held in suspended animation. It's off. Canceled.
Careers can be made at those events. Brown-nose the right boss and a promotion next year is assured. But careers can also crash and burn at the dreaded work Christmas do.
In just a few short drunken and over-fed hours with the management, the wrong thing can be said into the wrong ear. Or, in my case, an olive could end up in the wrong ear.
At one Christmas work do, many, many years ago, I got totally hammered on free booze. There was a horrible little man there whom I utterly despised. Unfortunately, this little man also happened to be my boss and so he wasn't just paying the bar bill, he was also paying my salary.
I'd managed to keep my loathing in check all year in the office but with alcohol added into the mix, all bets were off. I decided it was a really fun idea to use his oversized head as target practice, polishing my skills at throwing little green olives from a bowl. Luckily, I was so drunk that I missed – there were at least three of him, and that was with one eye closed.
My final hazy recollection of that evening is of a colleague pushing me out the door and into a taxi as I was, he told me later, on my way to invite the man outside for a bit of Christmas rough and tumble in the gutter.
Also on rt.com
Age-old Christmas traditions replaced by modern agenda – as Santa gets a makeover!
Even plastered, I'm sure I would have won. His bark was worse than his bite, like a dachshund. But there would have been no point turning up for work in the new year.
And what about the two colleagues in the corner having an intimate moment on the sofa? They'll escape that now, and avoid a full year of office whispers in 2021 because it simply cannot happen. Not this year.
We have avoided this, all of it! Yippee!
But not everyone is happy. BBC journalist Victoria Derbyshire was forced to apologize after saying she was going to break the rule of six this Christmas. Six sounds at least two too many to me, though.
We should really make the most of it this year, because there's a vaccine on the way and it'll be the usual embarrassing and costly business in 2021. Boris Johnson has pretty much promised Brits there will be a Covid-vanquishing jab in time for Christmas.
So, instead of a shot of vodka, we can all expect a nice shot of vaccine. See you outside the clinic on Christmas Eve. Drop your pants and bend over, here comes the needle...
Cheers! Salud! Prost! Za zda-ro-vye! It's going to be a Merry Christmas, indeed.
Like this story? Share it with a friend!
The statements, views and opinions expressed in this column are solely those of the author and do not necessarily represent those of RT.
You can share this story on social media: