Call me a Grinch, but with festive markets abandoned, the ski season gutted and zero excitement around, Christmas 2020 is off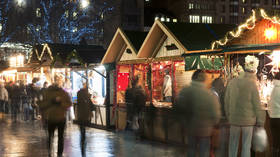 Santa's not coming to town & the Three Kings can keep wandering afar. Thanks to Covid-19 cracker-downs, we apparently need to prepare for a 'digital Xmas'. 'Tis the season to be miserable.
After the year we've had it really is the last thing that anyone wants to hear but the signs around the globe are irrefutable: thanks to the coronavirus pandemic, Christmas 2020 is dead.
The bad news broke first in that most pragmatic of nations: Scotland. The Scots' national clinical director, Jason Leitch, jumped the gun on the government's messaging by warning everyone to prepare for the worst during a morning television interview this week.
While most viewers would simply have been expecting a wrap up of the latest Covid-19 statistics and a repetition of the restrictions in place, Mr Leitch dropped a bomb on Santa's plans, saying, "We are not going to be in large family groupings, with multiple families coming round – that is fiction for this year. I'm hopeful that if we can get numbers down to a certain level, we may be able to get some form of normality. But people should get their digital Christmas ready."
There. It's been said. And Scottish politicians will be secretly pleased that the news no one wants to hear has come from a civil servant, so they themselves are off the hook for ruining the seasonal festivities for everyone. Enjoy your digital celebrations, folks – who's dreaming of a Zoom Xmas, blowing kisses to and remotely opening presents with fellow prisoners?
Across Europe, there's no Joyeux Noel or Felix Navidad either. Belgium and the Netherlands have just bid adieu to their internationally famous Christmas markets, along with major European cities like Geneva, Hamburg, Helsinki and Paris.
In the UK, most Christmas markets are already off, including the one in Lincoln, the UK's oldest, which is cancelled for the first time since 1982.
In Germany, organisers have scrapped the annual Berlin Gendarmenmarkt in a crushing blow not just to the estimated million or so visitors expected this year, but to the 120 artisans who face a festive season of no market revenue.
The economic hit to Germany from the cancellation of that one market alone is estimated at up to €25 million. Elsewhere, in Cologne, famed for atmospheric markets scattered around the city, organisers' plans are in tatters as the larger sites have already been cancelled with others sure to follow. The financial fallout will be catastrophic.
Also on rt.com
No long-distance travel till 2022 for Australians – and that's IF POPULATION-WIDE vaccine is rolled out next year, budget predicts
It doesn't get any better either. For Germans looking to escape the misery with a ski break, they've been warned that visiting a host of popular resorts in Austria, Italy and Switzerland will mean a lonely, 10-day quarantine on their return. The news came just after it had been confirmed that German Health Minister Jens Spahn had become the latest prominent politician to test positive for the virus. That at least made the bad news easier to digest for some.
Thanks to the number of Covid-19 cases sourced back to ski resorts last year, alpine destinations from Vail to Val d'Isere will look completely different this year. Many have already banned apres-ski events, which means no more dancing on the tables, drinking games or yodelling.
So far, you are still permitted to ski, but with many resorts introducing open-top gondolas for ferrying skiers to the mountain peaks this season, it will be a decidedly bracing ride for keen devotees only.
Until there is unanimity about what the runes are clearly telling us, there will be those who bravely insist the Christmas show must go on. In the UK, the British Retail Consortium is doing its darnedest to keep the idea of festive shopping alive, but you cannot help but feel that its 'Shop early. Start wrapping. Enjoy Christmas' campaign is doomed.
Face mask on, face mask off and sanitising your hands every few steps will ensure Christmas shopping is a grim and torturous experience, no longer the riotous, free-spending pursuit of yesteryear.
And with so many shops, bars, pubs, restaurants and cafes in towns and cities across the UK and Europe either shut, opening for shorter hours or restricted in the numbers they can serve, the atmosphere and buzz in our big cities at this normally vibrant time of the year is a flat zero.
Whoever thought we would ever miss the sight of merrymakers with tinsel wrapped around their necks drunkenly making their way home from office Christmas parties, crammed onto public transport and noisily singing and vomiting their way through the build-up to the main event?
It's hard to say when we're less than 10 weeks out, but Christmas this year is a turkey. Not roasted with all the trimmings. Just a turkey. Bah humbug, and good riddance, 2020.
Think your friends would be interested? Share this story!
The statements, views and opinions expressed in this column are solely those of the author and do not necessarily represent those of RT.
You can share this story on social media: