The Pope's endorsement of gay civil unions is as much a cynical ploy to appear progressive as it is a step in the right direction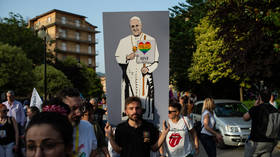 The leader of the Catholic Church has been fêted for his new stance on homosexual relationships, but, while the sentiment is positive, he avoids the crux of the matter: that the Church still views them as a sin.
Pope Francis has been hailed by mainstream pundits, who have praised his latest statement on homosexuality in a new documentary titled Francesco.
In the film, he said: "Homosexual people have the right to be in a family. They are children of God. … What we have to have is a civil union law. That way they are legally covered."
Also on rt.com
Pope changes Catholic Church teaching on death penalty, brands it 'inadmissible' & wants abolition
The pontiff has billions of parishioners and faces the tough task of resonating with them all. While it's welcome to hear this sentiment being expressed by the Vatican, it is still somewhat depressing that it's 'news' for a world leader to be praised for acknowledging that gay and lesbian people shouldn't be shunned.
The bar for Pope Francis is held artificially low. When Donald Trump seemingly refused to denounce white supremacists, he was torched in the court of public opinion. Boris Johnson was slammed for not taking the knee in support of Black Lives Matter. The Pope is in their league, and arguably wields more influence over his flock – after all, he is ordained by the Almighty. This is why his message is so derisory. The implication is unwavering: that there is something wrong with being homosexual, and homosexuals don't equate to heterosexuals.
Catholic author Dr. Taylor Marshall interpreted the comments thus: "People who are struggling with same sex attraction … they can be part of your family as long as it's kept safe, and the part of the family is intervention and, 'How do we help you?'"
Intervention? That word makes it appear as if someone's sexuality is akin to them being addicted to gambling. And the Pope's emphasis on the material need to ensure homosexual couples can divide their assets fairly, while completely ignoring their wish for spiritual acceptance also wildly misses the mark.
Also on rt.com
Pope slams capitalism & injustices in WOKE view on post-Covid world… but gets heat for insufficiently inclusive letter TITLE
As does Bishop Thomas Tobin of Providence, Rhode Island, who said that the Pope's words "clearly contradict" Catholic teaching, and "The Church cannot support the acceptance of objectively immoral relationships." The homosexual community is not seeking help – it is seeking respect and dignity. The Church can deliver that only by granting homosexuals equal status.
I am a Catholic. I think the religion stands for many empowering and positive things. But anyone who thinks married couples aren't using contraception, or that the majority of unmarried Catholics don't have sex out of wedlock is a buffoon. That supposed "sanctity" is a relic of another era, and acting and communicating in any other way is propaganda.
During my schooldays, there was a local priest who left the faith. I later discovered he had found love and was living with his partner – another man. That didn't sully anything he had done previously in the parish. So, why would allowing homosexuals the right to marry in the Church alter anything for anyone else?
Patrick Hornbeck, a professor of theology at New York's Jesuit university, Fordham, said: "No previous Pope has spoken this warmly about same sex relationships and same sex families. … He has not changed the official teaching of the Catholic Church [but] he sent a message of hope." But that is merely a glimmer, let alone a ray of hope, when Catholic doctrine still refers to gay relationships as "deviant behaviour."
In the Pope's 2013 book 'On Heaven and Earth', there is this line: "Every person needs a male father and a female mother that can help them shape their identity." Without recanting this statement, his hands remain dirty and his latest statement won't wash them clean. Loving parents are what a child needs. Their gender is an afterthought.
Also on rt.com
As corruption continues to curse the Catholic Church, no wonder my 11-year-old would rather be a witch than a Christian
If the Pope wanted to lay down a marker, why didn't he vow to lead a campaign to include homosexual relationships within the Church? That would allow millions to no longer feel guilty for their innate preference for men, women, or both. His mealy-mouthed pontificating on civil unions may be making the right noises, but also demonstrates an absence of integrity. It gives the illusion of inclusion, yet it's barely skin-deep.
With most of the large nations currently split by politics, economic hardship, and Covid-19, he could have sprinkled some much-needed stardust. Tell every homosexual couple to be at church this Sunday and at the same time, condemn any priest who objects.
The axiom that "with great power comes great responsibility" has been attributed to everyone from Voltaire through Winston Churchill to Spider-Man. Nevertheless, the sentiment is correct. The Pope has sadly abdicated the responsibility of acting with real conviction. Far from a Damascene conversion, this is just a cunning ploy that changes nothing but pleases the world's liberal media. Francis is peddling pyrite, or, as it's better known, fool's gold.
Think your friends would be interested? Share this story!
The statements, views and opinions expressed in this column are solely those of the author and do not necessarily represent those of RT.
You can share this story on social media: