Latest Balkan stand-off shows how difficult it will be for EU to achieve its expansionist masterplan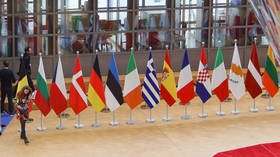 Having run out of candidate countries in Western Europe, the EU is looking to the Balkans to expand. But stalled talks between Bulgaria and North Macedonia illustrate the problems that lie in store in this troubled region.
The ongoing struggle by North Macedonia to formally enter into accession talks with the European Union could all be down to one man, but, annoyingly, he's been dead for more than 100 years.
The Balkan nation faces opposition to its aspiration to become part of the pan-European bloc from its neighbour Bulgaria, thanks to several sticking points, one of which is their dispute about the ethnicity of Ottoman-era revolutionary Gotse Delchev, who died in 1903.
The nationality of the hero, revered by both sides, is just one issue in a list of contested readings of history and language that North Macedonia and Bulgaria must reach agreement on before talks can move forward.
Bulgaria insists that unless they can reach a mutual understanding on these – to them – hugely significant cultural issues, it will veto North Macedonia's attempt at EU accession.
Following the latest round of bilateral talks, which ended last week after two days of argument, the two countries were no closer to settling hotly contested views over language, history and ownership of jointly claimed heroes, like Delchev.
The visiting Bulgarian delegation even had a pop at the Skopje weather, with one member commenting that the talks were "grey," just like the skies over the North Macedonian capital. Touchy! And this is the joint commission supposed to be adopting a reasonable and conciliatory approach to unravel this string ball of shared history.
With even the weather provoking irritation, it is hard to see how the mood of talks will improve when they eventually turn to the treatment of the Bulgarian national minority in North Macedonia and the ethnic Macedonian minority in Bulgaria.
And then there's the North Macedonian language. Is it just a Bulgarian dialect, as Sofia would claim, or, as the North Macedonians insist, a language in its own right? Tomato. Tomatho. Let's call the whole thing off?
For the EU, it is vital that these talks succeed. Because central to the bloc's ethos is expansionism – east, west, south, north, wherever it can find willing nations looking to build their own elite political class, and suck up billions of euros in loans, grants and subsidies, in return for subservience to Brussels.
Also on rt.com
EU takes legal action against Cyprus and Malta for 'selling' EU citizenship
Make no mistake, there is a queue. Hot on the heels of North Macedonia is Albania, then Serbia, Montenegro, Bosnia, Kosovo and even Turkey.
Unravelling the various disputed claims to the territory, language, religion and history intertwined between many of these nations would easily comprise the life's work of a team of ethnographers, historians and linguists.
Brussels will persist, however, even if the talks needed to clear the way for accession for some of the applicants take decades, because it prefers to ignore ingrained and, unfortunately, sometimes irreconcilable differences that exist between nations. Instead, it prefers to impose a single currency upon and legislate unilaterally for 500 million people from plush offices in the Belgian capital, rewarding those who fall into line and penalising those who refuse to adhere to the regime.
Unfortunately for the EU, there are no near neighbours left to woo. Switzerland is quite happy playing neutral and there are no more Irelands or Portugals on the horizon. Fringe-dwellers Iceland issued a clear 'thanks, but no thanks' to membership, formally withdrawing its application in 2015. So it's the fractured nations of the former Yugoslavia that the EU must look to if it really is to achieve the Brussels fantasy of one fully united Europe plus, of course, Turkey.
North Macedonia, clearly one of the more compliant potential candidates, can still prove problematic, having spent 27 years in dispute with Greece over what it called itself, finally resolving the matter just last year with the Prespa Agreement.
Kosovo and Serbia have the more fundamental issue of where their border lies to address, and fellow aspirant Bosnia and Herzegovina was just last year branded a "ticking time bomb" by French President Emmanuel Macron who cited returning Islamic State (IS, formerly ISIS) fighters as a growing menace. The Bosnians were not happy at all with the accusation, but in light of recent events, the President is unlikely to have changed his ideas.
This spat is typical of the suspicion and ignorance that drives a wedge between Western Europe and its Balkan neighbours. All sides are equally wary of each other. Not only are there fundamental disagreements between the Balkan countries, they are also suspicious of the EU.
They remain to be totally convinced by the EU that joining the bloc would ultimately be better for them than what China might offer with its Belt and Road initiative or whatever might bear fruit from closer ties with Russia.
They are asking themselves if the reward for EU membership is worth the pain of revisiting, rewriting and redefining their own histories. Brussels needs to convince them it is, as long as they keep the flame of EU expansionism alight. But no one said it would be easy.
If any of this is to work, particularly the ironing out of differences between existing and potential members, then someone needs to step up. Someone with the standing of Delchev. But unfortunately those leaders are in very short supply.
Surely, the EU knows it has a fight on its hands to resolve the myriad issues in play before accepting new members into its ranks. Or maybe it is just leading on these ambitious but troubled nations to keep them in line, with no real intention of ever fulfilling the hopes it has helped to build.
Think your friends would be interested? Share this story!
The statements, views and opinions expressed in this column are solely those of the author and do not necessarily represent those of RT.
You can share this story on social media: