Is China really about to invade Taiwan?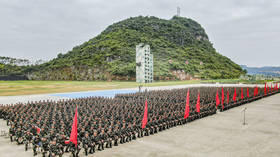 China's increased military posturing near the island of Taiwan has led some observers to worry an invasion might be in the offing. But is it worth it for either Beijing or Taiwan's backers, the US, to ruin the tense status quo?
As US-China tensions surged in recent months, one of the biggest flashpoints in the standoff has been the Taiwan Strait, which Washington has sought to weaponize in its attempts to contain Beijing. As the United States has sailed war ships through the strait, Beijing has equally increased naval and air exercises around it, prompting fears that conflict could break out. China claims sovereignty over the self-ruled island, which remains a continuation of the "Republic of China" state which was defeated in the mainland in the civil war in 1949.
Beijing points out that its One China policy, as recognized by the United Nations since 1971, means there is only one legitimate government for the entire country. It has insisted that reunification must be the outcome, and urged other countries to respect its position. On the other hand, many on the island itself now advocate a separate identity and are happy with the status quo of de facto independence, a position that Washington has long backed and is intensifying in order to deter China. Beijing sees the legitimation of "Taiwan independence" as a grave threat to its sovereignty, and in turn has stepped up displays of its military might.
But will war break out and will Beijing formally invade? The answer is: not likely. Whilst there is no doubt that the balance of power in the Taiwan Strait is increasingly swaying in China's favor, such an outcome would undoubtedly draw the country into a disastrous war with the United States and prove destructive to its own and the global economy at large. Even if China won, it would be a pyrrhic victory. As a result, its military activity around the island should be understood as a form of deterrence in order to force other countries to take its sovereign claims seriously and set out its position, which they would not do otherwise. Washington on the other hand is happy to encourage escalation, not only to lock China into confrontation but also because Taipei offers big profits for the military industrial complex.
China places reunification and the One China policy at the heart of its international relations. The overriding theme of the "reunification of China" is a core narrative of the PRC state which stems from the discourse of China overcoming the humiliation and infringement of its sovereignty by Western powers. From Beijing's perspective, the island of Taiwan was a part of China, but was separated from it in 1950 after the Chinese Civil War, following Harry Truman's bid to protect the government of Chiang Kai Shek, who fled the mainland to carry on with the "Republic of China" government on the island. The mainland sees this as illegitimate, and has subsequently mandated the establishment of diplomatic ties with the PRC on recognizing the One China principle.
Although China has consistently maintained that it will use force if necessary to reunify itself with the island, the status quo of de facto independence has continued to prevail as Taipei has received military backing from the United States. Although America itself officially "recognizes" the One China policy and does not maintain "official" ties with Taiwan, it has nevertheless upheld the relationship as being strategically important. In the era of the Trump administration, which has pursued confrontation against China, this has reached a new level and the White House has been prepared to give Taipei unprecedented backing to push back against China, rubbing against the lines of the One China policy. Several months ago, the first US Cabinet official in decades, Secretary of Health and Human Services Alex Azar, proceeded to visit the island.
Also on rt.com
Trump's latest arms sales to Taiwan aimed at winning votes by 'getting tough' on China… but risks war
Beijing sees increasing American support for Taiwan, as well as increasing support for formal independence and anti-mainland sentiment on the island itself, as unacceptable. From their position, the discrediting of their sovereign claims over Taiwan represents a blow to regime legitimacy and credibility, and could invite other countries too to push beyond the line. As a result, China is acting with military postures in order to enforce red lines and deterrence against the United States and others. It does not aim to invade the island, but it aims to set out its military capabilities to force others to take its position seriously, and therefore limit the level at which others are pushing back. After all, anyone could claim rulership over anything hypothetically, but unless they have the capabilities and power to actualize that claim, nobody would take it seriously.
That is what China is subsequently doing with Taiwan, it is about setting out their hand. An attempt to invade Taiwan, irrespective of the outcome, would be disastrous and certainly risk a war with the United States, yet to illustrate the prospect of that puts a check on Washington and Taipei as much as it does to Beijing itself. The United States however, are happy to play along with this. They are not looking for war with China on this issue – they want to contain Beijing's ambitions to politically subjugate the island, but there is also a profit element too in kicking up the dust. Sales of arms to Taiwan represent enormous profits for the military industry complex, and with the election looming Trump is subsequently ramping up arms sales in order to salvage jobs at home, killing two birds with one stone.
Given this, there isn't about to be a war on the Taiwan Strait, but things will certainly get tense. Beijing does not want to be shown as weak or incapable of actualizing its claims on Taiwan, and does not want to invite other countries to push beyond the red lines it has drawn. As a result, it is using military exercises to drill home this message and seeking to keep the squeeze on Taipei by matching Washington's growing support with growing pressure. Undoubtedly in the attempt to maintain the equilibrium things will get tense but providing both sides remain rational, not suicidal, war can be prevented.
Think your friends would be interested? Share this story!
The statements, views and opinions expressed in this column are solely those of the author and do not necessarily represent those of RT.
You can share this story on social media: