Shut up, spoilt Londoners! The Covid lockdown should be stricter still, so stop complaining and get on with it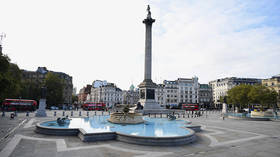 The biggest city in Western Europe is set to face a tightening of restrictions, and millions are disgruntled, but they have no right to be. If anything, the clampdown should be harder, to save more lives.
Everything always seems bigger and better in London, even if isn't, and the bedlam raised by the new lockdown restrictions in the UK capital proves it.
There are three alert levels in England; medium, high and very high. From midnight Friday, London joins Tier 2. Mayor Sadiq Khan explained there was "simply no other option".
The rules and regulations for each tier can be confusing, but the major restrictions facing nine million Londoners are to mix with only six people outdoors. They can't mix with anyone except their household indoors, including in other homes, or in pubs or restaurants, which must close by 10pm. They're also advised to avoid making any journeys, so are expected to stay home when possible. That's it. So, why all the complaining?
Also on rt.com
Lockdowns should be LAST RESORT, but masks & social distancing could save 300K lives across continent, WHO European director says
On social media, one capital dweller ranted: "Asymptomatic cases. Based on a screwed-up test which loses data on Excel. This is NO basis to lock down."
Another fizzed: "This is nonsense. This is taking away our freedom. This is not right at all. Covid is not the problem, but these rules are."
Others have listed higher daily death tolls from cancer and heart attacks, highlighting the fact that Covid-19 fatalities are lower. They are factually correct, but morally moronic.
The daily caseload in London is about to reach 100 per 100,000 on average across all boroughs. In Ealing, by way of example, it's already over that, at 144. In Harrow it is, too, at 119. In Lewisham, it's 75, so not far off. Admittedly, the numbers are small potatoes compared to those in Northern England – in Liverpool and Manchester, it's above 450. But Covid spreads like wildfire, so it's only a question of when, not if, cases rise in London as well. That's why the capital should already be in Tier 3.
While the Mayors of Liverpool and Manchester have fought against that, the Mayor of London should have done the opposite. The third level means you can mix only with people in your household, whether indoors or outdoors. Pubs and bars must shut unless they serve food, and wedding receptions are banned. British Beer & Pub Association chief executive Emma McClarkin said the tighter measures will leave "most pubs fighting for their very survival", and UKHospitality CEO Kate Nicholls said of London jobs: "It will be absolutely catastrophic."
It's been revealed that 250,000 jobs in the sector are in jeopardy, with pub chain Marston's already having cut 2,150. The negative effect on businesses that rely on physical customers, as opposed to online sales, is palpable.
Obviously, this is bad, and these people should be supported, but, with all due respect, when lives are at stake, who gives a damn? Preventing deaths must take precedence over preserving jobs.
Are the moaning masses unaware of the havoc this pandemic has wreaked?
43,000 Brits – including almost 7,000 Londoners – have been put in their grave by it. There's no vaccine, even though the medical profession is trying its damnedest to create one, but until then, there's no way to stop the spread.
We can wash our hands, wear masks and socially distance, but that only mitigates the virus's potency. If someone's business goes bust and they lose their income, it's unfortunate, but what price can you put on life? Do you want to increase the chances of your parents dying? Or how about your diabetic aunt?
London is a prosperous place, and many people living there scrape by and have no financial comfort, but that is not real poverty. For that, look at the slums of Africa or a war zone such as Syria. That's true hardship.
The government's Covid response has been poor and it disregarded clear advice to restart lockdown on September 21. The way it handled the last one also resulted in excess deaths from other conditions, after the sick were instructed to stay away from hospitals, virtually at all costs. The overall ineptitude has left a bitter taste, so people now fear the new rules will be ineffectual.
Also on rt.com
The hidden tragedy of Covid-19 and how Britain's lockdown has consigned thousands to an early grave
But living under a system that's trying, even sub-optimally,to protect us from a killer virus is something to be thankful for. If anyone in London does contract coronavirus, they can be rushed to hospital to hopefully be nursed back to health, like Prime Minister Boris Johnson was in April. Transport for London is being offered a further one billion pound government bailout to make sure key workers can get to work and save lives.
Your social life is inconsequential. Read a book, watch Netflix or learn to play the guitar! If you're lonely, the NHS has a successful system connecting volunteers with those in need. London has prestige, and plenty of glitz and glamour, but that's all obsolete in the face of Covid-19. Your livelihood and lifestyle aren't worth a single person dying.
Londoners feel that, because they're close to the seat of government and live in an internationally renowned city, they're entitled to kick up a fuss. But this time they're not. Obey the rules and encourage the politicians to crank up the lockdown by going into Tier 3. We're all in this together. And we'll only get out of it if we remain together.
Think your friends would be interested? Share this story!
The statements, views and opinions expressed in this column are solely those of the author and do not necessarily represent those of RT.
You can share this story on social media: