The TB vaccine may provide some protection against Covid and could even be the silver bullet we need to end restrictions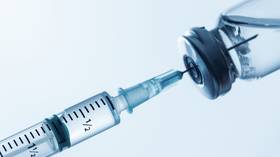 With a Covid vaccine months or even years away, pressure is building for something to plug the gap. A partial rollout of the BCG vaccine could be just effective enough for politicians to pretend they have 'solved' the problem.
The medical establishment is forming rank behind the BCG vaccine as a possible 'placeholder' until a true Covid-19 vaccine can be developed. The president of the WHO was a co-author of a recent paper in the Lancet stating that the vaccine first developed for tuberculosis in 1921 could "bridge the gap before a disease-specific vaccine is developed."
Any such programme is likely to focus on just healthcare workers because they are 'more exposed' to the virus; and would be similar to their compulsory annual flu shot. The UK had universal BCG vaccination until 2005, when TB was largely eradicated. But since its effect is said to wear off with time, millions of Britons who had the BCG vaccine as children could be advised (or compelled) to get another.
Also on rt.com
'Striking' evidence emerges that TB vaccine may be effective against Covid-19 — countries that use it have TEN TIMES fewer cases
Narrative shift
Despite the BBC's breathless reporting, that BCG has a general protective effect is still not news. Several studies from earlier this year showed that mortality rates were strongly correlated with whether the affected country had a population-wide BCG vaccination programme. And now, a 10,000-strong trial of healthcare workers funded by the Bill & Melinda Gates Foundation is underway to see whether it could help them resist Covid-19 in the workplace this winter.
For those of us who want to see an end to the coronavirus panic as soon as possible, this could be very good news. But not for the reasons one might think. Maybe the BCG vaccine would help protect healthcare workers and maybe it wouldn't: no doubt the trial will find out. But if the politicians play their cards right, the news of a vaccine, any vaccine, could be the Get Out Of Jail Free Card they have been waiting for. All they have to do is pretend that it is a silver bullet…
Also on rt.com
'Racist, colonial mentality': WHO chief slams suggestion to use Africa as testing ground for Covid-19 vaccine
Big Pharma's own goal
When you think about it, this madness can only end one way. Not with a vaccine, which was in reality never going to be a silver bullet. The elephant in the room is that there is a chance it won't even work: a mild respiratory virus with multiple strains and fast evolution is a vaccine developer's worst nightmare.
The only way out of this is a massive attitude change among the general public, who have been petrified into submission by an unceasing stream of fearmongering. This shift in attitudes needs to be triggered by a moment of breakthrough, real or imagined. A vaccine may be no silver bullet against the virus, but it may just immunise us against fear. It would be something that people could point to and say, 'we're fine now—can we please put all this behind us?'
The reality is we have two pandemics to deal with, a Covid-19 pandemic that exists in the real world, and a pandemic of fear that has infected our television screens and people's minds. To treat the latter, we need what I call a 'societal placebo effect'. The BCG vaccine, along with the right balance of soothing triumphalism from government ministers, could take on the role of a giant pacifier for the huddled masses, allowing them to once again breathe free.
There is a chance that if BCG boosters were given out to those who wanted them this winter, in the new year everyone would start to forget about Covid-19. BCG could be the (unintended) trigger for a sea-change in attitudes, with the public unwilling to submit to a phantom menace for another year of their precious lives. The demand for a vaccine could melt away, and Big Pharma, finding that it is harder to sell something to somebody for a second time, will realise that they shot their load too early.
Also on rt.com
Bill Gates says life will return to normal only after SECOND generation of Covid vaccines rolled out and virus eliminated globally
A cure for wellness
Call me a fantasist, but I guarantee that this societal death-spiral will never end if it involves any politicians having to admit they have made a terrible mistake. With the vaccine box ticked, they and their toady scientific advisors can pretend that it was the thing that turned the tide of the 'casedemic'. Similarly, the Branch Covidians of the world, whose paranoid ravings in the mainstream media directly contributed to the overreaction, will be placated enough to stop ranting for five minutes so we can all go back to normal.
After all, the only thing that can cure a hypochondriac is a placebo. This is as true for a paranoid society as much as it is for a mental patient.
Think your friends would be interested? Share this story!
The statements, views and opinions expressed in this column are solely those of the author and do not necessarily represent those of RT.
You can share this story on social media: