No commies, please: By banning party members from migrating to America, the US has again shown its crazy paranoia about China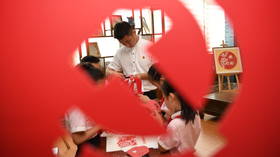 A ban on members of communist parties worldwide from gaining US citizenship was announced last week. This is the latest attempt by America to paint the Chinese Communist Party as the world's greatest bogeyman.
Are you a member of any communist party around the world, and planning to migrate to the United States? Setting aside the apparent contradiction inherent in both preferences, you're no longer able to!
A new rule from the US immigration service introduced last week titled"policy guidance regarding inadmissibility based on membership in a totalitarian party" excludes those who are members of ANY global communist party from permanently migrating to or sustaining citizenship of the US. According to the guidelines, this would be "incompatible with the Naturalization Oath of Allegiance."
While this rule does not refer to a specific country, or even a specific communist organization, it's being widely discussed in the light of one prominent communist state: yes, that's right, China.
Although there are other communist countries in the world such as Cuba, North Korea, Laos and Vietnam, the Communist Party of China (CPC) boasts more than 90 million members, is the world's largest and is increasingly becoming a subject of American paranoia. There isn't a day goes by where Mike Pompeo is not banging on about "the Chinese Communist Party" on Twitter and portraying it as a bogeyman organization that seeks to infiltrate, subvert and undermine the US.
The Chinese Communist Party's reckless economic policies and its ruthless suppression of environmental activists have resulted in China's environmental disasters. The world cannot afford the CCP model of economic development.

— Secretary Pompeo (@SecPompeo) October 2, 2020
But is that really the case? Is being a part of the Communist Party of China such a big deal? America's portrayal of the party is, to say the least, ideological and clichéd.
Rather than understanding it as a political organization which is necessary for social and economic success within China, containing a range of diverse views and levels of enthusiasm, the US portrays the CPC in hackneyed cold war terms. It assumes every single member is part of a coordinated, monolithic scheme to repress and commit evil, going to hysterical levels to 'separate' the party from the 'Chinese people' themselves, as if they are just waiting to be 'liberated' by America.
The first problem with the US's narrative on the CPC is that the party's rule is more popular than America will ever give it credit for, and the Chinese people do not see its presence as unwanted oppression.
A Harvard University Study published in July, which undertook a survey of 31,000 people, found that approval of the party in China recently stood at 93 percent and that "from the impact of broad national policies to the conduct of local town officials, Chinese citizens rate the government as more capable and effective than ever before."
While this does not mean the people of the country have no grievances, or don't want to see certain things change or improve, it is nonetheless far from the popular conception that the party is merely a sinister cabal of old men who the public want to overthrow.
Secondly, those who are members of the Communist Party are not ideological fanatics who want to undermine the US and preach worldwide Marxist revolution. This tired view undermines the fact that the majority of its members are in fact ordinary people who live ordinary lives, and have aspirations, families and everyday concerns like other people. In China, membership of the CPC is a prerequisite for social and economic advancement, which is essential to be 'anybody' within the country. It very much is China's civil society.
Of course, you have to subscribe to certain beliefs to participate, but the days of Mao's Cultural Revolution are long gone and pragmatism and scientific reasoning are a core element of the party's teaching. For example, Jack Ma, one of China's richest men and the former owner of Alibaba, is a member of the party. Is he a radical anti-capitalist revolutionary?
Also on rt.com
Ban on Chinese students will be another act of crazy self-harm by Britain on its anti-Beijing crusade
Thirdly, America's obsession with the party and any Chinese person or organization even vaguely associated with it is paranoid, irrational and opportunistic, depriving them of any individual agency or interests. Using this logic, US politicians have accused anyone and anything that fits the bill of being guilty of 'espionage', even if there is no evidence that this is the case.
This has included Chinese students in the US, who have been consistently branded as undercover spies and potential technology thieves, smartphone maker Huawei, and the social media app TikTok. Even Chinese manufactured subway cars have been dubbed "spy trains" (again baselessly).
In essence, the new rule is stupid, yet it represents a very real and disturbing sentiment within America that frames one political party – a huge one at that – as being a bogeyman, an entity which must be acting completely and solely out of malicious intent with the view of undermining the US.
In doing so, those who are associated with it are not viewed as individuals with interests, thoughts, hopes, lives, inspirations and dreams, but mere agents and robots of a sinister cause without individuality. Yet anyone with even a tint of perspective knows how clichéd and ridiculous this kind of politics really is.
Think your friends would be interested? Share this story!
The statements, views and opinions expressed in this column are solely those of the author and do not necessarily represent those of RT.
You can share this story on social media: