The Vatican's calculated snub of Mike Pompeo exposes the limits of his evangelical, ideological, China-hating foreign policy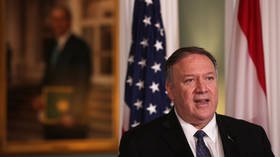 His Holiness declining to meet the US secretary of state when he visited the Vatican on his European tour further proves that his misguided America-first chauvinism is alienating more nations than it's winning as friends.
Pompeo, everyone's favourite Cold Warrior and American chauvinist, is on a European tour. Visiting Greece, Italy, Croatia, and notably, the Vatican, the secretary of state is on a roll to win support for American security and energy interests across the region. But he wasn't welcomed by all. Attending the Holy See today, the US' 'top diplomat' found himself snubbed by the Pope as he rolled into town peddling his vitriolic anti-China agenda, and demanding the Church take on Beijing and refuse to renew a deal that gives it a say in the appointment of bishops within that country. Pope Francis wasn't too impressed and refused to meet him accordingly.
The snub is significant, because it reflects more broadly how Pompeo's highly aggressive and evangelical foreign policy agenda is being received around the world. In short, it's a shambles. Rather than respectfully and constructively engage with the interests of other countries, on his watch, the State Department does nothing but pressure other nations. And it does this while parroting the clichéd talking points of American exceptionalism, hysterical anti-Communism, and a refusal to take into account the interests and practicalities faced by its partners. The Vatican has its differences with Beijing, but how would embarking on a collision course help it or the cause of Catholics in China? It wouldn't.
Also on rt.com
US' failure to recognize Cuba's medical efforts during Covid is due to an innate fear of linking socialism with anything positive
Pompeo is repeatedly described by major US newspapers, the Washington Post among them, as "the worst secretary of state in American history," and it's no surprise why. Diplomacy requires the skills of understanding, prudence, compromise, calibration, and negotiation. The current man in charge of America's relations with the rest of the world has none of those in his armoury – only a one-sided diatribe about how every nation Washington holds a grudge against is evil and a threat to the world, and the US' own political system is far superior (as demonstrated by last night's presidential debate, perhaps…?). Pompeo repeatedly positions himself as speaking on behalf of other nations' people against their governments, while pushing a policy that amounts to little more than bullying.
A look at Pompeo and the State Department's Twitter feed shows it to be a unilateral, repetitive loop of the following topics: 'The Chinese Communist Party is evil and a threat to the world', 'Iran is an evil terrorist state', American values are the best', 'We stand with the people of X', and so on, ad nauseam. To describe it as hubris would be generous, and, of course, it does nothing to support the equally inadequate foreign policy of the United States in practice. This is further distorted by the unilateralist and anti-global governance politics of Donald Trump, which place emphasis only on the projection of power to force other countries into capitulating to American demands.
Against such a backdrop, it's no surprise that a toxic mixture of foreign policymaking has led to other countries not being willing to take notice of Washington. It's winning neither hearts nor minds, and it's this that has set the stage for not only the Vatican snub, but the largely fruitless outcomes of his European adventures. Pompeo's visit to Greece produced no meaningful agreements or outcomes of note, and he failed to get Athens to publicly commit to any anti-China measures or even statements. A similar non-result was achieved from his visit to the Czech Republic a month or so ago – the Czech prime minister even came out and played down Pompeo's comments, after he engaged in a spree of anti-Beijing vitriol.
So, what's at stake for the Vatican? Undoubtedly, religion is a sensitive topic in mainland China. The Chinese state sees unfettered religion as a threat to social stability, or as a potential vehicle for imperialism against the country, and thus has aimed to strongly regulate it under terms and conditions set by the state.
Also on rt.com
Oxford University's 'scholarly' RT hit piece has no room for the mundane reality of how the world's news organisations work
This has caused tensions with the Roman Catholic Church, which maintains a strict ecclesiastical hierarchy, answering to the Vatican and not national governments. With China being the world's most populous country, having among its vast population nine million Catholics, this means the Church has had to negotiate and compromise with the Beijing government to maintain its influence and control, and to secure the rights of its members to worship. This has resulted in a 'deal' whereby the Vatican can have a say in the appointment of its bishops in China, rather than the Church being completely subordinate to the government.
But Pompeo doesn't care about these sensitivities – he wants one thing: Cold War. He wants unbridled, unrestrained, and evangelical condemnation of China and, as noted above, is utilizing his 'diplomatic visits' to push that demand. However, building a foreign policy on preaching America First unilateralism, chauvinism, and zero compromise not surprisingly has its limitations. As a result, Pompeo is finding himself isolated and ignored in more than a few areas. Thus it was that, rather than completely squandering the Vatican's interests in diplomacy with China, Pope Francis simply refused to meet him. For someone as fanatically religious and pious as Pompeo, that's a pretty damning indictment of the incompetence within the US State Department right now.
Think your friends would be interested? Share this story!
The statements, views and opinions expressed in this column are solely those of the author and do not necessarily represent those of RT.
You can share this story on social media: