A tale of two crumbling cities. So, who's the world's worst mayor: New York's de Blasio or London's Khan? It's a close-run race...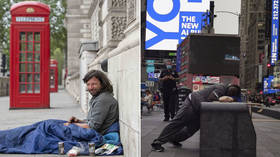 It's my misfortune to have homes in two of the worst-run cities in the world. They're both blighted by violent crime, poverty, drug-taking, & homelessness. What they also have in common is incompetent woke socialists as leaders.
I was born in Manhattan and lived through the many riots and rampant crime waves that swept through New York City decades ago. I have spent much of my adult life living in London and watched the rapid deterioration of the quality of life under the reigns of successive mayors. Why do modern voters on both sides of the pond accept these virtue-signaling liars who claim to push social justice as an enhancement to their patronizingly faux "woke" credentials?
Many generations have passed down a stark truth: all politicians lie. Well, why would anyone vote for any politician or party that continuously fails to protect or improve the lives of their constituents, repeatedly tells untruths, and shifts blame and refuses to accept responsibility for their failure? Because, like the UK prime minister, they grunt sexy three-word soundbites the majority want to hear, such as "Get Brexit done", and "Hire more police"?
The problem is power. Politicians can never have enough power, making it far too easy for them to abuse the trust granted them by the people to act on behalf of the people. The most egregious examples of this are New York City Mayor Bill de Blasio, London Mayor Sadiq Khan, and UK PM Johnson.
Bill de Blasio (born Warren Wilhelm Jr.) is a staunch uber-liberal Democratic Party operative who has been the mayor of New York since 2014. He championed the call to "defund the police" during his dismal bid to become the 2020 Democratic nominee for president, running on a platform of "Orange Man bad" before dropping out after regularly polling at 0 percent among Democratic primary voters, including in his home state.
I've just spent two weeks in Manhattan and I can officially declare that de Blasio has successfully converted the city into "Wokeistan": a bankrupt, crime-infested, lawless, virtually uninhabitable hotbed of pay-to-play politics. De Blasio has supported the legalization of recreational marijuana in NYC, while denying rumors he himself smoked some at his official Gracie Mansion residence, located on Manhattan's fancy Upper East Side.
As Covid swept the city, de Blasio was virtue signaling his woke credentials, helping paint a vast Black Lives Matter slogan on Fifth Avenue in front of Trump Tower. Violent crime rates – specifically murder, arson, and looting – have rocketed to levels not seen since the 1970s. During the peak of this crime wave, de Blasio cut the NYPD's budget by $1 billion, depriving the neediest low-income neighborhoods of desperately needed extra policing. How's that worked out? Well, New York City shootings were up 166 percent in August this year compared to August 2019.
De Blasio's wife, Chirlane McCray, NYC's First Lady, enjoys a staff of 14, at a cost of $2 million to taxpayers. In 2015, de Blasio placed McCray at the helm of the city's $1.25 billion mental health initiative known as ThriveNYC. ThriveNYC missed its financial targets during the worst mental health crisis and a Covid pandemic in its fiscal year ending July 2020. Homelessness is at epidemic levels in New York – you can't walk a block without coming across several people sprawled on the sidewalk, often having passed out from drug-taking.
Also on rt.com
I was born in New York, and I've never seen the city so scared and uninhabitable. I fear we're on the brink of a second civil war
De Blasio's incompetence stretches far and wide. Last week, he announced he had missed NYC's budget targets and would be furloughing 9,000 employees, and possibly laying off 20,000. Will his wife, along with her 14 staff, be first in line? I somehow doubt it. This week, there were calls for him to be relieved of control over New York City's Department of Education. Once again, at the last minute and while disregarding the welfare of all children, he canceled plans to reopen schools – a move that was blatantly political and all about hurting Trump's re-election prospects.
So, how does that long and ropey track record compare with that of the leader of that other capital of Woke, London? Sadiq Khan, a soft-left member of the Labour Party, was elected mayor in 2016. In 2017, on his watch, there were five terror-related attacks in the British capital, which left 14 dead and 136 injured. The worst of these, in terms of loss of life, was the atrocity that took place at Borough Market and on London Bridge.
Responding to a question regarding the likelihood of future terror attacks in major metropolitan centers, Khan stated there was "no reason to be alarmed" and that "terror attacks are now part and parcel of living in a big city."
The murder rate hit a decade-long high in 2019 under Khan's reign of wokeness. In November that year, a convicted radical Islamist terrorist named Usman Khan (aka Abu Saif), released from prison after serving only half of his 16-year sentence, murdered two and injured three before police shot him dead. Sadiq Khan commented, "I'm the mayor of the greatest city in the world, and one of our strengths is our diversity."
He might be the mayor, but he's been way behind the curve during the Covid-19 crisis. His crazy ultra-low-emission and congestion-charging schemes have helped kill the restaurant and retail trade in central London. Sorry, Mr Mayor – that's not how a political leader helps businesses recover during the most severe economic depression in the capital's history. Suspend the charges until the pandemic ends and the economy recovers!
Also on rt.com
London is dying, & Sadiq Khan's desire to cap rents is his bid to stop an exodus… but it's too little, too late
In both New York and London, ideological extremists on the left are pushing socialist agendas. In NYC, that includes defunding the police, decriminalizing and legalizing "quality of life" crimes, and setting policies of no-cash bail. This allows for a revolving door in the court process, which a senior New York City counterterrorism officer describer to me this way: "By the time I've finished all my arrest reports and the accompanying paperwork, it's likely that the thugs I arrested are already back out on the street committing the same crimes that these thugs were arrested for only hours earlier."
The system is systemically rotten to its core and has people such as George Soros contributing massive amounts of money to elect radical district attorneys and prosecutors who do not prosecute. In London, the showman ex-mayor of London turned PM, Boris Johnson, campaigned on a totally disingenuous promise of adding 20,000 police. In fact, even if achieved, that would still not get numbers back to what they were before his party slashed them.
This is all reminiscent of the crazy lack of enforcement that resulted in the lawlessness of the 1960s and early 1970s – and why knowing your history is essential. As we learnt from those decades, severe crimes require severe laws and severe punishments. We need honest politicians who not only understand these principles, but also make it a priority to protect the people they serve instead of protecting their slave masters, the oligarchs of Silicon Valley, whose boots the politicians and fake-news media pundits lick in return for power and fat stacks of cash.
Like this story? Share it with a friend!
The statements, views and opinions expressed in this column are solely those of the author and do not necessarily represent those of RT.
You can share this story on social media: