London is dying, & Sadiq Khan's desire to cap rents is his bid to stop an exodus… but it's too little, too late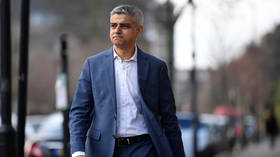 With the furlough scheme set to end, London Mayor Sadiq Khan wants to cap rents to stop a wave of evictions. But he's more interested in protecting the city's gilded image rather than helping the poor, who he's ignored for years.
London Mayor Sadiq Khan is finally making noise about the astronomical rent that citizens are forced to pay for the privilege of living in Britain's capital city.
Khan wants new powers regarding rent to be devolved to City Hall, as he is said to fear another spike in homelessness and mass exodus as the government's furlough scheme ends, and evictions of renters can start again.
Londoners pay eye-watering prices for some of the worst housing in the country – a one-bedroom ex- council flat in the East End can easily cost a renter £1,450 pcm, while many people in the city spend upwards of 50 percent of their income on rent alone.
With tourists missing from the London economy, the theatres, restaurants and bars struggling to open, and the financial district, the City of London, looking and feeling like a ghost town as people work from home, you can see Khan's fear – London is losing its gold plating. Consequently, he believes that halting rent hikes in London for up to five years could slow down the process of dulling the city's shine.
Well, boo f***ing hoo Sadiq Khan… London's working class have been living under the weight of this fat, overinflated city for so long that they have been harmed beyond anything these proposed new powers could even start to put right.
In 2014, I stood outside the Royal Courts of Justice in London with three small children, one in a pushchair while the other two held on crying. Their parents were inside, trying to persuade a judge that at seven o'clock that morning bailiffs had illegally evicted them from their home in East London. It was eight days before Christmas, and the family only had what they stood up in, but they were not allowed to re-enter their home.
They had fallen into rent arrears to a private landlord, their housing benefit didn't cover the ever-increasing rent and neither did their wages. How could they?
Do the maths: in order to live in a two-bedroom family home in East London, you would need to be earning at least £70,000. How achievable is that for a working-class family with three children? Their crime was being too poor for London, the city supposedly paved with gold.
Needless to say, the judge sided with the bailiffs and the family were homeless that Christmas.
A few weeks later, in January 2015, I waved off a young mother with an 18-month-old baby in a buggy and an IKEA bag holding her possessions from Victoria Coach Station.
She had been given a bus ticket and an address in Nottinghamshire by her housing officer, her crime being that the private rents were too high for her income and the council couldn't house her. So, she had to travel 130 miles north up the M1, to a place where there was no social housing available and she was housed in a private let in one of the ex-mining communities where she knew no one.
In that same year, Sadiq Khan campaigned for the mayoral election he then went on to win in 2016, focusing heavily on housing.
He pledged to build thousands of homes with a social rent and to ban the so-called 'poor door' developments in London. This is where developers are forced to build 'affordable' or 'social' housing – 'affordable' being classed as 80 percent of the market rent, so in London not affordable at all – by the side of market-rated properties.
Also on rt.com
Sadiq Khan nixes fireworks & says 'nothing happening' in Covid-panicked London on New Year's Eve
The developers ensure that those in the non-market rate properties have different amenities, such as a separate entrance, or as was the case in one development in Lambeth, no access to the children's play area that the private tenants were allowed to use.
Children in the 'affordable housing' could see the play area from their windows, but were not allowed in it.
In Khan's time in office, he has failed on both his pledges – social segregation in London has not been banned and housing poverty is a scourge on the city. Social cleansing and social segregation are normal and accepted practices in London for town halls and City Hall.
My question to the mayor is why, after four years in office, are you only now turning your attention to the profiteering rental market in London?
Are you really fighting for the rights of tenants, or are you motivated by the fear that the gilded cage of our capital city may lose its shine even more on your watch?
Think your friends would be interested? Share this story!
The statements, views and opinions expressed in this column are solely those of the author and do not necessarily represent those of RT.
You can share this story on social media: