Galloway: Lying industry may be the only sector of Western economies still in full production & TAXPAYERS pay for it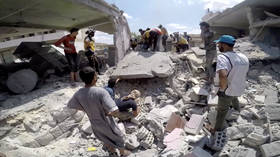 If you have ever wondered why Syrian jihadists, or so-called 'moderate opposition', got support from the woke liberal West, a recent leak by Anonymous reveals it's because Western governments funded this propaganda.
In the end, it is the sheer childishness of the propaganda which amazes me most, not that our rulers lie about other countries – I have always known that. But somehow there was a kernel of truth around which the web of lies was spun, for example about life in the old Soviet Union.
I began to realise the scope of Western ability to literally invent the most baseless lies only in the run-up to the Iraq War in 2003, and only because I knew more about Iraq than any politician in Britain or America and ten times more than the average made-up telly-dolly chuntering through their auto-cued war propaganda. The women presenters weren't any better.
This all came flooding back to me when I received an email from Anonymous earlier this week and then read Ben Norton's excellent analysis of it all in The GrayZone.
If anyone ever wondered how the hordes of head-chopping throat-cutting heart-eating gay-murdering women-hating 'Jihadists' of the Syrian War ever managed to get a fair press in a 'woke' liberal West that gets hot under the lace collar about JK Rowling novels, the answers are all in the Anonymous leak. The principle answer is that you, the taxpayer, paid for it.

That's right. The blizzard of 'White Helmets' (who made it right up to the Oscars to thank everyone who'd helped them except those that had helped them the most), "chemical-weapons attacks" and all the paraphernalia of a newly "moderate opposition" in Syria – was all paid for by YOU. Millions of pounds of British taxpayers' money was revealed to have been spent secretly on UK support for the throat-cutting coalition of chaos, which for a decade massacred its way across Syria wearing a snow-white Western beard of respectability.

Western government-funded contractors trained and funded Syrian opposition leaders, planted stories in media outlets from BBC to Al Jazeera, and ran a massive cadre of journalists on the ground. @BenjaminNorton analyzes a trove of leaked documents: https://t.co/h5PNMgxxOo

— The Grayzone (@TheGrayzoneNews) September 23, 2020
It would appear that while the US (or rather its milk-cows in the Gulf) was paying for the lethal-weapons, perfidious Albion was doing what it does best – lying through its teeth whilst making those being lied to, pay for the privilege. Now that – thanks to the leaks – we know this, it should put us on guard for the next one. Yet somehow it doesn't, at least not for the purveyors of the news.
The Lazarus-like resurrection (and photo-shoot) of Russia's opposition figure and Western darling Alexey Navalny after yet another alleged Novichok (believed to be 5-8 times more toxic than VX nerve agent) attack without so much as a tracheostomy to show for it is swallowed whole in yet another anti-Russian public relations offensive.
Also on rt.com
Caitlin Johnstone: MSM smear merchants target critics of Establishment China narratives
Grown sane men call my television show to talk about 'concentration camps' in China in which, we are told, "a million Uighur Muslims" are being held and forcibly sterilised. This is despite the allegations being largely based on studies backed by the American government and statements by Western media favourite, German researcher Adrian Zenz. Zenz, who is part of the Victims of Communism Memorial Foundation, a US-backed advocacy group, believes that he is "led by God" on his "mission" against China. Meanwhile, according to China's official statistics the Uighur population in Xinjiang province increased by over 25 percent between 2010 and 2018, while the Han Chinese rose by only two percent.
The lying industry may be the only sector of the Western economies still in full production. No need for furlough or bounce-back loans. The lie-machines never still. No smoke is usually detected from their chimneys, but inside, their pants are well and truly on fire.
Think your friends would be interested? Share this story!
The statements, views and opinions expressed in this column are solely those of the author and do not necessarily represent those of RT.
You can share this story on social media: