Hypocritical EU member states against migrant quotas should halt their military adventurism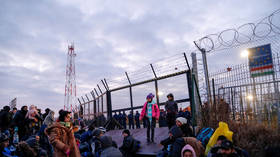 The EU's latest plan on how it should manage migrants has been widely criticised by countries whose military efforts are contributing to the problem. Their hypocrisy is astounding.
On Wednesday, the European Union (EU) – under the presidency of Germany – called for a compulsory system to help manage the migration situation that has proven so turbulent in the bloc's recent history. The plan would see member states agree to take in those seeking asylum or take responsibility for repatriating them, as well as other options for providing collective assistance. Criticism of the plan has come from every imaginable direction, but many countries that refuse to take part also see no hypocrisy in expanding their foreign military presence.
Any way you look at it, how the EU deals with migrants has been a relevant but divisive issue since at least 2015, when one million or so found their way into the bloc. In 2016, a deal was struck with Turkey that would see it halt the tide of migrants heading through its territory to reach the EU in exchange for cash. With relations souring between the EU and Turkey, and a decision likely to come soon on the future of their relations, Europe's leadership is in a tough position on the issue.
The exact details of the plan would see pre-entry screening for applicants – basically checking their health, verifying their identity and doing relevant security checks. Support for third countries to curtail the flow of migrants before they get to the bloc is an important and uncontroversial part.
It would also ensure that decisions on applicants' cases are expedited, pushing them to within 12 weeks. If a country can't return a migrant home after eight months, they'd be obligated to take them in, according to the plan.
Controversially, countries would be allowed to voluntarily help in any way they choose in a form of solidarity, but assistance in some form would essentially be mandatory. Part of this solidarity lies in the fact that the plan requires a "fair share" to be paid that is based on both population size and gross domestic product (GDP) in a fifty-fifty split.
Also on rt.com
Immoral French are blatantly putting migrants' lives at risk by not doing enough to prevent Channel crossings
During regular migration flows, countries would have to take in at least 70 percent or more of the number of migrants that southern EU member states take in or a quota system would return. During influx periods, similar to 2015-2016, member states would be required to relocate or repatriate those arriving in the EU. Infractions could carry heavy fines.
On the grounds that it ties EU funds to assistance and could require quotas, and is thus seen as coercive, Poland, Hungary, Austria, Slovenia, the Czech Republic and several other countries have outright rejected at least this part of the plan.
In all its glory and for the controversy it has sparked in some member states, there's no way it will see the light of day for at least several years, and maybe not ever. But the hypocrisy of some of these member states is quite glaring.
The Czech Republic, for example, has been an outspoken leader in the effort against mandatory quotas. Interior Minister Jan Hamáček, the head of the Czech Social Democratic Party, has led the initiative among various member states to kill any mention of quotas in a comprehensive EU migration plan, which was reiterated by his ministry in July during an EU interior minister meeting.
At the same time, the Czech Republic is pushing hard to expand its military operations. Ahead of the North Atlantic Treaty Organization (NATO) summit in December of last year, Czech President Miloš Zeman was sharply critical of US President Donald Trump's plan to pull troops from Afghanistan, saying it would destabilize the region and that he hoped NATO could be more aggressive.
"NATO's mission in Afghanistan is not rhetoric, but real deeds that sometimes cost the highest - human lives. Leaving Afghanistan would lead to the creation of an incubator for new terrorists," Zeman was quoted as saying by the head of his foreign department, Rudolf Jindrák.
During US Secretary of State Mike Pompeo's visit to Prague in August, Zeman reiterated this point.
In December of last year, Czech Foreign Minister Tomáš Petříček met with his French counterpart, Jean-Yves Le Drian, and reaffirmed the country's collaboration in France's military presence in the Sahel – which France is pulling the whole bloc into. Just one month later, the Czech government approved the deployment of troops to Mali, Niger, and Chad to expand Operation Barkhane alongside France.
Similarly, Poland has been heavily involved in Afghanistan and enthusiastically supports foreign military intervention abroad – even making this adventurism clear in its effort to destabilize its neighbor, Belarus. Austria maintains a troop presence across three continents, Slovenia has its share of foreign troop deployments, Slovakia has foreign troop deployments, including in Afghanistan, and Hungary has been upping its foreign deployments in recent years. Pretty much the same could be said about the rest of the countries that are steadfast against migrant quotas.
In particular, the Central European countries that comprise the Visegrád Four (V4), the Czech Republic, Hungary, Slovakia and Poland carry a considerably awkward burden of hypocrisy over funding related to the migrant plan. They are aggressively expanding military spending, pushing towards the rapid modernization of military equipment and are seeking to expand coordination with France, Germany, the United Kingdom and the United States – all of the foremost Western military powers.
There are many reasons that can explain the influx of migrants coming to Europe – climate change, a lack of economic opportunity and war all among them. Perhaps not every country in the EU has contributed to all of these root causes, and they might be justified in believing they shouldn't have to bear the responsibility for others' problems. But they surely have a duty to not exacerbate these root problems if they wish to complain about their responsibility for migrants.
Also on rt.com
Former police commander: Immigrants are behind the wave of violent crime blighting Sweden, but the authorities refuse to admit it
Over the summer I had a chance to visit one of these migrant camps in the Czech Republic. I met an Afghan boy in his late teens who was delighted to simply have a conversation with someone who could actually speak English, and complained about how boring sitting in a camp for so long was. The motivation for his journey on foot from Afghanistan to the EU, as he told me, was to save his family.
He had apparently been fielded by the Taliban to join their network due to his strong skills in English, in addition to the fact that he was young and able-bodied. If he refused to join, he knew it would mean the end of his life, so his father intervened and sent him to Europe with his life savings in the hope that he could bring the rest of his family with him to safety one day.
Afghanistan is a dangerous but beautiful place, he told me. The natural splendor of the country is what led him to say repeatedly that it is the most beautiful country in the world – something well-reflected in the fact that it was a popular tourist destination until the late 1970s when the Soviet Union, and then the Americans, entered. Unfortunately, due to circumstances totally out of his control, he had to leave to find a more secure life.
Someone is in control of those "circumstances," however, and it is beyond hypocritical that some nations would like to contribute to these "circumstances", yet cannot bear any of the social costs that such participation creates.
Think your friends would be interested? Share this story!
The statements, views and opinions expressed in this column are solely those of the author and do not necessarily represent those of RT.
You can share this story on social media: