Protests over the shooting of a crazed knifeman who charged at cops prove BLM and Antifa just want to watch America burn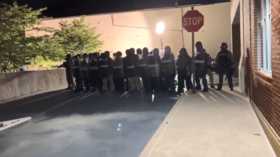 Lancaster, Pennsylvania, is the latest US city hit by mass unrest following a police shooting. Bodycam footage shows the cops were entirely justified, but the protesters don't care about facts – they just want to cause trouble.
Has anyone noticed that Black Lives Matters' chosen martyrs seem to be getting harder to have sympathy for? They began with Breonna Taylor, a woman who was caught in the crossfire by police after a shootout ensued between cops who raided her apartment, searching for drugs, and her boyfriend.

According to reports, officers from the police department in Louisville, Kentucky, fired over 20 shots, eight of which struck the blameless Taylor, who died at the scene. Taylor was an emergency medical technician who died tragically in what was clearly an accident. Upset over her death in March of this year was understandable.
Also on rt.com
The Left's extreme behavior is solidifying support for Trump; it's as if BLM has been invented by the Republicans
Then, in May, we had the death of George Floyd in Minneapolis, which served as the lightning rod for global demonstrations. After footage went viral of Floyd yelling that he couldn't breathe as police officer Derek Chauvin knelt on his neck until he died, protests erupted across America and the world, and haven't stopped since. His death initially seemed a clear-cut case of police brutality and excessive force. He didn't appear to be resisting in the first video clip that went viral, and it sparked international condemnation.
It later transpired that Floyd had a cocktail of drugs in his system that would have made Keith Richards blush, and had actually refused to get into the patrol car after numerous requests from the arresting officers. An autopsy found that he died from a cardiac arrest that these narcotics may well have contributed to, and not from asphyxiation, although his family dispute this. It also transpired that Floyd was a career criminal who'd been in and out of prison for much of his life, and had, at one point, threatened a pregnant woman with a gun during a robbery.
No one would argue he deserved his fate, but the case was more complicated than it initially appeared, and protestations that a 46-year-old man on fentanyl and cocaine was turning his life around seem unlikely to say the least. Regardless of his past failings, he should not have died in the manner he did.
Also on rt.com
'We HOPE THEY DIE': Blocking emergency room and wishing death on ambushed officers may be final straw in BLM's PR suicide
Then we moved on to Jacob Blake, who didn't die in his encounter with the cops in Kenosha, Wisconsin, but has been left paralysed from the waist down after being shot. However, to the unbiased observer, the video of this incident seemed to show this wasn't a case of an unjustified shooting. In the footage, which again sparked protests, Blake was seen walking around his car while officers had guns trained on him. He then proceeded to open the driver's side front door and reach into the footwell, at which point, the arresting officer shot him in the back seven times.
I'm not an American, but even I know that reaching into the footwell of your car while a US policeman has a gun pointed at you is a surefire way to get filled with lead. It later transpired that the police had been responding to a domestic violence complaint against Blake, who had an open warrant for sexual assault against his name. The police had already tasered him, but he'd got up again and walked to his car and was reaching for a knife in the footwell.
Since Blake's children were in the car, this story was spun as 'evil cops shoot black father in front of his kids', when, in reality, it 'was alleged sex criminal shot reaching for weapon'. But no matter, the riots started again, NBA players threatened to go on strike, and it was held up as a further indictment of white supremacy in America. Never let facts get in the way of a good narrative.
Also on rt.com
WATCH: 'Antifa' lay siege to Lancaster police precinct following latest officer-involved shooting
However, the latest case really takes the cake. There is currently unrest in Lancaster, Pennsylvania, after the police shot a man who was charging at them with a weapon. Officers had been called to a domestic disturbance, when knife-wielding Ricardo Munoz ran at them, brandishing the blade, and was clearly about to try to stab them. Bodycam footage shows Munoz jumping at an officer with the knife raised, and then being shot and killed.
Following news of the shooting, hundreds of people took to the streets of Lancaster and the inevitable protests began. Misinformation was spread wildly on social media, with some people apparently believing the 27-year-old Munoz was an autistic 14-year-old who had been shot by the police. Munoz is also in the process of having his race revised from Latino to black to better suit the narrative.
Lancaster, PA: police summarily executed a reportedly autistic man they claim was armed with a knifeThey left his dead body "visible on the ground for more than two hours"Protests are amping up in real-time...13 September 2020 PMhttps://t.co/klOKdjNQUL

— T. Greg Doucette (@greg_doucette) September 14, 2020
What do these protesters want? It's one thing to criticise police for racial profiling or excessive force when a perpetrator isn't resisting arrest, but to argue that officers aren't justified in using lethal force when a crazed knifeman is charging at them is ridiculous.
Policing, particularly in a country with such a heavily armed citizenry, is a difficult and dangerous job. This doesn't mean the police shouldn't be held to account when they overreact or break the law. Obviously they should. But protesting such an obviously justified shooting as that of Munoz just shows that these leftist groups have no interest in real reform – they simply want to cause trouble.
Their rhetoric has led to millions of dollars' worth of damage in cities across America. The unrest caused by their rioting has resulted in multiple deaths, including those of teenagers. This latest unrest in Lancaster marks a new low for BLM and Antifa, but I no longer believe they care about winning people over to their cause. They just want to watch America burn.
Think your friends would be interested? Share this story!
The statements, views and opinions expressed in this column are solely those of the author and do not necessarily represent those of RT.
You can share this story on social media: