UK's latest war on obesity has fat chance of succeeding unless BoJo starts to get tough on the food industry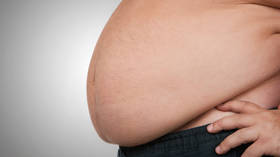 Having gorged on food under the Eat Out to Help Out scheme, Britain is now being told to lose weight. But Boris Johnson's new initiative for restaurants and takeaways to voluntarily cut calories will almost certainly fail.
The UK government's latest attempt to tackle the obesity crisis has exposed a truth that many of us suspected all along: we are, as a nation, destined to pay a heavy price for our prime minister catching Covid-19.
With around two-thirds of Brits either overweight or obese, and our pudgy PM clearly among them, the latest move from Public Health England is a drive to reduce calories in restaurant and takeaway meals by up to 20 percent by 2024.
That's the same PHE that has, just recently, been earmarked for the knacker's yard next March. And to give the latest recommendations even less weight, the idea of cutting the calorific content of meals is a voluntary measure.
But it's typical of this government's drive to come to terms with an obesity crisis that costs the NHS around £6bn a year and will see one in three children leave primary school overweight or obese.
Remember, it was only July, shortly after BoJo was discharged from hospital, still wobbly following his brush with mortality, that the war against obesity was announced. It really was a Damascene conversion for our leader of large appetites. With typical bombast, the strategy was declared to be "world-leading."
Ugh! Sounds great, means nothing.
Also on rt.com
Take it from a fat man: 'Fatphobia' is not a thing, it's a rational fear everyone should have
Top of the obesity hitlist was a promised ban on TV and online adverts for food high in fat, sugar and salt before 9pm. Nothing's happened yet. Just like nothing happened when David Cameron announced the same idea back in 2015, only for it to be dropped like the proverbial hot potato in 2016 by his successor Theresa May, who never brought it up again.
Then there was BoJo's proposed end to deals like "buy one, get one free" on unhealthy food high in salt, sugar and fat.
What did the government do to hammer this message home? Chancellor Rishi Sunak launched the wildly successful 'Eat Out to Help Out' scheme, which made cheap, unhealthy food even cheaper so people could eat a whole lot more from Monday to Wednesday. More than 100 million meals were claimed in August under the scheme.
In fact, it went down so well that many restaurants plan to continue the cut-price offers even though the government subsidy has finished. So in the space of a month, this government – with a master's degree in mixed messages – not only announced that it was going to get tough on obesity, it then did all in its power to make problem waistlines even more of a crisis. Brilliant!
It was just like the promise that millions of Brits make to themselves in the mirror each morning following yet more disappointing news from the bathroom scales: "I'm definitely going on a diet. Tomorrow."
Also on rt.com
After lockdown ends, will we be living in a brave new world or a FAT new world?
Now we have the latest PHE plan, with all the appeal of a diet shake and a sense of commitment to do better like that of a child eyeing up the Happy Meal options of carrot sticks or fries. Hmm, now which one? It doesn't take a cynical food industry executive to anticipate how these latest suggestions on calorie reduction will play out.
Then, of course, the quick solution to cutting calories in any dish is to reduce portion sizes. The advice printed on the outer sleeve of a ready meal for two can simply be altered to suggest that it should be split three ways instead.
The result? Hungry punters will simply buy more to sate their appetites. After all, they are famished. There's a bucket of KFC chicken bits widely advertised post-watershed on television that boasts its contents of 80 pieces, but no suggestion for how many it might feed. One? Eighty? Surely someone somewhere will accept this as their very own, individual chicken challenge and demolish the lot themselves.
And this is the problem. The experts at PHE can suggest and suggest until they are blue in the face, but even if restaurants and takeaways heed their advice, they cannot allow for individual appetites or the options open to the food industry. One man's starter is another's main course, and if there is not enough food in a dish to satisfy one's stomach, they'll simply double up, no matter the calories or the nanny state's cluck-clucking.
Also on rt.com
Is calling someone fat really akin to racism? We won't solve the obesity crisis if we can't say some people are grossly overweight
There will be takeaway restaurant owners who choose to simply reduce the size of their portions – after all, less food equals less calories – rather than reconfigure their entire menu. But they are unlikely to cut prices commensurately.
Remember, these guidelines are being announced by a public body that will cease to exist in six months' time – and even then, they are only recommendations, not enforceable law. Like all measures taken to combat obesity, unless there is some sort of regulatory backbone to them, they will amount to nothing.
As Caroline Cerny of the Obesity Health Alliance told The Guardian: "We know from sugar reduction efforts that a regulatory approach, such as the soft drinks industry levy, has been much more effective in getting the food industry to reduce sugar than the voluntary programme."
To make this work, the government needs to be able to impose financial penalties on those in the food industry who can but refuse to address this drive on calorie reduction. And those fines need to hurt.
Because, as anyone trying to lose weight knows: No pain. No gain.
Think your friends would be interested? Share this story!
The statements, views and opinions expressed in this column are solely those of the author and do not necessarily represent those of RT.
You can share this story on social media: