Cry-baby movie critics who refused to see Tenet because of Covid-19 are helping destroy US theaters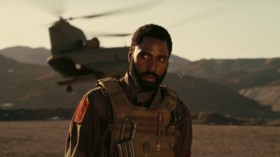 'Tenet' opened to a lukewarm $20.2 million in the US, suggesting it's not giving theaters quite the comeback they need amid the Covid-19 pandemic – and fear-mongering, snowflake movie critics are partly to blame.
Director Christopher Nolan's insistence that his latest mind-bending film be released in theaters, even while major markets such as New York and Los Angeles are closed, can be more easily understood when you actually watch the picture.
The director's previous movies have been big, loud, and daring, but this is without doubt the biggest of them all. It's the kind of film you need to be in a theater for, if you're to take in its true scope and feel every gunshot and music drop shake the seat you're in. Starring John David Washington and Robert Pattinson, it's the story of a secret agent being introduced to the world of time inversion who's tasked with stopping a terrorist (Kenneth Branagh) in possession of technology that could completely wipe out existence.
Many theaters reopened to coincide with the Labor Day release of 'Tenet', which was the first major studio release in theaters in months (unless you count Disney dumping the long-delayed 'The New Mutants' or the small-budget road rage thriller 'Unhinged' testing the waters the week before). While a $20 million opening is nothing to balk at and is certainly a respectable haul for a film dropping in the middle of a pandemic, it's still a disappointment in terms of what could have happened. Some predicted a $30 to $50 million gross for the $200 million 'Tenet' on its opening weekend, which would still have been a minor score compared to the opening takings of the director's previous flicks.
That said, overseas, the movie has fared much better. With more theaters opened in some territories, it's managed to make well over $150 million in two weeks.
One can point to a multitude of reasons for 'Tenet' opening more quietly in the US. They include the closure of major markets and a populace afraid of Covid-19, thanks to a fear-mongering media, and therefore lukewarm about the idea of being in a cinema with others for two and a half hours as a first step back into the world. And then there were the cry-baby film critics who not only refused to see the movie in a public theater, but also made sure they delivered long screeds to the world about why they were choosing not to review what was arguably the biggest release of the year.
Also on rt.com
Fear-mongering overlords now want Covid-19 to rob us of sex scenes in movies
"I get it. Seeing 'Tenet' on the big screen represents victory on so many levels: freedom from the claustrophobia of quarantine; the survival of movie theaters that have been existentially threatened during the shutdown; fealty to the abiding aesthetic principle that cinema is meant to be seen on the big screen, not 25-inch home monitors," the Washington Post's Ann Hornaday wrote in her non-review of the film. "But those victories seem premature – if not pyrrhic – when the far more important defeat of a deadly virus is anything but assured," she added.
For the record, Hornaday was invited to attend a press screening of the film that was socially distanced, but refused because people would be able to remove their masks to eat or drink. She was also invited to go to a theater with the public, where a mask and social distancing is still required, but still chose not to do the review.
We can argue until we're blue in the face about whether or not such a decision is responsible. But at this point, in the US, we can't even agree on the science of Covid-19 or how infectious it actually is. What's clear, though, is that, on the release of 'Tenet', critics chose not to allow the film and theater industries a moment to regain their footing, but rather used the occasion to virtue-signal to the most fearful in society.
The Los Angeles Times similarly ran a story explaining why their critics were in "no rush" to return to theaters. One of them even suggested that screening a movie exclusively in theaters right now should mean it requires "the equivalent of a warning you'd find on a cigarette pack."
Among the biggest complaints Hornaday and others had was that Warner Bros insisted the film be reviewed in a theater. Some other theater-released films have been offering digital screenings, but there was no such option with 'Tenet.'
Also on rt.com
US pop star Akon's $6bn plan to build a real-life Wakanda in Senegal is an insult to black people's intelligence
"There were no alternatives offered, such as the digital links provided to critics for 'The Personal History of David Copperfield,' which opened in theaters last week," Hornaday wrote. "Put more harshly: we were held hostage to 'Tenet's' marketing rollout – given a high-minded sheen by Nolan's vaunted artistic purity – and we chose not to play," she later added. Other critics came forward with similarcomplaints about both 'Tenet' and 'New Mutants.'
Think about that: these critics pat themselves on the back for not going to a theater during a pandemic, but they're completely willing to review a movie from the safety of their own home that they'd then be encouraging other people to go out and see in a public theater.
This is why the grandstanding simply does not hold up on a logical level. If you're not going to see the movie, why not just leave it at that? Why take the time to hurl yet another opinion about Covid into the pit of nonsense and take a potshot at industries that have already taken a huge hit this year?
One can argue that traditional film critics have gone the way of the dinosaur and aren't relevant anymore, and that's partly true. Reviews by fans can now be found on YouTube or social media sites such as Letterboxd. But mainstream critics still hold enough sway that they can set a tone around a movie, in the same way media networks can set a tone around a political issue or person, despite being questionably biased and agenda-driven.
This is the objection one should have about critics when it comes to the release of 'Tenet.' They helped to fear-monger and politicize the pandemic. Critics made the moment about themselves, instead of showing any desire for a comeback for the theater or film industries, the latter of which their jobs literally rely on.
The statements, views and opinions expressed in this column are solely those of the author and do not necessarily represent those of RT.
You can share this story on social media: