'Virtual Burning Man' is an insult to anyone who's ever been there, swapping 'radical self reliance' for radical rule-following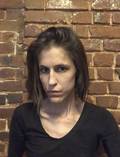 Legendary desert gathering Burning Man has, like every other big 2020 event, been sandbagged by the Covid-19 pandemic. Rather than postpone or downscale, it went virtual – an insult to Burners, spectators, and humanity in general.
The 70,000-person gathering in Black Rock City, Nevada – a temporary civilization built in the middle of the desert only to be demolished, leaving no trace, after the festivities are over – has been replaced with an online "Multiverse" for 2020. The Burning Man organization would like participants to believe it's the best they can offer, but in reality it's a cop-out and proof that the Burning Man spirit of "radical self-reliance" – if it ever really existed – has been sacrificed to "Covid culture," the ultimate security state.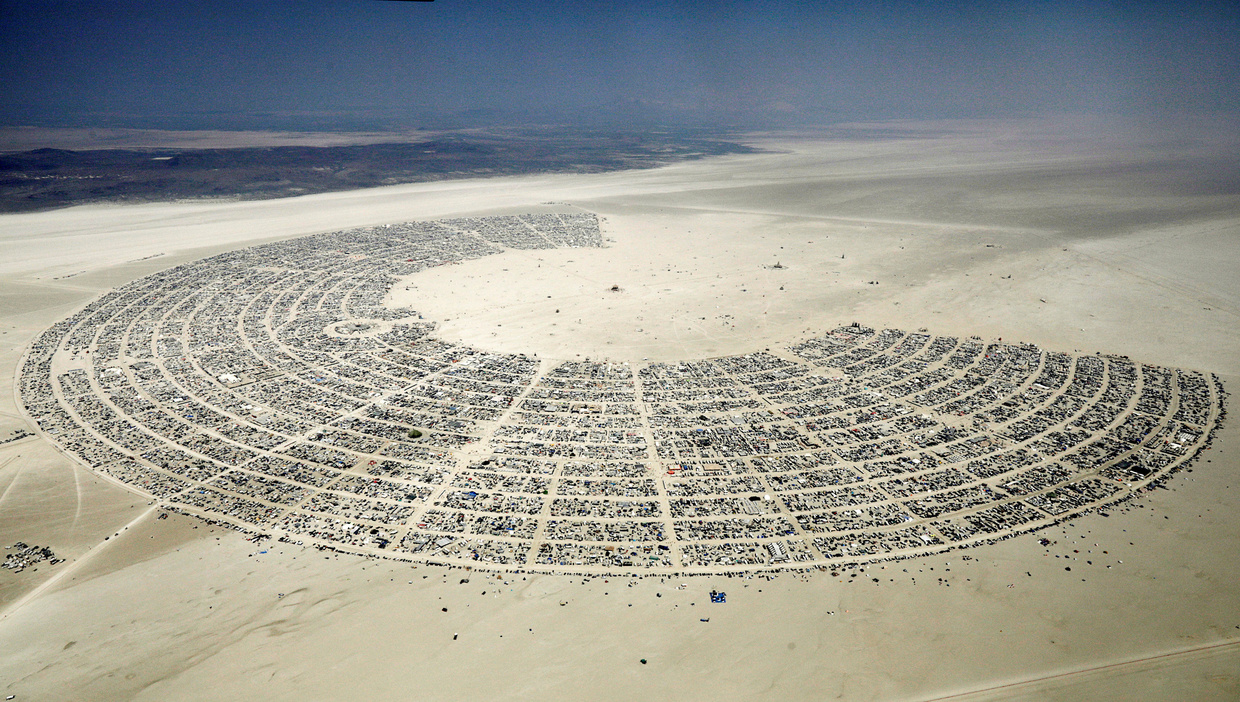 Burners move heaven and earth to bring themselves, their spectacular "art cars" that often feature pyrotechnics and fantastic robotic appendages, and a week's worth of supplies (including gallons and gallons of water) to the wildly inhospitable Nevada desert. Black Rock City is hours away from the closest airports, and the difficulty of getting there is part of the experience. While management has made it easier in recent years – a private airstrip is built to accommodate the Silicon Valley crowd, many of whom controversially hire "sherpas" to haul their supplies around – it requires a certain level of grit to even get to the event.
Given this rugged individualistic streak, many Burners expected the show to go on this year, perhaps on a smaller scale or with copious disclaimers to sign for participants willing to brave a pandemic that has a high survival rate for the young and healthy. It would have made sense – many Burners carry goggles and face masks anyway, lest a dust storm kick up while they're trying to get their dance on. Given the hostility of the desert environment to most forms of life, it's questionable how much the coronavirus really would have menaced attendees.
Yet, instead of the week-long participatory extravaganza – Burners tend to get offended when it's called a 'festival,' since that implies mere spectatorship – those who signed on for 2020's Burning Man are getting a sad simulation, with the added insult that in some cases they're even being charged admission to sit in their homes and navigate a virtual Black Rock City on their computers (or, if they're really special, a VR headset).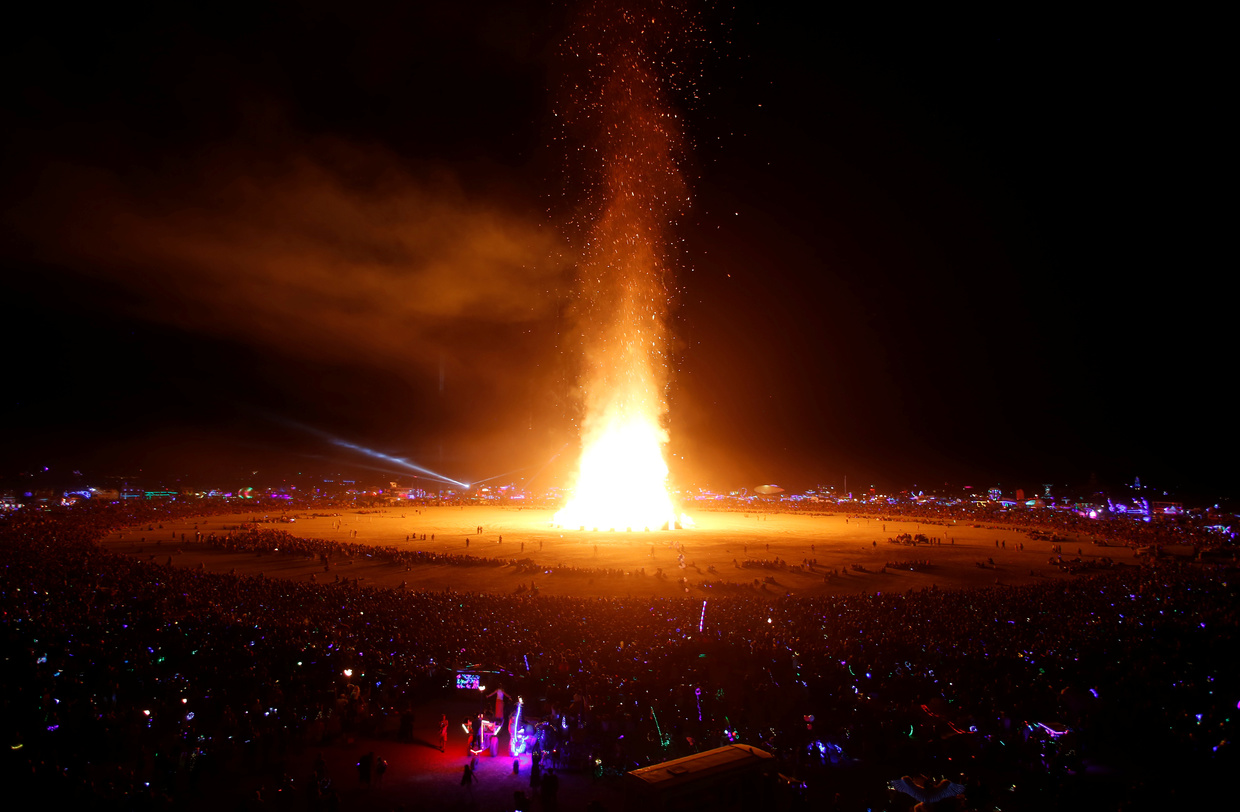 While the penultimate Burning Man experience – gathering around the giant Man sculpture as it goes up in flames – will also be a largely virtual affair, the BM organization has acknowledged participants might want to "create your own burnable effigy and safely hold a small burn wherever you are." It's a small but crucial admission that taking Burning Man virtual utterly defeats the purpose of the event. Black Rock City still lacked reliable cell phone reception when I went in 2015, and while there were still (too many) people whipping out their phones to film as the eponymous Man burnt to the ground, plenty more were content to merely absorb the experience with their own senses, an art that has been all but lost in the social media era. Indeed, it's easy to see why the event attracts so many Silicon Valley bigwigs: it's a welcome respite from their tech-saturated "real lives."
No amount of virtuoso programming can replicate the warmth of fire as controlled bursts of flame go off and fire-spinners perform around you, the cathartic relief of dancing with thousands of strangers until you can barely stand as music viscerally pulses from giant speakers, the excitement of exploring the four-mile city, climbing on and off preposterous "mutant vehicles" shaped to look like everything from a giant rubber duck to a forest, invariably losing track of the friends you arrived with and making new ones, or even the momentary frisson of danger that comes with getting lost and feeling you might never make it back to your camp.
Because even what might be termed the downsides of real-life Burning Man – the film of playa dust that forms a kind of exoskeleton on everyone by the time it's over, the need to bring everything you need for the week (nothing's for sale on the playa, though many camps offer food or drinks as gifts to all comers), as well as pack everything out (there's no trash pickup, and "leave no trace" is one of the fundamental rules of the event), the lack of sleep, and the hoops one must jump through to even get there – are part of the experience. It may sound like a cliche, but even the most civilization-dependent Burner comes out of the playa a more self-sufficient person, confident in the knowledge they have taken on the desert and survived.
Burning Man isn't the only event that has tried to gaslight its Covid-era participants into believing it's possible to translate a multi-sensory, full-body experience into an online videoconference or even virtual reality. The media establishment has tried to pitch "Zoom orgies" – which are exactly what they sound like – as a plausible substitute for real-life sexual activity, while once-lively event lists now advertise "Zoom parties" in which one is apparently supposed to get dressed up, decorate one's apartment, and dance around to music a DJ somewhere is spinning while chatting with one's fellow "party"-goers over the eponymous platform. One of Burning Man's 2020 "Multiverses" is a giant Zoom party called the "Sparkleverse."
Also on rt.com
Latest Covid-19 cultural casualty: Famed art & music festival Burning Man canceled
Obviously, those who make their living hosting, promoting and performing at parties are hurting right now. It's understandable DJs and musicians want to get back to work, and party people want to get back to enjoying themselves in the company of other humans. But pretending the virtual experience is any kind of substitute for the real thing is embarrassing, even insulting. Asking people to pay for the privilege of being thus gaslighted adds another layer of obscenity.
It's easy to roll one's eyes at the pseudo-spiritual patter habitual Burning Man attendees often use to describe the event. But it really is unlike any other party, festival or large-scale event held elsewhere. It's a special experience that has to be undertaken to be understood. Mutilating it to fit social media platforms does a disservice to Burners and spectators alike. As cheerleaders for virtual reality try to sell virtual sex, virtual festivals, virtual vacations and other experiences as reasonable 'Covid-safe' substitutes for the real thing, humans – those who've any affection for the real thing, at least – have a duty to resist.
Think your friends would be interested? Share this story!
The statements, views and opinions expressed in this column are solely those of the author and do not necessarily represent those of RT.