Poll that shows one in six Brits think racist Enoch Powell would have been a good PM proves how polarised UK has become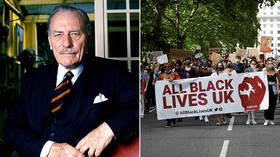 In a landscape where the woke left and Black Lives Matter have come to prominence, Britain's right wingers are becoming more vocal again, as evidenced by a new poll where racist Enoch Powell fared surprisingly well.
A poll by the radio station of Britain's newspaper of record, the Times, has thrown up some eye-catching results. The general public were asked for their views on how various political figures would have fared as prime minister.
The names spanned different generations and affiliations, but few would have predicted that Enoch Powell would receive the third highest approval rating, with 16 percent of those polled saying he would have made a good PM.
This isn't down to Powell currently being in the spotlight, as he died more than 20 years ago. And it certainly isn't down to him being a middle-of-the-road candidate who appealed to different bases.
Powell is largely remembered for three defining issues. The first was his opposition to nuclear weapons. The second was his anti-European Union stance, as he battled to stop the UK joining in 1973. And the third, and most controversial, were his views on racial integration.
Also on rt.com
Extremism is on the rise in the UK, but history shows new far right group Patriotic Alternative will implode like others before it
Even today, his 1968 'Rivers of Blood' speech, which was about a thrust of immigration into Britain, is often referred to. Although he did not actually use the phrase 'Rivers of Blood', he quoted from a Latin poem, "As I look ahead, I am filled with foreboding; like the Roman, I seem to see the River Tiber foaming with much blood." This may give the impression that he dressed up his questionable views with floral language, but this was not the case.
Other lines from that night at the Conservative Political Centre in Birmingham included,"In this country, in 15 or 20 years, the black man will have the whip hand over the white man" and "It almost passes belief, that at this moment, 20 or 30 additional immigrant children are arriving from overseas in Wolverhampton alone every week and that means 15 or 20 additional families are decayed also hence. Those whom the gods wish to destroy, they first make mad – we must be mad."
It went down so badly in some circles that the then-party leader Ted Heath sacked him immediately from the shadow cabinet. The Times declared it "an evil speech."
Powell refused to tone down his words and made many other racist comments such as "the West Indian or Asian does not, by being born in England, become an Englishman. In law he becomes a United Kingdom citizen by birth; in fact, he is a West Indian or an Asian still" and "What's wrong with racism? Racism is the basis of a nationality."
This was at a time when landlords would not rent to non-whites and some barbers even had rules banning immigrants from entering their shops as customers. It was a profoundly different era. That partly explains why an opinion poll in the aftermath of his speech saw 74 percent of people agree with Powell, and 69 percent felt it was wrong for the Conservatives to sack him.
Also on rt.com
#BLM protesters should be taking a knee at Churchill statue, not defacing it. Here's why
Some may have believed Powell's views, while others were surely affected by the lack of awareness and understanding of immigration back then.
Powell himself was something of an interesting character. He had returned from Australia, where he had been a classical scholar, to fight in World War II against Nazism, ending the conflict in the relatively senior rank of brigadier.
Whilst he had a deep antipathy for foreigners settling in Britain, he gave speeches about European integration in Lyon, Frankfurt and Turin, in the native languages of those cities. He was also known to speak Urdu, after studying it at university.
However, his racist rantings put paid to his career in the frontline of politics, although some suggest it was the section of the population that he connected with that swung the 1970 general election for the Conservatives. Eventually, he turned against the party because of its EU leanings to the extent that he even began to advise people to vote Labour.
In 1974, he was returned to the House of Commons as an MP for Northern Ireland's Ulster Unionists, and he held the South Down seat until 1987, after turning down an offer to represent the extremely far-right fascist National Front party.
But he frequently appeared in the media due to his profile and controversial statements. He made a point of advocating against British involvement in humanitarian or military conflicts by saying"Saddam Hussein has a long way to go yet before his troops come storming up the beaches of Kent or Sussex" and "Whether Yugoslavia dissolves into two states or half a dozen states or does not dissolve at all makes no difference to the safety and wellbeing of the United Kingdom."
Those type of statements would never be uttered by anyone with an eye on high office. You could never imagine these kinds of words coming from the likes of former Prime Ministers Tony Blair or David Cameron, as they both know they would have alienated too many. But Powell was from a different era, when racism and justifying certain practices was deemed acceptable.
Also on rt.com
Right-wing & BLM protesters face off in London, police intervene (VIDEOS)
In current society, with movements like Black Lives Matter so prominent, no major political party would even think of hosting someone with such controversial views. So, it is interesting – and quite revealing – that 16 percent of those surveyed in the Times poll regard Powell as someone who would have been a good PM.
This idea of how Britain should be represented appears to be changing. Post-Powell, in the 90s onwards, blatant racism was not accepted. Black footballers having to endure monkey chants from fans, for example, became a social taboo.The same for the "go back to where you came from" mentality.
Of course, these types of opinions continued to fester, but in niche circles and not in public. Britons would not expect to attend a dinner party and encounter a guest putting forward the view that someone from West Indian heritage born in London is not British.
Society and politics had changed to the extent that this type of thinking remained mainly inside people's own minds. This poll, however, shows the genie is out of the bottle. People are no longer worried, ashamed or apprehensive about declaring their respect for a man who held racist views.
Not only that, they think he would have been a better prime minister than the likes of Ed Miliband, Ken Clarke or Amber Rudd. Granted, maybe none of them would have been the most electrifying choice as PM. But their views are surely in line with what Britain as a modern country aspires to, or at least used to.
Another of Powell's statements on immigration was: "It is like watching a nation busily engaged in heaping up its own funeral pyre." You have to agree that if we see the polarisation of the UK continue – with leaders on the far left and right being embraced – maybe we will all have to watch everything burn.
Think your friends would be interested? Share this story!
The statements, views and opinions expressed in this column are solely those of the author and do not necessarily represent those of RT.
You can share this story on social media: