George Galloway: Arch-Conservative warmonger William Hague endorses Joe Biden for US president. Is anyone surprised?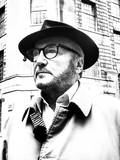 George Galloway
was a member of the British Parliament for nearly 30 years. He presents TV and radio shows (including on RT). He is a film-maker, writer and a renowned orator. Follow him on Twitter @georgegalloway
was a member of the British Parliament for nearly 30 years. He presents TV and radio shows (including on RT). He is a film-maker, writer and a renowned orator. Follow him on Twitter @georgegalloway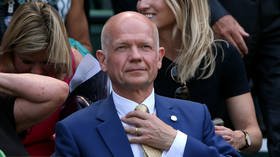 Ex-Foreign Secretary William Hague, who has unfailingly promoted interventionism, says Joe Biden as US president will be good for the UK, being the pro-"freedom and democracy" candidate. Let me tell you what this is really about.
I've known William Hague since he was an old man. The young fogey who bedazzled Margaret Thatcher at the Conservative Conference in 1977 was 16 going on 45. He's now someone born around the time of Palmerston.
Sitting, of course, in the House of Lords, he's forever opining from that dungheap about events in other people's countries, quite unabashed about his less-than-glorious period as leader of the Conservative opposition (one of the few who never became prime minister) and a disastrous spell as Britain's foreign secretary.
Hague likes to kick around Johnny Foreigner, usually the dusky ones and, crucial this, when they are not in much of a position to defend themselves.
But this time he has taken the unusual step –for a Tory grandee– of launching a bit of foreign interference in the upcoming American elections.
Even more surprisingly –for a Tory grandee– Lord Hague has awarded the much coveted Hague endorsement to... Joe Biden, the Democratic Party challenger to Donald Trump.
I can think of no other time in history when such a senior Conservative has endorsed any presidential candidate openly, and certainly not a Democrat...
In a Daily Telegraph column, widely reproduced elsewhere, Hague argued that it was in "Britain's national interest for Joe Biden to win" because Trump has "shown disdain for the values of freedom and democracy."
Leaving aside the furore which might have been expected if say, Hillary Clinton had written an op-ed calling for a victory for, say Jeremy Corbyn in December's General Election because Boris Johnson had "shown disdain for the values of freedom and democracy," leaving aside the pickle the Conservatives will now be in should Donald Trump be re-elected, let us turn to the what these values of freedom and democracy that Joe Biden and, for that matter, William Hague, imagine they represent.
The last time I spoke with Mr Hague was when we were both trapped in a lift in the British parliament. He had just returned from Jordan where he had announced the lifting of an arms embargo and the supply of war materiel to the assorted Islamist gangs who went on to use it in the cutting off of heads of anyone who disagreed with them, not least in the Christian sanctuaries of Ma'loula, about which I upbraided him. His frustration at being trapped in a lift with me of all people, in such a week too, was palpable. So much so that when the lift restarted he got off at the next floor, the wrong floor, from which there was no exit, and was last seen walking stiffly towards an attendant who could release him from his agony.
William Hague was one of those on the "Opposition" benches egging-on Tony Blair into his disastrous, madcap invasion of Iraq. He supported every war, every aggression, every swathe of sanctions which appeared before us when he entered parliament two years after me.. He was no friend of liberty and certainly never pressed the cause of democracy whilst foreign secretary on the grisly crew of Britain's best friends in the Gulf.
But what first attracted the arch-reactionary High Tory William Hague to the famously blue-collar democrat Joe Biden?
Might have been Biden's blatant Russophobia, which has nothing to do with his family's enrichment in the post-coup environment in Ukraine of course. Or the fact that on foreign policy Biden is attacking Trump from the right! Biden accuses Trump of undermining NATO, always trying to withdraw US forces from foreign battlefields, and of course of being a cypher for the Russian president Vladimir Putin.
It doesn't matter that Trump has brought the United States closer to war with Russia than at any time since the Cuban Missile Crisis, that all of his withdrawals of troops have miraculously failed to materialise, that he has withdrawn from the Iran Nuclear Deal, the INF Treaty, threatens the Open Skies Treaty, is sending feelers of potential interference in Belarus, and generally moving his tanks in the direction of Moscow, wanting to place nuclear weapons in Poland, seeking to militarise the Baltic States. No, it's the fact that Trump TALKS the language of de-escalation, resetting relations with Russia and bringing home the troops that is beyond the pale for the so-called Democrat.
Or it might just be that in the gerontocratic sleepy Joe Biden, William Hague just recognises himself, as a young man.
The statements, views and opinions expressed in this column are solely those of the author and do not necessarily represent those of RT.