The woke left, once useful foot soldiers for the Dems, are chasing voters into the arms of Trump, as emboldened monsters prove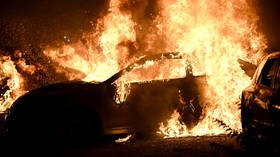 Democrat presidential nominee Joe Biden has the right strategy in campaigning from his basement, staying mostly out of public view to avoid exposing his cognitive deterioration and his bad ideas.
If only far-left activists could have done the same, staying in their mothers' basements until after election day, Stealthy Joe might just be able to glide to victory. He might have become president without really having to show voters whether he can coherently utter an unscripted sentence or offer a platform beyond "Trump is evil."
Luckily for President Donald Trump, the woke mobs have been more active and visible than ever. Americans are getting a chance to see more and more what the woke brigades are about, and in this case, to know them is not to love them. Voters also can't help but notice how the cowards who run the party are trying to condone, ignore or deny away the reality of what's happening in the streets.
Also on rt.com
Let them eat yellowcake: As Powell backs Dems, warmongers seek to regain full control of US policy, regardless of what voters want
And just as can happen with an unruly child, weak or nonexistent leadership tends to embolden his worst side and bring out ever-escalating lawlessness until someone is seriously hurt or in jail. The adults in the Democratic Party have long since either abandoned it or decided that it's better to feign blindness than to be taken to the guillotine by the Jacobin mob.
It's gone so far that this week's rioting in Kenosha, Wisconsin, escalated to the point that CNN host Don Lemon sounded the alarm Tuesday night, warning that Biden will lose votes in November if he doesn't stand up to rioters. "This is a blind spot for Democrats," Lemon said. "I think Democrats are ignoring this problem or hoping that it will go away. And it's not going to go away."
Lemon's comments marked a watershed moment in the presidential campaign. Here's one of CNN's leading apologists for Black Lives Matter and Antifa misconduct recognizing – out loud – that the Democrats may be in serious trouble. A leading player of the anti-Trump media's CONfidence game is ahead of Biden in realizing that voters are being turned off by the mayhem.
Also on rt.com
Divisive martyrs: Chicago's latest excuse for mass looting marks another dubious case to undermine protest movement's credibility
Unfortunately for the party, it may be too late. Biden may have crossed the Rubicon with his policy of see no evil, hear no evil. For him to step up now and scold agitators and opportunists who have become drunk on power wouldn't be taken seriously, and he would risk revolt by the Bernie Sanders wing of the party, which doesn't like him to begin with. As Lemon points out, Biden may be afraid to give a speech taking on the rioting.
Even if he does, the far left has already authored too many of those seminal moments that can cause voters to rethink where they stand – and whom they stand with. These are the kinds of moments that stick in a person's mind and help shape their world view much more powerfully than a brilliant speech or a clever campaign ad.
Kenosha has already given us a few of those moments, such as when an elderly man was beaten up for trying to protect his business from looters and arsonists, or when a man pleaded with rioters to not "destroy people's businesses," only to be told, "We'll burn your shop down, too."
Riots in other cities have given us such heartbreaking moments as the murder of retired police captain David Dorn in St Louis and the vicious beating of Adam Haner in Portland, who was attacked after trying to help a transgender woman who was allegedly being robbed by a group of BLM activists.
To watch the horrifying violence and destruction play out on social media while the mainstream media and Democrat politicians speak of "peaceful protests" is both scary and infuriating. As conservative author Mike Cernovich said Wednesday on Twitter, "These rioters are unintentionally Trump's interns."
Democrat Congressman Jerry Nadler went so far as to call the Antifa violence in Portland a "myth that's being spread only in Washington, D.C." Speaking of lying, opportunists in Chicago pounced earlier this month when police shot a black man who allegedly first shot at them. Police say manipulators lied about the suspect's age and stirred up an angry crowd. That night, caravans of "protesters" drove to Chicago's posh Miracle Mile shopping district to loot such stores as Nordstrom, Gucci and Louis Vuitton.
Democrat-run cities have done little to protect property and law-abiding citizens. Some, such as Portland, have refused help from federal forces to quell the violence. Prosecutors have not only declined to put rioters in jail in many cases but have filed charges against those who resist the mob, such as the St. Louis couple who brandished guns after demonstrators broke down the gates of their private neighborhood and allegedly threatened to burn their house down and kill them and their pets.
BLM activists have made their demonstrations more in-your-face to the general public in recent weeks. In Portland and Seattle, they have marched through residential areas late at night, blocking streets and yelling at residents. Last week in Portland, protesters shined lights in people's windows and banged drums as the crowd chanted, "Wake up, wake up, wake up motherfu**er, wake up."
This week in the nation's capital, groups of mostly white BLM demonstrators confronted diners at sidewalk restaurants and demanded that they raise a clinched fist to show solidarity with the group. Those who declined were screamed-at and threatened as the mob chanted, "White silence is violence," and "No justice, no peace."
The display was so disgusting that mainstream journalists tweeted disapproval. Former New York Times opinion writer Bari Weiss called the behavior "vile and un-American." Even MSNBC host Joe Scarborough tweeted, "What horrible people."
It's worth noting that most of the diners confronted by BLM's black shirts obediently raised a fist. A lot of people are too cowardly or too cautious to stand up to such intimidation tactics, especially when they're standing alone, but they won't support overheated wokeness in the privacy of the voting booth.
Like this story? Share it with a friend!
The statements, views and opinions expressed in this column are solely those of the author and do not necessarily represent those of RT.
You can share this story on social media: