Land Drone Under: Cops in Melbourne are using drones to spy on citizens to make sure they don't break lockdown rules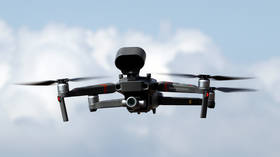 Having already brought in some of the strictest Covid-19 restrictions in the world, Aussie police are well on their way to turning Victoria into an Orwellian surveillance state.
The Antipodes seem to have sent themselves into a complete meltdown over Covid-19. Both Australia and New Zealand's governments have wantonly restricted civil liberties with some of the most stringent lockdown conditions on the planet. Each country seems to be trying to one up the other in the authoritarian stakes at every turn.
First the Australian state of Victoria declared a "state of disaster" and instituted an astonishingly draconian lockdown that mandated, among other things, masks outdoors everywhere at all times and granted the police the power to enter homes without a warrant.
Apparently not wanting to be out done by the Victorians across the Tasman Sea, Kiwi PM Jacinda Arderndecided that they couldn't possibly hold an election while there were less than 80 active cases of Covid-19 in the country, and so delayed it for a month. Admirable commitment to democracy there.
Also on rt.com
Why is it 'magnanimous' when Jacinda Ardern delays an election but an 'assault on democracy' when Trump merely suggests it?
But plainly the police in Victoria got wind that the New Zealanders had upped the ante so decided that what they needed to do was start using drones to spy on civilians. Melbourne coppers will be putting eyes in the skyto make sure none of the inmates, sorry citizens, are out and about doing things that they shouldn't.
Apparently, police in the city have decided they need to resort to tactics usually employed by the US Army to track down jihadis in the mountains of Afghanistan to catch people simply leaving their homes. Among the crimes these drones will be dispatched to try and catch people committing are such heinous offenses as going to the beach, not wearing masks, visiting playgrounds or using skate parks.
The drones can be flown up to a distance of 7km and have the ability to read vehicle number plates from a distance of 500 meters. Interestingly, this means that the drones will technically and legally be allowed to go further from home than Melburnians, who are under a strict night curfew and can only go up to 5km from their homes between the hours of 5am and 8pm, except for work and medical care. Otherwise they will be in breach of the curfew imposed by Victorian Premier Dan Andrews – newly nicknamed Kim Jong Dan – and can be fined nearly AU$5,000 (US$3,621). Repeat offenders face a fine of up to AU$20,000.
The drones will also be used to make sure people aren't crossing the border into neighboring states, as that is yet another freedom Dan has seen fit to deprive his people of. He's also deployed 2,000 military personnel to help to enforce virus-control measures.
As one exasperated Aussie put it on Twitter: "Are we in Melbourne or China?"
Are we in Melbourne or China 🇨🇳?

— Jonathon (@Jonatho43827873) August 18, 2020
There seems to have been no consideration given to the fact that if you are using aerial surveillance to catch people doing anything, they are almost certain to be outside where the risk of catching or transmitting the disease is vastly reduced. One study from Japan put the risk of catching Covid-19 in the open as 18.7 times less than indoors. Likewise, it is also likely that if a drone is required to spot people, they are probably quite sparse in number anyway. Large gatherings of people would presumably come to the attention of the police pretty quickly in the old-fashioned way of corona-Karens phoning them up.
Fortunately, there have been some sane voices amongst all this madness. Lawyer and chair of Digital Right Watch, Lizzy O'Shea, has said she is concerned that this is leading to unnecessary levels of surveillance, which to my mind is quite the understatement. Speaking on local radio in Melbourne, she said: "People have a right to be able to go about their lives without constantly being watched by police. Often in these moments of crisis we will introduce new forms of technology, new forms of surveillance, and they're very difficult to dismantle at the end of the crisis."
Also on rt.com
Melbourne cops may now enter homes without warrant, after 11 people die of Covid – Australia, this is madness, not democracy
Ms O'Shea is of course absolutely correct in this assessment. History shows us that governments who rush through overarching powers during a crisis seldom ever relinquish them after the crisis has passed.
Once these police have established a use for these drones, what is to prevent them using them long after the time of Covid? Already videos have emerged online of cops being heavy handed in enforcing the mandatory mask rule. One particularly troubling video that started circulating on social media appeared to show a policeman choking a woman refusing to wear a mask, which hardly seems proportionate, or particularly wise given other recent events.
All of this has been brought in in a country that has had just 438 deaths involving Covid-19, less than half the number that died there of common influenza last year. To put that number in yet more context, in 2018 an average of 434 people died every day in Australia from all causes. Whilst every death is deeply sad for the victim's loved ones, society and the economy cannot simply be stopped completely for the sake of safety. Australia needs to stop panicking and regain a sense of perspective.
Like this story? Share it with a friend!
The statements, views and opinions expressed in this column are solely those of the author and do not necessarily represent those of RT.
You can share this story on social media: