Forget 'Kremlin meddling', sowing discord & distrust in US democracy is all homegrown and burgeoning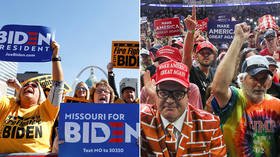 It's the most important election ever, according to Republicans and Democrats alike. With such vital billing it is all the more ominous that even before ballots are cast the very legitimacy of the presidential result is in doubt.
This week, a sprawling US Senate intelligence report again casts aspersions on the Trump election in 2016, alleging "extensive sabotage" by the Kremlin to get him elected. The report seems more a redux of previous unsubstantiated claims of Russian meddling, which Moscow has always categorically rejected as false.
Then there are looming doubts stemming from the mechanics of mail-in or absentee voting which is set to take an outsized role in the election amid social distancing over coronavirus public health fears. Like the concerns about the disease itself there is sharp partisan divide over the merits of mail-in voting. For some it is a necessary precaution, for others it is a ruse built upon an exaggerated health scare.
On top of that division you have the extreme partisan stakes being piled up.
Republican President Donald Trump says if "radical left" rival Joe Biden and running mate Kamala Harris win in November then the US will be plunged into Venezuela-like "socialist" disaster (as if Washington's regime-change machinations have had nothing to do with the latter).
For the Democrats, four more years of Trump will be akin to living under a dictatorship.
One could say it's all electioneering hyperbole. But still the divisive passions are running like a fever. There is a lot at stake for the participants in this election from the torrid way they have depicted the choice. The partisan discord could hardly be more acrimonious from the extremely polarized way each side views the other.
Throw into the political maelstrom accusations and counter-accusations of "cheating" over the election and then we have a cauldron of contention which ruptures the public trust in voting. The very legitimacy of US democracy is being split asunder.
Trump has set the pace for undermining the presidential election by saying it could be the most rigged ever in history. He has repeatedly claimed that mail-in voting is rife with fraud and has suggested that the Democrats are using the coronavirus pandemic and absentee voting as a cover for stealing the White House.
Several studies have shown that fraud from mail-in voting in the US is negligible. Many other countries seem to manage a system of absentee voting without much concern for voter misconduct. Nevertheless, Trump has succeeded in planting the notion among his supporters that mail-in voting is the death knell for democracy. He has already hinted that he may not accept the result in November if it goes against him. For millions of diehard Trump supporters that is tantamount to a call to arms in an echo of the anti-lockdown rebellion that the president advocated earlier this year.
For Democrats and anti-Trumpers, they see this president as deliberately sabotaging the US Postal Service from his appointment of a political donor as postmaster general in May. The subsequent cost-cutting and cutbacks in services under Louis DeJoy has put in doubt the adequate delivery of voting ballots in time for the election for many states. Trump has even brazenly admitted that he held back emergency funding for the postal service in order to curb mail-in voting.
Also on rt.com
Caitlin Johnstone: According to US Intelligence, if Trump wins Russia did it, If Biden wins it was China and Iran
So if Trump manages to pull off victory despite failing poll numbers, millions of voters will view his re-election as the product of his rhetorical maneuvers and maligning of mail-in voting. In the 2016 election, nearly a quarter of all ballots were cast by absentee voting. This time around, it is estimated that nearly half of 200 million registered voters in the US will use the mail-in system due to health concerns of going to polling stations in person at a time of pandemic risk.
There you have it. Whatever way this election turns out, there will be a gulf of divisiveness and doubt among US citizens about the legitimacy of the next administration. The bitter partisan wrangling that has gone on – seemingly interminably – for the past four years is set to continue with even more corrosive consequences for American democracy.
"Sowing discord and distrust" has been a stock phrase used in US media in regard to allegations that Russia has somehow been sponsoring malign influence among Americans. Those claims have always been overblown and unfounded, bordering on paranoia. Ironically, the anti-Russia allegations were a product of deep inherent discord among Americans over the controversial election of maverick Donald Trump.
How fitting therefore that this time around the discord and distrust on display is patently US-style homegrown – without an iota of Russian input. Recent US intelligence claims of Russian interference seem more threadbare than usual.
It is what it always has been: a crisis in legitimacy of American democracy owing to a fractured, self-alienated nation encumbered by endemic social problems.
US-style internal discord has become even more magnified and glaring to the point where invoking "foreign malign influence" just looks absurd in its irrelevance.
Think your friends would be interested? Share this story!
The statements, views and opinions expressed in this column are solely those of the author and do not necessarily represent those of RT.
You can share this story on social media: