Generation Frexit wins support from Carla Bruni's family as new anti-EU movement plans assault on 2022 presidential elections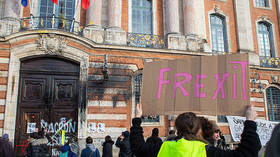 Ditched as a policy by Marine Le Pen, the idea of a French referendum on EU membership has been seized by a new political movement, Generation Frexit, and is winning support in high places for its fresh, modern approach.
When model, chanteuse and former First Lady of France Carla Bruni sits down to dinner on these warm evenings with her husband, ex-President Nicolas Sarkozy, and their children, the room temperature must plummet when her oldest boy turns the talk to politics.
For 19-year-old Aurelien, her son by radio host Raphael Enthoven, is a fully committed supporter of Generation Frexit, the new French Euroskeptic movement dedicated to leaving the EU.
Far from being a shock, however, it's a natural progression from his anonymous support of the UK's Brexit Party, I was told today by a friend of his, the dynamic Generation Frexit founder, Charles-Henri Gallois, a charismatic young French politician who quit the anti-EU Union Populaire Republicaine (UPR) party last month to concentrate on his new campaign.
"I'm not sure what Aurelien's mother or stepfather think of his politics, but I'm sure it makes for a very interesting conversation at the table," Gallois said.
But he knows what we all know – that the European Union is useless and toxic. It doesn't work and it has never worked.
"And when you push the EU supporters, they say the reason the European Union doesn't work is because it needs more European Union. It's the sort of reply the Soviet Union used to come out with," he added.
Euroskepticism in France is not new, but its former torchbearer, Marine Le Pen, leader of the Rassemblement National (National Rally) has backed away from Frexit in decisive fashion, claiming she no longer supports the idea and would like to reform the EU from within using an alliance of political parties from other member states.
Bonne chance, madame!
This has left an opening for 31-year-old Gallois and his Generation Frexit.
"What we plan to do with Generation Frexit is to create a political force that can apply pressure to candidates to make them include a referendum on their political manifesto. We may not win the election but we can certainly put pressure on others, just like Nigel Farage did in the UK."
Also on rt.com
Brexit mastermind Nigel Farage is looking to repeat the impossible by helping Italy liberate itself from the EU's shackles
French presidential elections are a two-round affair where if no one wins an absolute majority in the first round, a second one is held between the two candidates who won the most votes in a mad scramble to woo the voters left behind by the unsuccessful hopefuls.
While this makes for an exciting first round in the elections – Le Pen and Macron were the first ever non-traditionalist candidates to face each other in a second round – the En Marche candidate trounced her in the run-off as Le Pen failed to win over enough of the spares.
So out went the Frexit idea as she sought a move toward what she hopes are more voter-friendly policies.
But Gallois is not convinced.
"Marine Le Pen is never going to beat Emmanuel Macron in a presidential election no matter how many times she runs. She will always fall at the second round because of her history," he said. "And that is where Generation Frexit will exert the most force."
Le Pen was formerly leader of the far right National Front, founded by her father Jean-Marie and his 'far-right' legacy has proven electoral poison no matter what policies his daughter pursues.
The ground she has yielded, however, could now prove fertile to a younger generation, who make no association between Euroskepticism and unpalatable far-right politics.
As a generation currently living through a pandemic and only now emerging from an unpopular and restrictive lockdown, the Frexiteers have had their eyes opened to how the EU operates.
"Take the coronavirus recovery fund," Gallois said. "It's been disastrous for France as we contributed so much money and received so little back. We are simply paying to maintain the European Union and the euro and young people in France can see that clearly."
Also on rt.com
Covid bailout fund shows that fairness is rarely on the agenda at the EU, and this time it's Ireland who is the clear loser
The movement plans a full-scale media launch in September and a conference in December as it builds its case and its machine looking forward to the 2022 presidential elections.
So, there's a plan, there's a slogan – 'Reprenons le Controle' or 'Take Back Control', (well, it worked once) – there's a policy, and there is a groundswell of support. What would really help is a song.
Perhaps Carla Bruni can oblige.
Like this story? Share it with a friend!
The statements, views and opinions expressed in this column are solely those of the author and do not necessarily represent those of RT.
You can share this story on social media: