Celebrities defending Ellen over bullying claims aren't just out of touch, they're reinforcing a hand-washing corporate culture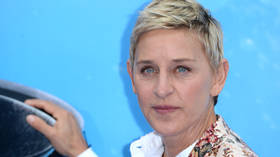 After accusations of bullying on The Ellen Degeneres Show, celebrities have been quick to defend its host. This not only shows a lack of empathy but reinforces a culture of bosses spurning responsibility for workplace wrongdoing.
The culture of celebrities digitally weighing into serious debates is a source of debate in itself. Opinions on how and when they should use their sizeable platforms diverge greatly and are usually dependent on whether you agree with what they're saying or if you're a fan. Some people will defend pretty much anything if they 'stan' for someone and, likewise, self-proclaimed free speech advocates soon forget their mantra if a sleb offers up thoughts contrary to their own. They should "stick to acting" and so on.
In the last few days, celebrities have been offering their universally glowing opinions of chat show host Ellen DeGeneres. It wasn't her birthday and, as far as I know, she isn't ill or retiring. These generous words are an act of defence.
They come after accusations of bullying, including racial and sexual harassment, at her production company, A Very Good Production; the one behind her enormously successful The Ellen Degeneres Show on which she ironically preaches the motto 'Be Kind'. You can read a more detailed account in the original Buzzfeed article here.
It's already caused the woodwork to release its Ellen-bashing tales: Just yesterday a 52-year-old man told the world (well, the Daily Mail) how a pre-fame Ellen, then working in recruitment, called him "fat" and "stupid" when he was just 11.
The likes of Jay Leno, Katy Perry, Ashton Kutcher and Kevin Hart have decided to tell their gazillions of followers what a fabulous time they and their entourages have had on the show and what an absolute sweetheart Ellen is. The implication being that the alleged wrongdoings must be either fabrication, exaggeration or outside of Ellen's knowledge.
What we have here, on the celebrities' part, is them missing a glaringly obvious point and exhibiting some very selective empathy. How they fail to realise the fact that they, as guests of the show, friends of the host and people who habitually have an arse full of freshly-blown smoke, were always going to be treated well, is quite impressive in its naivety. DeGeneres/Kutcher is not Frost/Nixon.
They lack empathy with the people who suffered the bullying, too, thinking only of Ellen's 'problems', which might range from mild reputational damage caused by passing outrage to the more significant consequence of losing her chat show. These, I assume, are the real problems in their world.
We also have, on theirs, the producers' and Ellen's part, a reinforcement of a problem in all large organisations, particularly private corporations: the biggest, most powerful, most handsomely remunerated people rarely take responsibility or blame.
They might have a sign on their desk that reads 'THE BUCK STOPS HERE' but it doesn't – just the bucks. Those who benefit most financially take the least flak when the poop hits the fan. The ones who suffer most are those who are bullied, while the bullies themselves often survive – minus a scapegoat or two – and their facilitators, the bosses, plead ignorance and promise "to be better."
This is very much the case with A Very Good Production. In reaction to the Buzzfeed article, senior folk at her production company (note her production company) were quick to explain that it is they who are responsible for all that goes on in its offices. I mean, I understand none has quit over it, but you know...
And, after an investigation by the show's distributors, WarnerMedia, found "deficiencies in day-to-day management," Ellen herself apologised. She wrote:
"I told everyone in our first meeting that The Ellen DeGeneres Show would be a place of happiness – no one would ever raise their voice, and everyone would be treated with respect. Obviously, something changed, and I am disappointed to learn that this has not been the case. And for that, I am sorry."
However, she also seemed to deny knowledge of any toxicity in the workplace, claiming that people were wrongfully "speaking on my behalf and that has to stop."
Now, I'm not saying that Ellen knew about any bullying – she may well believe in her 'Be Kind' motto. I'm also not going to deny her importance as one the first major celebrities to come out as gay (which, by the way, almost certainly caused her very successful sitcom Ellen to be cancelled because, well, "it was a different time"). I'm not even going to be a hypocrite and haul her over the coals for being a dick to some kid in the Seventies, because we've all been dicks in some decade or other.
But when you're the boss, you should be accountable. If your name is on the restaurant, the food poisoning is your fault. If you own the garage and the wheels fall off (literally or metaphorically), it's down to you.
Ellen needs to own these accusations and clean up her own house, not fire the maid. Perhaps she can set an example to other bosses on how to genuinely 'Be Kind' while her loyal celebrity pals either keep quiet or side with the real victims.
Think your friends would be interested? Share this story!
The statements, views and opinions expressed in this column are solely those of the author and do not necessarily represent those of RT.
You can share this story on social media: