Wayne Dupree: Joe Biden's latest gaffe proves he's the biggest racist of all. When is enough, enough?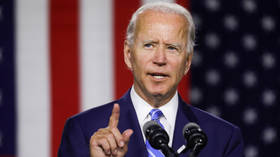 The Democratic presidential contender has shown his true colours by continually denigrating and stereotyping African-Americans. Yet Trump, who's done more to benefit minorities than any other president, is the one called racist?
Yeah, he said it, and I am not over it yet.
Joe Biden, the former vice president and current 2020 Democratic nominee for president, shocked the political system on Thursday when he talked about African American and Latino communities.
Biden was speaking with NPR's Lulu Garcia-Navarro during the National Association of Black Journalists and National Association of Hispanic Journalists Convention when he was asked if he would "re-engage" with Cuba as president, something Barack Obama did before he left office. Of course, that would not be seen as a popular move within the Cuban American community.
Biden's response? "Yes, yes, and by the way, what you all know, but most people don't know, unlike the African American community, with notable exceptions, the Latino community is an incredibly diverse community with incredibly different attitudes about different things."
Also on rt.com
Biden says Latinos are 'incredibly diverse,' UNLIKE BLACK VOTERS
You can watch the whole horror show car crash here.
It is difficult to watch Biden speak. He speaks, but his words do not seem to engage with his thoughts – they are just words – spoken without thought or meaning. His speaking style is flat. It is sad, but Mr. Biden does not seem to have any clear idea of what he is saying.
These are blunders only in so much as Biden has lost the ability to restrain his mouth from following the prescribed script needed to represent the Democrat party. This is probably the most honest Joe has ever been about the way he and his fellow Democrats see the world.
This guy can do and say anything he pleases and still get Democrat voters on board. He can treat blacks like a hive of simple-minded steppingstones to power, work with segregationists, run our country into the ground for the last four decades, and virtually rape people and get away with it.
There was no shortage of op-eds declaring something similar to "I believe Tara Reade... but, I'm still voting for Biden." I seriously doubt there is anything that could pry Democrat lemmings away from their party.
Blue no matter who, as it were. I guess they weren't joking.
Trump should give a press conference in which he first reads out all of hiding Biden's racist comments about blacks, and then announces that instead of providing billions of education dollars to states, the federal government will provide scholarships for inner-city kids whose futures are doomed by horrible, government-monopoly schools.
There are two notable moral tragedies in our society: abortion, for which there is no solution, and our decades-long failure to educate minorities, which can be fixed with a presidential order.
You heard what Biden said belligerently to that black CBS reporter when he asked Joe if he'd taken a cognitive test?
"No, I haven't taken a test. Why the hell would I take a test? Come on, man! That's like saying you, before you got in this program if you take a test, where you're taking cocaine or not, what do you think? Huh? Are you a junkie?!?"
Biden hasn't changed a bit. He immediately hit back by racially-profiling the black reporter, assuming there is a high probability of blacks being junkies.
Yet, CRICKETS from the Democrat-supporting American media. Just imagine the exploding-heads if Trump said this!
Isn't it insanely ironic that Trump has hired thousands of minorities throughout his company over decades and has done more in his policies to benefit minorities than any other president during his first three years, yet, HE is the one the left always calls a racist, while THEIR candidate is actually the biggest racist of all?
He's a 25th amendment placeholder, and the party is planning on using his VP as their unelected patsy for president. This man has no business running for ANY public office; he's not mentally competent to do so on any level. To present him as a presidential candidate in that shape is to admit that they are waiting to slip in his VP instead and the party will be telling him who to choose, so we'll end up with a president appointed by the DNC. Isn't that wonderful?
How many more examples do we need of the man's competency levels and the elder abuse crimes the DNC is perpetrating here?
The statements, views and opinions expressed in this column are solely those of the author and do not necessarily represent those of RT.
You can share this story on social media: