This lawsuit that's seeking to shut down the NRA isn't about guns. It's naked electoral interference, pure & simple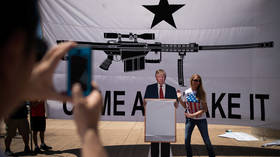 New York's attorney general – a Democrat – has filed a lawsuit to try and dissolve the National Rifle Association. It's political activism masquerading as judicial oversight, aimed solely at cutting off funding for Republicans.
The National Rifle Association (NRA) is one of the biggest advocacy groups in the United States. Their stated goal is defense of the Second Amendment of the US Constitution, which enshrines our right to bear arms. The NRA's long been a group hated by the political left in America for just that, plus for its financial support of the Republican Party. New York State Attorney General Letitia James has opened a lawsuit claiming mismanagement of funds.
Also on rt.com
'Baseless & politically motivated': NRA counter-sues New York AG who seeks to shut down pro-gun organization
Needless to say, there's been quite a bit of reaction to this. President Trump called it the "radical left trying to destroy the NRA." The Republican Attorney General Association wasn't pleased either, saying that NY's Letitia James was "abusing her power." Even Democrats in battleground states are being apologetic about it. Now on a political level, even NRA members will tell you it's actually a bipartisan organization that funds Republican campaigns because Republicans aren't pushing gun control. It's that simple.
This legal move really isn't about guns whatsoever. Even though there is a deep divide between the two parties on guns, there's something more at work here. Ultimately, it comes down to money. The entire lawsuit is about money, and it's because of how high the stakes are when it comes to the upcoming election.
The NRA was looking to spend millions of dollars in battleground states. What Letitia James is attempting to do is cut off a method of funding to conservative politicians running for office or for re-election. There's no David Hogg-esque misled idealism. It's all about the green.
It was interesting to see how, just minutes after she began speaking about her suit yesterday, Bloomberg published a detailed article outlining her narrative and talking points. Michael Bloomberg, the news site's owner, is a billion dollar funder of the anti-gun movement and the liberal left.
Also on rt.com
NY and DC attorneys general sue National Rifle Association for alleged misuse of charitable funds
The fact is that the NRA is a giant funder of politicians in the entire United States. In 2016, they raised $366 million and spent $412 million on political activities. Very substantial numbers, and given how much the right wants the left to gain zero power this year, they're likely going to spend just as much this year. Many people that are American conservatives see Joe Biden as a doormat that the radical left will walk over to get their way. Thus, the implications to those who are conservatives are seen as rather dire. People don't want the cops defunded, or their taxes raised, or the Green New Deal to become law. Or their right to bear arms restricted. We don't want our way of life changed.
Letitia James is one of those politicians that does indeed want things changed, wanting the United States to be much more left than it is. As such, this is a political move to try to cut the knees out from the Republican Party before things really kickstart before the elections. This is election interference of the highest order, and is something that conservatives are going to have to fight. Whether they like the NRA or not, it does help conservatives win elections.
Ultimately, there's a massive burden of proof on the actual case. There's going to have to be evidence that the NRA did in fact mismanage its funds or it's going to be a waste of time. Then again, that may be the point. Waste time until the election is over.
Either way, this isn't about guns. Never was. The Democrats are fighting dirty, and hopefully Republicans will realize what's going on and recognize that this is how people who have radical agendas will always act.
Think your friends would be interested? Share this story!
The statements, views and opinions expressed in this column are solely those of the author and do not necessarily represent those of RT.
You can share this story on social media: