Boris Johnson studied the classics at Oxford but now seeks (and needs!) a spokesman to rein in his flailing tongue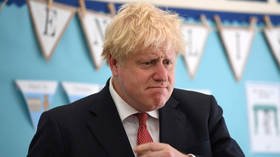 A job listing for the role of prime minister's spokesperson has been released, but what will the new role mean for the political discourse in Britain and is it actually an insurance policy to protect BoJo from himself?
Boris Johnson was born in New York. And now he's paying tribute to the Stars and Stripes by adopting a cult feature of the American political sphere – the high-profile spokesperson who will front White House-style televised daily press briefings.
It's a role that's never previously existed in Britain, as the government has the non-political civil service at its beck and call. Currently they hold twice daily briefings known as 'the lobby', where they speak to journalists and answer questions.
There's no doubt that this practice has the air of a colonial country club, with only the right faces and names fitting in. That came across loudly during the Covid-19 crisis when the political reporters seemed to have all agreed to not ask anything searching of the government – the quid pro quo for their acquiescence is anyone's guess. Their questioning during the coronavirus press conferences was the equivalent of tickling a teddy bear.
So the new spokesperson will hopefully shake up that cosy love-in of backroom dealings.
Though only their afternoon briefing will be shown on TV daily, the morning session will continue to be held in private with journalists.
The material difference is the spokesperson will be a member of the Conservative Party.
Also on rt.com
Is there actually ANYTHING conservative about Boris Johnson's Tories? From culture to the economy, they're drifting ever leftwards
They will work for the prime minister and will sacrifice any neutrality. So they will no longer be a faceless figure existing only in print as the 'prime minister's official spokesman'.
They will be front and centre, out there at the coalface, dodging the bullets – in return, their salary is expected to be around £100,000. That shows how much faith Boris is placing in this individual to steer his communications. Members of Parliament in the House of Commons only make £81,932.
The brief is encapsulated as to "communicate with the nation on behalf of the prime minister" and the successful candidate is expected to have "excellent risk management and crisis communication skills."
That should really be 'super-human crisis communication skills'. Boris is the man who vowed: "I'd rather be dead in a ditch than ask for Brexit delay." And what did he ask for a few months later? Exactly.
Other smash hits from BoJo's cannon of confusion include: "Life expectancy in Africa has risen astonishingly as that country has entered the global economic system," and his advice to Libya on how to rebuild from a brutal civil war: "They have got a brilliant vision to turn Sirte into the next Dubai. The only thing they have got to do is clear the dead bodies away."
There was also his tone-deaf decision to recite Rudyard Kipling's Mandalay in a sacred temple in Burma – a poem laced with colonial bile. He was only stopped by Britain's visibly uncomfortable ambassador who interjected: "No, not appropriate."
Then he was given a dressing room captured by the BBC after visiting a Sikh temple in Bristol, unaware of the religion's rejection of alcohol, Boris blundered on about Brexit: "I hope I'm not embarrassing anybody here by saying that whenever we go to India – Mumbai or to Delhi – we have to bring clinking. We have to bring Johnnie Walker, we have to bring whisky. There is a duty of 150 per cent in India on imports of Scotch whisky. So we have to bring it in duty free for our relatives."
Johnson, then foreign secretary, was criticised for making misleading statements when Iran arrested dual national Nazanin Zaghari-Ratcliffe accusing her of being a threat to the regime. She and her family maintain she was only there on holiday, but Boris said that in fact she had been "training journalists," but had to concede shortly afterwards his assertion was "my mistake."
Being mistaken or lying is something Boris has dabbled in all throughout his career. He was sacked by the Times in 1988 for writing a front-page story that contained a quote from his godfather, British historian Colin Lucas. But it was completely fabricated and his godfather complained.
Then in 2004, he lost a junior political role after declaring: "I have not had an affair with Petronella (Wyatt). It is complete balderdash." However, it transpired he had – and Ms Wyatt even had an abortion as a result of their relationship.
So eating soup with chopsticks might be easier than having to speak on behalf of a man who has a natural talent for saying the wrong thing.
The other side of the coin is that possibly those around Boris have realised he's a liability. Now as PM, he probably couldn't survive a really high-profile slip of the tongue and his handlers likely think prevention is better than cure. So if he doesn't talk, he can't hang himself – and by default, them too.
Some critics, mainly on the other side of the political spectrum, have raised concerns that the new spokesperson will "unbalance the political discourse." But that seems a moot point. Instead of the civil service filtering things, aren't we better just to hear the full story?
Also on rt.com
Complacency, chaos and scandal: The soap opera of Bumbling BoJo's six months in charge of the UK
We all know they are going to be Boris' lackeys, but at least there's no mystery about what camp they're in. There will also be no shortage of applicants, as many of today's media figures are desperate to be celebrities. Trump has fired a good handful of spokespersons, but they all seem to reappear on podcasts, TV panels or even do the classic trick of 'telling their story' in a book. Sean Spicer and Anthony Scaramucci became celebrities after doing the job for Donald Trump.
It's going to open up the channels of communication and bring a bit more box-office appeal to British politics. It will shake things up and that's something that is desperately needed in the dusty and staid corridors of Westminster.
I just pity the poor soul who has to decipher and accurately transmit what Boris is saying.
They'll earn every penny of their six-figure pay packet. Applications close on August 21.
All of the prominent broadcasters will know it's a poisoned chalice, but will they be able to resist?
Like this story? Share it with a friend!
The statements, views and opinions expressed in this column are solely those of the author and do not necessarily represent those of RT.
You can share this story on social media: