How Florida's coronavirus surge could sink Trump's November bid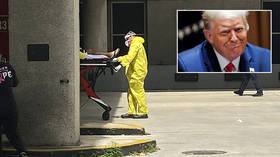 There's no way US President Donald Trump can get reelected without winning over Florida – a state that's facing a Covid-19 resurgence under a staunchly pro-Trump governor pushing for reopening. Florida could be the end of Trump.
On Sunday, the State of Florida recorded the highest number of positive Covid-19 tests in a single day by any US state since the start of the pandemic, with a whopping 15,300 cases. If Florida were its own country, it would have reported the fourth-highest new cases in a single day in the entire world, behind only the United States, Brazil and India.
Yet, Republican Governor Ron DeSantis – who had in recent days told the public the situation had stabilized – has refused to mandate masks in public and is pushing ahead to open schools in a few weeks. Florida's ballooning Covid-19 statistics, coupled with the governor's inept management, are both a real and a political defeat for US President Donald Trump.
Republicans reverse reopenings
While Florida is certainly the new epicenter of the disease, it doesn't stand alone; most of America's 50 states are seeing upticks in cases after their hasty reopenings. Unlike DeSantis, many other important Republicans are backpedaling from the Trump playbook on the virus, including on the issue of masks, one of which Trump finally – after months of pressure – wore in public for the first time on Saturday.
For example, Texas Governor Greg Abbott has now reversed course on masks by issuing a state-wide mandate. He's also shut down all bars, limited restaurants to half capacity and halted elective surgeries in virus hot-spots – all moves that contradict his statements and actions during the state's reopening. Abbott even admitted the "stark reality" of the virus – that it's not going away and is actually "getting worse."
It can be speculated that the Republicans distancing themselves from Trump are doing so out of political expediency, as the president's polls plummet and the country tears at the seams due to his mismanagement. After all, many of the Republican governors and officials turning their back on the Trump playbook are in states where the president is struggling.
DeSantis stands by Trump...
Governor DeSantis, however, stands in a unique position; his win in 2018 was largely credited to President Trump, who himself has maintained primary residency in Florida since 2019. He, a first-term governor, and Trump are stuck together in a mess of their own creation – one they are publicly ignoring and downplaying, despite being aware of the reality.
Last week, DeSantis had insisted that new restrictions need not be put in place to quell the spread of the virus as case numbers crept upward. The governor has also pinned rising cases on an increase in testing – a familiar Trump talking point – omitting the fact that the percentage of positive tests has also been record-breaking.
The governor's public rejection of reality is also demonstrated in the fact that Disney World opened on Saturday, schools are slated to open in merely a few weeks, and the Republican National Convention in Jacksonville is still on for next month – a symbolic event if ever there could be one for this moment.
This recklessness, however, is not done out of ignorance; DeSantis and his state government are being willfully dishonest. Florida officials have yet to release data on the number of daily Covid-19 hospitalizations in the state – a crucial figure in flattening the curve of the disease. This is especially cruel and problematic given that Florida has the second-highest proportion of retirement-age residents in the country, at 20.5 percent.
Given this demographic, more cases will ultimately translate to more hospitalizations and more deaths. According to reporting by CNN based on data released by the Agency for Health Care Administration, 43 hospital ICUs in 21 counties in Florida are already at capacity with zero available beds as of July 7. Republican Miami-Dade Mayor Carlos Gimenez also warned on Sunday that hospitals will soon reach their capacity in the Miami area, with six already having done so.
...and may pull him down
At the same time that DeSantis downplays the virus, on July 3 his administration applied to the Federal Emergency Management Agency (FEMA) for 1,500 nurses to help staff hospitals. The obvious suggestion of this timeline is that he's aware of what's going on in terms of the imminent burden on the state's health care system but is singing a different tune publicly.
This shoddy performance by DeSantis in dealing with the virus is an implicit indictment on the leadership of the Trump administration, given the mirror image between both of their playbooks and their electoral connection in the past. Voters are also aware of this, as the CBS/YouGov tracking shows 65 percent of Florida voters believe the virus is being contained poorly. This has benefited Trump's opponent Joe Biden, who is now up 48 to 42 on the president.
There's no path for Trump to win in November without Florida. Trump must secure victory in all the current toss-up states – Florida, North Carolina, Arizona and Wisconsin – to get another four years, and he is highly unlikely to do so. This new surge of coronavirus in Florida may be the thing that has cemented his exit from the White House and full-time return to living at Mar-a-Lago – assuming Floridians don't burn it to the ground between now and then.
The statements, views and opinions expressed in this column are solely those of the author and do not necessarily represent those of RT.
You can share this story on social media: