There's no reprieve from the haters on holiday for right-wing activist Tommy Robinson. But should there be?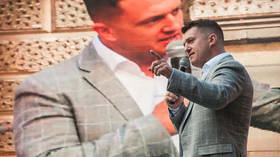 Footage of British extreme right-winger Tommy Robinson being accosted on holiday prompted debate about whether such a divisive figure was entitled to privacy in his down time. Can there be such a thing as nine-to-five activism?
Nothing beats the feeling of finishing work and knowing your holidays have begun.
Whether it's to lounge around at home, dragging yourself out of bed by noon just in time to demolish a box set or, more exotically, jetting off to a foreign land and checking into a luxurious hotel.
Either way, being 'on' or 'off' is probably the biggest definer of our behaviour.
There are, however, a tiny minority of people who stand apart. Tom Hanks, for example, will always be a Hollywood A-list movie star, who will be stopped for autographs and selfies.
World leaders such as Angela Merkel or Justin Trudeau are on hand 24/7 to deal with national emergencies.
But what about populist political zealots whose views and diatribes are their stock-in-trade; for example, Tommy Robinson? Should they be afforded 'time off'?
A video has been circulating of the famous far-right English activist being accosted while on holiday in Marbella.
Robinson is sitting at a table with his family having a meal in the sunshine. The guy who approached them clearly has no regard for Robinson's views, as he ranted: "F***ing racist pig, you got something to say?"
The reply was straightforward: "I'm sitting here with my kids." But the 'chat' continued: "I don't give a f**k, f**k you and f**k your family, you understand?"
The video has been viewed over 829,000 times, with reaction mixed. Some feel it was unacceptable and crass to approach Robinson, due to the circumstances of a private family trip to Spain. Others voiced their opinion that he's fair game and deserves the aggro.
The idea that Robinson might have been entitled to some downtime was quickly diluted as he quickly made his feelings clear on social media, claiming that his accuser appeared to have recently finished a prison sentence and was a follower of Islam.
He posted: "Hardly makes you a gangsta when theirs a group of 7 Muslim men accompanying this loud mouthed bozo, zero respect & they wonder why people don't like them."
Basic decorum dictates that it's never acceptable to intimidate or show aggression towards minors.
The footage shows one of the female kids covering her face, but the accuser doesn't attempt to put his hands on them and also never really raises his voice.
Robinson also doesn't ever leave his seat, which might be expected of any father who feels his children are under genuine threat.
This, remember, is a man who has a history of violence and was caught on video last year knocking a man to the ground before an England football match.
Also on rt.com
'NOT a criminal offense': Police say no action over 'White Lives Matter' banner flown over Premier League game
Maybe Robinson's 'restraint' could be explained by the thought that violence is not acceptable in front of children.
Another element to consider here is the 'Stephen Yaxley-Lennon' factor. Tommy Robinson isn't his legal name, so his persona and image are in some ways, an alter-ego.
Just as an actor in a soap opera almost becomes their character, Robinson appears to be caught in a similar web.
Is he Stephen Yaxley-Lennon when at home or with his family, then Tommy Robinson when he's undertaking political activism and extolling his disregard for Islam?
There's no uniform, job title or place of work for him.
Can he really expect to be a nine-to-five zealot, who's free from any baggage outside of office hours?
Some might say Robinson wants to have his cake and eat it. During his family trip, he was using social media both before and after the incident with his kids.
He had sent out a picture with the tag 'Black Lies Matter' along with a video of boxer Anthony Joshua being jeered by some fans with the post, "he can expect much more of this since his racist outburst during BLM Marxist troubles."
Does this demonstrate there's no boundary where Stephen Yaxley-Lennon ends and Tommy Robinson begins?
In fact, it's a question for us all to consider: when is someone off-limits in this world of 24/7 connectivity?
Everyone has a fundamental right to privacy and respect, no matter what their politics are.
Of course, Robinson is no stranger to meeting people who agree with him and being confronted by others who despise him. He's tread both paths for many years.
So, during this meal with his family, was he loving dad Stephen Yaxley-Lennon, as the family ordered their food, in a lovely summer setting? But then, did he instantaneously switch to Tommy Robinson as he spotted his accuser approaching him clutching a phone?
That could be why he stayed calm – bear in mind he has two convictions for assault – and let the situation unfold as it did.
Was Robinson just more savvy and knew he could spin the interaction to make it look like an aggressive Muslim man had intimidated his children for no reason?
These are all points to debate.
Conclusions will be heavily influenced by which direction your political compass points. Robinson is either activist or racist.
But with the demarcation of roles in the world becoming more and more blurred, all of us have to consider where we draw our own lines. This video showed exactly why.
Think your friends would be interested? Share this story!
The statements, views and opinions expressed in this column are solely those of the author and do not necessarily represent those of RT.
You can share this story on social media: