Gitmo or bust: Ghislaine Maxwell must avoid the fate that met Jeffrey Epstein and help put pedophiles behind bars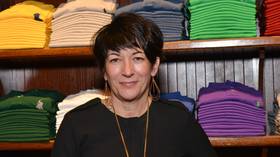 Once again, an opportunity has presented itself, with the arrest of British socialite Ghislaine Maxwell, to punish those who willfully took advantage of minors. The US justice system cannot be allowed to fail a second time.
The story is so fantastic it is tempting to dismiss it out of hand as pulp fiction or conspiracy theory. It is alleged that members of the global elite – up to and including one member of royalty – occasionally took trips to a remote island in the middle of the Caribbean Sea not just for its idyllic surroundings and eternal blue sky, but for the purpose of having sex with underage girls.
Ghislaine Maxwell, 58, has been accused by the FBI of luring young girls to 'Pedo Island', where the late billionaire financier Jeffrey Epstein organized parties as part of an international sex-trafficking ring for the sole benefit of the rich and famous. The A-list of celebrities and public figures connected to the convicted pedophile includes the likes of former US President Bill Clinton, Victoria's Secret founder Les Wexner, and even the famed physicist, Stephen Hawking. To what degree those people and others were aware of Epstein's criminal activities remains largely a matter of speculation, although one of the alleged victims, Victoria Roberts, recently came forward to say she was forced to have sex with Prince Andrew when she was just 17 years old.
Wouldn't be surprised if she is suddenly diagnosed with COVID-19 and takes a sudden turn for the worse. How about giving her some HCQ? https://t.co/S3kUOLInyD

— Lisa Mei Crowley 🐸 (@LisaMei62) July 7, 2020
Many people quietly disassociated themselves from Epstein in 2008 after he was charged with soliciting prostitution and marked as a sex offender. And following his apparent suicide last year while in prison, the chances that his victims would find some sort of closure in a court of law were diminished even greater. In fact, the best his victims have received so far by way of justice was the opportunity to publicly air their personal tragedies in a Netflix series, which carries the garish, sensationalized title, 'Jeffrey Epstein: Filthy Rich'. This is why Ghislaine Maxwell, who certainly has many lurid secrets to tell, must be protected at all costs, both from herself and others who may wish to make sure she never has an opportunity to make some sort of plea deal with the authorities.
For the record, it must be said that Ghislaine Maxwell, being the daughter of the disgraced British MP and publishing tycoon Robert Maxwell, is herself a member of the ruling elite. And since moral courage does not seem to be a predominant trait in her family, she may very well decline the opportunity for a reduced sentence by calling out those powerful individuals who sought the services of Epstein's child prostitution ring, which, according to at least one witness, was an open secret among insiders.
According to former Reddit Ellen Pao, "we knew" underage girls were sex trafficked by Ghislaine Maxwell in 2011 - Maxwell attended the event.- Al Gore attended.- No spouses were allowed. pic.twitter.com/qtAm46m7bE

— Cernovich (@Cernovich) July 6, 2020
Incidentally, the story involving Miss Maxwell and Mr. Epstein brings to mind the recent scandal embroiling Hollywood, when a number of women began sharing their stories of sexual improprieties inside of the fiercely exclusive industry. It seemed that any aspiring actress desirous of work was forced to compromise themselves in some way, which, more often than not, involved their bodies. Beginning with the epic downfall of movie mogul Harvey Weinstein and his infamous casting couch, dozens of other individuals were called out for their bad behavior. While it was promising to see the growth of the grassroots #MeToo movement to protect Hollywood insiders from sexual assault, there appears to be no corresponding movement to protect the rights of children and minors from such despicable behavior. Such a lack of equal protection for the most vulnerable members of society cannot be tolerated.
People like Ghislaine Maxwell must be made to understand that their punishment for not assisting in pedophile investigations – should that become the case – will not be a temporary and comfortable incarceration at some relaxed detention facility which more resembles a country club than a maximum security prison.
Although Maxwell is currently being held at a Brooklyn detention facility, which has been described as a 'third-world lockup', it is too easy to imagine some celebrity lawyer, always readily available to the elite, getting the British socialite freed with nothing more than a slap on the wrist. Crimes against minors, however, demand far more painful consequences. These morally depraved individuals, many of whom have been pampered their entire lives, need to understand that the appropriate punishment for pedophilia is nothing less than long-term imprisonment amid the harshest, most primitive conditions allowed by law.
Will Ghislaine Maxwell make it to trial?

— Chuck Callesto (@ChuckCallesto) July 4, 2020
And as fate would have it, such a place already exists, and Maxwell may be surprised to know that it is also an island situated smack in the middle of the Caribbean Sea. For any would-be pedophiles and sex-traffickers, they may be less inclined to harm children or protect their ilk if they knew that the punishment for their criminal behavior is nothing less than a one-way trip to Guantanamo Bay detention facility, located in a forsaken corner of communist Cuba.
With the threat from Al-Qaeda noticeably on the wane, and vacancies now available, this seems like the ideal holding facility. That is, unless Ghislaine Maxwell should suffer the same unfortunate fate that awaited her late partner in crime, Jeffrey Epstein. That possibility must be prevented at all cost. The victims of pedophilia deserve no less than to know that their childhood tormentors are languishing away on a miserable island in shark-infested waters of their own making.
Think your friends would be interested? Share this story!
The statements, views and opinions expressed in this column are solely those of the author and do not necessarily represent those of RT.
You can share this story on social media: