Can Russia prevent China and India taking up arms against each other?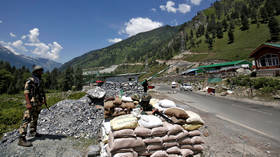 The recent events at the India-China border have moved into the global media spotlight, with the two countries' militaries becoming increasingly engaged in skirmishes and face-offs.
Attempts to capture chunks of land have actually become standard practice for the Chinese and Indian border guards deployed along the shared 3,400 km (2,100 mile) frontier since the 1962 war. No bullets have flown and no weapon systems have been used since 1975. In 1993, the two Asian giants signed an agreement on the "Maintenance of Peace and Tranquility," also known as the Line of Actual Control (LAC) – a step forward on the way to deconfliction.
Somehow, the militaries have managed to resolve incidents at the local level, with both sides reaffirming their commitment to promoting good-neighborliness. Not any more. Fatalities were reported as the two sides clashed in mid-June against the backdrop of tensions, gradually mounting since early May. New Delhi and Beijing are blaming each other for violating the Line of Actual Control (LAC) that separates the forces in the Galwan Valley.
Also on rt.com
Modi visits Himalayan border region of Ladakh where Indian & Chinese troops clashed
The soldiers used clubs, rocks and fists, but India and China are continuing to build up their forces in the Himalayas, bringing in more weapon systems. Each side realizes it would pay a high price if there were to be a war against the backdrop of a coronavirus-induced global economic crisis. Waging combat and supplying forces at such a high altitude is a tall order. But neither side is ready to make concessions on territorial claims. The two nuclear powers remain locked in a tense military standoff.
The events appear to be pushing India closer to the United States, while American-Chinese relations are deteriorating fast. New Delhi can get diplomatic support and boost arms imports from Washington. That would serve US interests.
President Donald Trump has offered to mediate in the dispute. But if push comes to shove, Washington will not intervene. Unlike Islamabad. It is highly likely that Pakistan would join China in the event of war. Military incidents between Pakistani and Indian soldiers occur regularly in Jammu and Kashmir, hampering the prospects for improving relations between Islamabad and New Delhi. The last clash took place in June.
Also on rt.com
India to ban Chinese firms from road projects as tensions mount over border dispute
One can hardly imagine Washington trying to mitigate the tensions at the Chinese-Indian border, because it needs India as an ally in its crusade against China. Considering the mounting tension in the West Pacific, especially in the South China Sea, it would serve US interests if China were to move some of its forces, including shorter and intermediate-range ground-based missiles as well as strike aircraft, to the Himalayas, away from the coastal areas.
It may be frustrating for Washington that New Delhi has revealed an interest in acquiring Russian, not American, weapons following the aggravation of tensions with Beijing. In particular, it asked Moscow to speed up the delivery of the cutting-edge S-400 long-range air defense system. This is a defensive weapon, and Beijing never asked Moscow not to sell it to India.
Russia has a vested interest in political stability in Eurasia, and maintaining peace there is the paramount goal of its diplomacy. Moscow regards India and China as two friendly nations, but has not undertaken any open effort to get involved in the reconciliation process.
According to Russian Foreign Minister Sergey Lavrov, India and China need no "help and assistance aiming to somehow resolve their disputes."
It is true that, unlike the US, Russia is not willing to be directly involved as a go-between, but a reduction of tensions and launching talks on border demarcation would be an ideal scenario that it wants to see happen. India and China are the global actors that Moscow needs to further its economic interests and foreign policy goals. Each great nation serves as a counterweight to the other. Besides, China counterbalances the US, while India counterbalances China.
Also on rt.com
India and China reach out to common friend Russia as deadly border conflict still raw
Supporting one of them would tilt the balance, depriving Russia of a strategic partner. The need to choose sides is a lose-lose situation for Moscow. It simply cannot idly stand by as the situation aggravates further. Despite the declared refusal to step in as a mediator, Russia is doomed to be the one acting quietly behind the scenes – which is the right thing to do. Its sheer weight as a political, military and economic partner of China and India is enough to influence the manner in which events unfold.
Russia's membership of the Shanghai Cooperation Organization (SCO) and BRICS (along with Brazil, India, China, and South Africa), as well as Moscow's status as a founding nation of both groups, makes complete non-involvement unrealistic. Both organizations were set up to deal with security issues, and this is the right moment to demonstrate their relevance. Otherwise, their vitality will be questioned.
After all, it was Moscow where Indian and Chinese soldiers marched together, taking part in the Victory Day parade on June 24 with the defense chiefs of both countries attending. On June 23, the Russian capital hosted the Russia-India-China (RIC) trilateral foreign ministers' video conference, bringing together the three foreign policy chiefs.
The agreement reached during the event to hold a trilateral RIC summit at the G20 gathering in November, as well as to expand the group's format to include defense ministers' meetings, is a contribution into the peace process.
It proves that Russia is viewed as an acceptable partner to both nations. True, it was a mere coincidence that the conference was held just a week after the Galwan Valley incident – the fight that took place on June 16. Initially scheduled for March, the conference was postponed due to the coronavirus outbreak. Perhaps it is symbolic that the upcoming BRICS and SCO summits this year will also be held on Russian soil, in St. Petersburg, bringing together the leaders of Russia, China and India.
One of the scenarios envisages India moving much closer to the US and its allies. New Delhi may pick a side in Washington's standoff with Beijing, under pressure from some influential circles representing the nation's political elite.
It could boost its ties with the US-led Quadrilateral Security Dialogue (the Quad), an informal strategic forum comprising the United States, Japan, Australia and India, created to counter China. Such a development would further strengthen the Russia-China relationship, including military cooperation, with speed bumps emerging to slow down the development of Russia-India political and military ties. Trade between China and Russia totaled $110.75 billion in 2019, marking a 3.4% annual increase. In contrast, total trade between Russia and India was $11.2 billion last year, up 2.3% from 2018. However, Russia accounts for 60-70 percent of India's military hardware imports.
Also on rt.com
India to ban Chinese firms from road projects as tensions mount over border dispute
Looking at the prospects of walking away from the abyss of war, not everything is gloom and doom. There is a silver lining – it's very important that the Chinese and Indian top brass are engaged in dialogue, as has been reported recently. It shows that the sides are applying their efforts to avoid the worst.
Indeed, a war between the two nuclear powers would deliver a shattering blow to international security. It could engulf other countries and stifle global trade, especially if hostilities were to spread to the Indian Ocean. The way to deal with the problem is to get involved in serious efforts to achieve demarcation in all disputed areas and ultimately end the border disputes, instead of demonstrating readiness to wage a war.
Think your friends would be interested? Share this story!
The statements, views and opinions expressed in this column are solely those of the author and do not necessarily represent those of RT.
You can share this story on social media: