If even this super-woke yoga studio falls victim to today's cancel culture, where will it all end?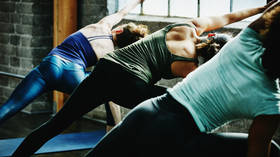 Kindness Yoga Studios in Denver, Colorado offered gender-neutral bathrooms, person-of-color nights, and LGBTQ+ workshops but was still canceled for insufficient wokery. This just proves nothing is ever enough for the mob.
Despite being one of the wokest businesses ever, the chain of yoga studios has just been shut down after a localized Instagram storm accused them of "performative activism."
Activism is by its very nature performative, especially when done on social media, but if this business isn't woke enough to survive the purge, I don't believe that there is one in existence that can keep up with these standards.
Also on rt.com
The trans ideology of less than 1% of the UK population has bullied the other 99%. Here's why I, as a real woman, reject it
Kindness Yoga Studios has been going in Denver since 2001, and even by yoga studio standards, it is staggeringly progressive. The Colorado Sun reports that the business had gender-neutral bathrooms, person-of-color yoga nights where "white friends and allies" were asked to "respectfully refrain from attending," and LGBTQ+ yoga workshops. It even had a donation-based model, meaning people weren't barred from entry on the basis of their ability to pay, with some paying as little as $1 for a class.
That is uber-woke, that is avant-garde woke, that is to mainstream modern leftism what Terrance Malik is to mainstream cinema. People-of-color-only nights, LGBTQ yoga workshops, gender neutral bathrooms, and virtually free classes? I'm personally amazed a business model like that managed to succeed, but, somehow, Patrick Harrington managed to make it do so for 19 years. All for it to be brought down thanks to a pincer movement of America's current twin hysterias: Covid-19 and racism… but mainly racism.
As the Black Lives Matter movement has gone from strength to strength in the USA and around the world, grievance mongers have been emboldened. Before the killing of George Floyd, there was already an uncomfortable willingness of some to cry racism where there was none, and fringe elements constantly hectoring people for their new religion's sins, "white privilege" being the main one, replacing the old "original sin" of the Christian faith.
Others, like cultural appropriation, transphobia and unconscious bias, all fell into the purview of the new police of vice and virtue. Following the BLM protests around the world, they now enforce their new religion with the zeal of a crusader or jihadist.
Patrick Harrington's 19-year-old business came to a crashing end in the space of a few days earlier this month after two employees turned the mob on Kindness Yoga Studios with a couple of Instagram posts. A black former employee, Davida Taylor, took to Instagram to say that the studio's "performative activism" was making it "unsafe" for BIPOC and LGBTQ+ students and teachers.
Around the same time another former employee, an indigenous trans man named Jordan Smiley, also decided it was a good time to go after "his" workplace. Smiley accused white-owned yoga studios of having "distorted yoga into foremost a physical practice, instead of a mental one, and have instituted a preference for a certain body type, color of skin, ableism and athleticism."
Neither Taylor nor Smiley raised these issues with Kindness Studios before they posted their grievances publicly. Smiley claims "he" didn't want Kindness to shut down but rather "undergo serious inclusivity work."
Taylor seemed downright vindictive. When the white CEO started crying at her resignation, Taylor accused her of "the weaponizing of sadness and tears" in a viral video. She added: "It is one of the more insidious factors of white supremacy and whiteness. And it is used as a tool and as a tactic to make me feel in this black body that I have done something inherently wrong to bring this sadness upon you."
Putting it bluntly, this is f**king insane. Harrington has seen 19 years of his life go down in flames, he is even having to sell his house to cope with the financial fallout of these baseless accusations of white supremacy and hatred. The very idea of a white supremacist yoga studio is ridiculous, it was invented in India for Christ's sake. But no matter, this man's livelihood can go up in smoke because he isn't quite woke enough. He tried, they told him the pictures on his website were "too white," so he invited people of color to take part in a photoshoot, but of course this was tokenism. Too bad, whitey, your business has to go bye-bye.
Also on rt.com
Campaign to have Mia Khalifa's porn videos taken offline does a disservice to the true meaning of 'justice'
Interestingly both Taylor and Smiley are now opening their own yoga studios… funny old world, isn't it?
The most tragic thing of all? Harrington can't even bring himself to call out these baseless and mendacious accusations for what they are. Despite being upset, he acknowledges that "my privilege could have me blind to [their grievances]. I'm trying to learn."
Maybe if Harrington tries hard enough, he will finally learn to love Big Brother.
Think your friends would be interested? Share this story!
The statements, views and opinions expressed in this column are solely those of the author and do not necessarily represent those of RT.
You can share this story on social media: