Campaign to have Mia Khalifa's porn videos taken offline does a disservice to the true meaning of 'justice'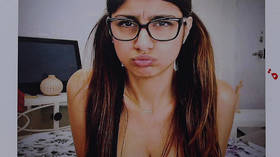 Ex-porn star Mia Khalifa has racked up 1.5 million signatures on a petition to have her movies deleted, claiming they will haunt her for life. But she owes her fandom to that career and should own the mistakes of her past.
Khalifa has long complained that she made a scant $12,000 off the 11 enormously popular adult videos she made back in 2014, and receives no royalties for those performances, while Pornhub and production company BangBros have made millions off her.
However, she claims she'd rather have the videos taken down than be paid more, insisting she has closed the door on that world and even turned down "millions of dollars" to return.
I'd rather have it removed than take a dime from that bag. I was offered millions to return for 1 video & felt violated all over again by the sheer audacity that they thought my body was contingent on the right price (years after I started speaking out against industry practices) https://t.co/YjWXpgDQ5s

— Mia K. (@miakhalifa) June 23, 2020
More than 1.5 million of Khalifa's supporters have signed a fan-generated petition demanding the removal of the videos she made when she was 21, also asking that she be given control of her domain name.
The petition's title, "Justice for Mia Khalifa," echoes the many Black Lives Matter petitions doing the rounds, each one demanding "justice" for a victim of police violence.
But there's not much comparison between, say, Breonna Taylor – an emergency medical technician fatally shot in her bed by police who were supposedly looking for a drug dealer already in prison, who had lived 10 miles away – and Khalifa, who, as the petition says, "has stated her regret for her decisions in the porn industry multiple times" and "attends therapy on a consistent basis for trauma, emotional distress, and the consequences of bullying."
Also on rt.com
BangBros sends Mia Khalifa cease and desist notice as 1.5 million call for ex-pornstar's videos to be taken down
The porn industry is somewhat notorious for preying on emotionally unstable young women, and Khalifa's story is a familiar one. But "justice" is the wrong word here, especially since the former porn star seems determined to have her cake and eat it too.
While Khalifa didn't create the petition herself, its explosive growth followed her plastering the link all over her social media accounts (21 million followers on Instagram; 3.3 million on Twitter; 8.8 million on TikTok), promising signers would be invited to her "birthday party." Whether she likes it or not, she owes that fan base, all those followers now seeking "justice" for her, to that three-month porn career.
Khalifa has revealed in many interviews how she feels she was taken advantage of, roped into unfair contracts that have seen her paid nothing for the hundreds of millions of views her videos have received.
She has cautioned young women contemplating following in her footsteps to think twice before doing something they may regret years, or even merely months, in the future, and to always, always, make sure any contract they sign gives them control of their material. All of this is laudable, and it's understandable why teenage girls are drawn to fight for her. But she was not "forced" to do porn, as one angry fan demanding "justice for Mia" posted on TikTok in a video calling for fellow Gen Z fans to "bully [Pornhub] to take down her vids."
Khalifa was a 21-year-old adult when she made those videos. There's no getting around that.
It's not that Pornhub isn't predatory. The story of Rose Kalemba, for example – kidnapped at age 14 and raped in a 12-hour attack that was filmed and uploaded to the site – is truly harrowing.
Bullied to the point of attempting suicide by classmates who passed the videos around, Kalemba begged Pornhub for months to remove the footage, explaining she was a minor and had not consented to the sex or the filming, but the site ignored her.
Only when she posed as a lawyer and threatened to sue Pornhub did it take down the videos of her assault.
There are legions of Rose Kalembas on Pornhub – women or girls who truly were "forced" into porn – and plenty more who were tricked into it, like the 22 Jane Does who recently won a fraud case against the Pornhub channel GirlsDoPorn. Khalifa, however, merely made poor business decisions.
Also on rt.com
Ex-pornstar Mia Khalifa issues BURIAL INSTRUCTIONS amid coronavirus lockdown (PHOTOS)
She knew she was going to a porn shoot when she did her first film. She never planned to stick around the industry for long, and while she claims she was "intimidated" into filming the infamous hijab scenes that have made her a household name (and elicited death threats from ISIS and other Muslim extremists), no one was holding a gun to her head.
Was she young and inexperienced, and desperate for approval? Sure, but what first-time porn actress isn't? Why should Khalifa get to wipe her indiscretions from the internet when so many other women don't have that option, including women who were forced into sex work by economic necessity or an abusive partner?
Everyone makes mistakes, but not everyone's mistakes make them world famous. If Khalifa wants her videos wiped from the internet, maybe she should consider relinquishing her social-media empire as well.
Think your friends would be interested? Share this story!
The statements, views and opinions expressed in this column are solely those of the author and do not necessarily represent those of RT.
You can share this story on social media: