Mea culpa: Another leading environmentalist admits he got it wrong over climate change, but MSM tries to CENSOR him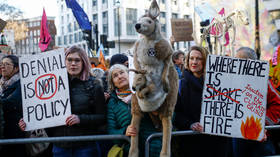 Michael Shellenberger, a well-known US green campaigner, has sparked controversy by admitting that climate change alarmism is out of control in a new book and an article for Forbes – which, ominously, has now been 'deactivated'.
Editor's note: A fact-checker group liaised by Facebook has found the original Michael Shellenberger article to be of 'low' scientific credibility, saying it "mixes accurate and inaccurate claims" and can "mislead readers by lacking context and cherry-picking data." While we believe Michael Shellenberger's credentials entitle him to express qualified opinions on the subject of climate change, neither the author of this commentary nor RT.com has an intention of misleading anyone. Here are the specific issues highlighted by the factcheckers:
According to Shellenberger, "climate change is not making natural disasters worse." This contradicts reports from the UN's Intergovernmental Panel on Climate Change (IPCC) as well as a number of scientific studies.
Shellenberger also argues that "humans are not causing a 'sixth mass extinction.'" The fact-checkers point to various studies, including a report by the German-based Intergovernmental Science-Policy Platform on Biodiversity and Ecosystem Services (IPBES), to counter that "clearly, the possibility that human activities are causing a mass extinction is being actively discussed by scientists."
Shellenberger's statements on wildfires, in which he points out that "fires have declined 25% around the world since 2003" are also considered "misleading." While the factcheckers note that global area has indeed declined in recent decades, they point out that Shellenberger conflates "purposefully set fires and wildfires as well as climatic and non-climatic factors driving these fires," and that studies have shown human influence has increased the risk of fires in the US and Canada.
Michael Shellenberger's green and left-wing credentials are solid. He sought the Democratic nomination for governor of California in 2018, was named a Hero of the Environment by TIME magazine in 2008, and was winner of the 2008 Green Book Award.
As the campaigner, now 49, puts it himself: "At 17, I lived in Nicaragua to show solidarity with the Sandinista socialist revolution. At 23, I raised money for Guatemalan women's cooperatives. In my early 20s, I lived in the semi-Amazon doing research with small farmers fighting land invasions. At 26, I helped expose poor conditions at Nike factories in Asia.
Also on rt.com
The eco-warriors' anti-growth agenda is a deadly pandemic in its own right, and WWF is just using Covid-19 to push its green goals
I became an environmentalist at 16 when I threw a fundraiser for Rainforest Action Network. At 27, I helped save the last unprotected ancient redwoods in California. In my 30s, I advocated renewables and successfully helped persuade the Obama administration to invest $90 billion into them."
He's not the usual run-of-the-mill green, however. He has long been a critic of some of the policies put forward by environmentalist groups, while accepting the seriousness of environmental issues like climate change. But now he may finally have burned his bridges with the tree-huggers.
His new book is called Apocalypse Never: Why Environmental Alarmism Hurts Us All and it explodes multiple myths about supposed ecological crises. In his article for Forbes, Shellenberger argues, among other things, that humans are not causing a "sixth mass extinction," that the Amazon is not "the lungs of the world," that climate change is not making natural disasters worse, that fires have declined 25 percent around the world since 2003 and that the build-up of wood fuel and more houses near forests, not climate change, explain why there are more and more dangerous fires in Australia and California.
His sources for these statements are not fringe climate skeptic websites but "the IPCC, the Food and Agriculture Organization of the United Nations (FAO), the International Union for the Conservation of Nature (IUCN) and other leading scientific bodies."
His confession now is that he should have been more critical of the alarmist statements made by environmentalists. In a tweet pointing to his Forbes article, he tweeted: "On behalf of environmentalists, I apologize for the climate scare. Climate change is real but it's not the end of the world. It's not even our most important environmental problem."
He points to Democrat congresswoman Alexandria Ocasio-Cortez's claim that "The world is going to end in twelve years if we don't address climate change" and the claim by "the world's most influential green journalist, Bill McKibben" who called climate change the "greatest challenge humans have ever faced" and said it would "wipe out civilizations."
The upshot, Shellenberger notes, has been a wildly exaggerated fear that human-induced climate change would wipe out humanity. He sums up: "Once you realize just how badly misinformed we have been ... it is hard not to feel duped." While governments may have overreacted, the current Covid-19 crisis – which has killed half a million people so far – is a genuine problem that puts climate change scares into perspective, he says.
Also on rt.com
'Act with necessary force': Greta Thunberg says BLM protests & 'corona crisis' give blueprint for climate change fight
Shellenberger still believes we should aim to move toward reducing our dependence on fossil fuels. But in his view, the welfare of humanity depends on us continuing to seek economic development. The idea that we can make that shift through renewable energy like wind and solar is a myth – we need nuclear and other high-density, lower-carbon alternatives.
Shellenberger's analysis flies in the face of orthodox green thinking. So completely has the idea of catastrophic climate change been accepted, it now completely dominates everything from government to academia, schools to the media. Indeed, it seems as if someone higher up at Forbes didn't take kindly to his article, despite the fact that Shellenberger is a longstanding columnist for the publication.
As I was discussing this article with the team at RT, it was pointed out to me that the article on Forbes had disappeared, replaced by a statement: "This article is no longer active. We regret any inconvenience." Forbes form for this kind of thing. It pulled an article last year suggesting that changes in the sun, not greenhouse gas emissions, were the main cause of climate change. Whether that is right or wrong, surely it is a good thing to have that discussion in public?
Shellenberger reacted with dismay to the deactivation, posting on his Twitter feed with the message: "Forbes has censored my article."
Shellenberger is the latest environmentalist to put his hands up to getting it wrong. One of Greenpeace's founders, Patrick Moore, has been a trenchant critic of the organization for decades. Twenty years ago, Bjorn Lomborg's The Skeptical Environmentalist gave us chapter and verse on many of the egregiously wrong claims made by the green movement.
Also on rt.com
A beacon of hope: Why former XR activist Zion Lights is RIGHT to follow science and quit the misguided leftist cult
While still very much an alarmist about climate change, British writer Mark Lynas has also lambasted the green movement's opposition to GM foods and nuclear power. Only last week, Zion Lights, once a spokesperson for eco-lunatics Extinction Rebellion, came out in support of nuclear power.
Of course, such changes of heart will do little to divert the anti-human environmentalist bandwagon. Too many in the highest levels of society have drunk the Kool-Aid. But we should still applaud those who are prepared to admit they've got it wrong in the hope that it will make others think again.
If you like this story, share it with a friend!
The statements, views and opinions expressed in this column are solely those of the author and do not necessarily represent those of RT.
You can share this story on social media: